2014 Australian Open Picks and Tennis Betting Odds
by Alan Matthews - 1/8/2014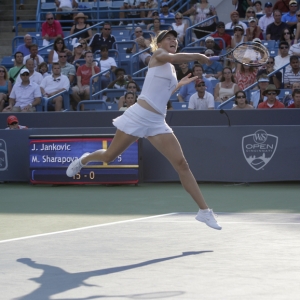 The Australian Open is rather overlooked in the tennis grand slam scheme of things much like the PGA Championship is in golf. I can see why, at least from an American point of view, because it's hard to think of tennis this early in the year, and most of the matches are in the middle of the night (PGA is near start of football season). Still, it's usually great tennis on the hardcourts -- and extreme temperatures -- in Melbourne because the players are fresh heading into the new season. You can also usually get a barometer on what type of season the top players might have. This year's Australian Open begins Monday with the women's singles final the night of Saturday, Jan. 25 at Melbourne Park and the men's final the next night.
Spaniard Rafael Nadal overtook Novak Djokovic for the world's No. 1 ranking late last year, but it's Djokovic who is the Bovada favorite at 11/10 to win his favorite tournament. The Serb owns this event at the moment. He beat Andy Murray 6-7 (2), 7-6 (3), 6-3, 6-2.in the championship match a year ago for his third straight Aussie Open title and fourth overall. Djokovic was somewhat fortunate to be in the final as he needed a big comeback for an epic 1-6, 7-5, 6-4, 6-7 (5-7), 12-10 win over Stanislas Wawrinka in the fourth round.
Djokovic can set the open era record with his fifth title. Only Aussie Roy Emerson has won more with six, and that was in the amateur era. Djokovic had a great 2013 season with seven titles and a 74-9 mark. The Aussie was his only major as he finished as a semifinalist at the French and runner-up at both Wimbledon and the U.S. Open. Hardcourts are easily his best surface.
Nadal (5/2) seems healthy -- for now -- and he's rolling. He won a whopping 10 singles titles last year, including both the French Open and U.S. Open. Nadal didn't play in the 2013 Aussie Open because of injury but has opened 2014 with a title in Qatar. That expanded his lead over Djokovic for the top spot in the world. Nadal's lone Aussie Open title was a five-set win over Roger Federer in 2009. Nadal lost to Djokovic in a five-set final in 2012.
Murray is next at 9/1 as he has clearly replaced Federer as the third member of the Big 3. The Scot was a runner-up last season in Melbourne for the third time in the past four years. It was a fairly disappointing season overall as Murray had just four titles and his season ended in September due to back surgery. He did win his first Wimbledon, which made 2013 a success regardless. I'm not sure Murray is fully in form as he was beaten in the second round by Florian Mayer in Qatar.
Rounding out the Top 5 are Juan Martin Del Potro (12/1) and Federer (14/1). Del Potro and Murray account for three of the past 35 Grand Slam wins -- Federer, Nadal and Djokovic the other 32. Del Potro hasn't done much in majors since his surprising 2009 U.S. Open title -- he bombed out of the 2013 U.S. Open -- and hasn't been past the quarters in Melbourne. Federer may be the best of all time, but the 32-year-old's best days are definitely in the rear-view mirror. Can you believe he won just a single tournament last year? He hasn't reached the semis of the past three majors and has lost in that round three straight years in Melbourne since his fourth tournament title in 2010.
I'm not even mentioning an American man because no American male tennis player is relevant these days. Sorry, John Isner (150/1). This seems like a lock Nadal-Djokovic final, and I lean toward Nadal.
Serena, Then A Big Gap As Usual
Here's a shocker: American Serena Williams is the overwhelming 5/6 Bovada favorite to win. She's also 32 but playing some of the best tennis of her career. Serena was an obscene 78-4 last year with major titles at the French Open and U.S. Open. She was a quarterfinalist in Melbourne last year, and the Aussie Open now is her longest major drought with her fifth and last title in 2010.
Serena dominated in a warm-up tournament in Brisbane that concluded this past weekend, capping it off with a straight-sets dispatch of world No. 2 Victoria Azarenka. Serena is now 9-2 against Azarenka since the start of 2012. Azarenka (9/2) was a very good 43-9 last year with three titles. The Belarusian has won this tournament the past two years, beating China's Li Na in three sets last January. Azarenka seems to like the hardcourts because she also has been the runner-up at the U.S. Open the past two years. Last year was the second time in three years Na (10/1) lost in the Aussie Open finals.
I thought Poland's Agnieszka Radwanska was a decent long-shot value at 33/1 before she was ousted by an American qualifier in the second round of the warm-up Sydney International on Monday. Radwanska, a three-time quarterfinalist in the Aussie Open, is having some shoulder problems. I'm not going to recommend Serena at less than even money, and she doesn't seem to love this tournament, so take a shot on Maria Sharapova (11/1). The Russian can beat anyone but Serena. Sharapova was a semifinalist here last year and the runner-up in 2012. She won it in 2008.
Read more articles by Alan Matthews