Elite Eight Bracket Picks for 2014 NCAA Tournament
by Trevor Whenham - 3/29/2014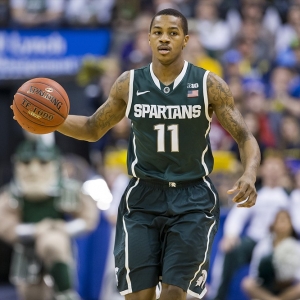 After the Sweet 16 was set earlier in the week I set out to pick my bracket again from that starting point. It was both a success and a disappointment. The good news is that my final pitting hated rivals from the state of Michigan is still alive, and Florida, another Final Four pick, is still alive. The only Final Four team I missed out on was Baylor, and I saw Baylor-Wisconsin as a coin flip with the winner of that game destined to win the region, so I just shift my focus slightly.
The disappointment is that the other teams in the Elite Eight are just not the ones I expected. I didn't give Dayton enough credit for being fearless and fast. I thought the experience of Louisville would overcome the raw talent of Kentucky. I really liked Iowa State and hoped that they could continue to play like they didn't really miss Georges Niang, but they couldn't. At least I had Arizona, I guess.
Now we are getting into the nitty gritty, so we might as well regroup and do it all one last time. With four great games on tap on Saturday and Sunday, here are my Elite Eight bracket picks for the 2014 NCAA Tournament:
South
Florida over Dayton: I have tremendous respect for the Flyers. That was a serious dismantling of a Stanford team that had been playing very well up to that point. Archie Miller has proven that his brother isn't the only top coach in that family. The team is fast, fearless and creative, and they have absolutely nothing to lose at this point. They have yet to play an elite team at full strength, though, and that changes in this one. Florida has not taken a real misstep yet in this tournament. They are deep and ridiculously experienced. They faced some adversity against the Bruins, but they tightened the screws and got it done when it mattered. I'm not convinced that Florida is the best team in this tournament despite their No. 1 overall seeding, but they are the better team here by far. Dayton is fueled as much by emotion as anything, and that is going to come to an end sooner or later. It makes sense to bet that it will be here.
East
Michigan State over Connecticut: The Huskies got a huge boost from playing a virtual home game against Iowa State in the Sweet 16. Combine that with the injury issue for the Cyclones, and things went their way. Against Michigan State, though, they will face a tough, relentless team that is finally healthy and feeling good. Connecticut can shoot, but playing in the Big Ten means that the Spartans have seen plenty of teams that can do that, too, and they know how to deal with it. Kevin Ollie has surprised by how well he is coaching this team, but he faces a very tough matchup here, and I am just not optimistic. Against a different team I might like the Huskies more, but here it's not pretty.
West
Wisconsin over Arizona: I said last time that the winner of the Baylor-Wisconsin game would win the region, and that hasn't changed. They absolutely humiliated a very solid Baylor team, and showed how dangerous they can be. The Big Ten has carried itself very well in this tournament, and the Badgers will continue to represent. Arizona's strengths are their length and athleticism, but Wisconsin won't be scared and has the tools to work with that and minimize the Wildcats' edge. I have thought that the Wildcats were vulnerable since the start of the tournament, and this is where they finally meet an opponent that matches up well enough to bring them down.
Midwest
Michigan over Kentucky: The Big Ten has impressed, and it's good enough to have three teams in the Final Four - an incredible feat. Michigan barely survived a late Tennessee run, but they never trailed and held on when it mattered. I like Michigan for two big reasons. First, they have shown that they can overcome big deficits in offensive rebounding ability. Kentucky is a very good offensive rebounding team, but so were Tennessee and Texas, and Michigan found a way to get by them. The Wildcats are likely to be without Willie Cauley-Stein and his rebounding as well. Second, the Wildcats form really struggled from beyond the arc, while Michigan has been bombing it from deep. It's hard to trade three points for two regularly and win, and Michigan doesn't miss much. It's a tough matchup. Michigan has the experience of last year's run, while Kentucky is young and raw. That hasn't hurt them in their last two big wins, but it will catch up at some point.
Final Four
Michigan State over Florida: I had this penciled in as the de facto Championship Game since the bracket was set, and that hasn't changed. These are the most complete teams in the tournament, and they have experience and depth in spades. There isn't a lot to separate the two teams. If both stay healthy into this game, though, then I give Michigan State the edge because they have faced much tougher opposition during the year and are therefore more battle-hardened.
Michigan over Wisconsin: These teams have played twice this year, with the home team losing both times. There obviously isn't a lot to separate the two, and both are playing very well. The teams will have almost a full week to get ready for this one, though, and given that much time the Wolverines have a big coaching edge.
Championship Game
Michigan State over Michigan: The Wolverines hold a 2-1 edge in this bitter in-state rivalry. The latest meeting was in the Big Ten Tournament Championship Game, though, and it wasn't close. At full strength the Spartans had a big edge over the Wolverines because of their physicality. As much as I hope and wish it can be different as a Michigan fan, I'm not convinced it will be.
Want free sports betting picks? Doc's Sports has you covered - get $60 worth of picks free from any of Doc's Sports expert handicappers. Click here for free picks (new clients only).
Read more articles by Trevor Whenham