Five to Follow MLB Betting: Friday September 26, 2014 Opening Line Report
by Alan Matthews - 9/25/2014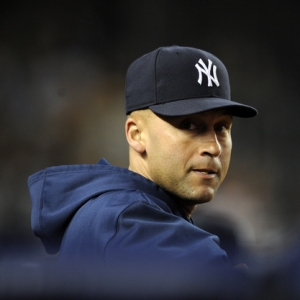 The final weekend of the 2014 regular season is upon us, and the key thing when betting the last three games of the season is recognizing which teams still have something to play for and which don't. Obviously all those clubs eliminated from the postseason don't other than the ones perhaps on the bubble of the 10 worst records. But keep an eye on which teams get locked into their playoff spots each day because then it's usually operation shutdown to get guys rest for the postseason. Here's a look at five interesting matchups on the schedule.
Yankees at Red Sox (-110, 9)
Neither of these teams has anything at all to play for. The Yankees have shut down Carlos Beltran (whose signing was a mistake) and Jacoby Ellsbury for the rest of the year. Mark Teixeira probably will be too. The question: Will Derek Jeter play Friday or at all in this series? Could he decide to make his last game at Yankee Stadium and sit out the final series like Mariano Rivera did last year? Now you are hearing rumblings it's possible, although that would be a giant middle finger to all the fans who bought tickets in Boston just to see him. My sense is Jeter wouldn't want that controversy. The Yankees start lefty Chris Capuano (2-4, 4.67). He hasn't been good this month with a 6.61 ERA. Capuano is 0-1 with a 6.75 ERA in two starts vs. Boston. Allen Craig hits .533 off the guy with two homers. Boston's Steven Wright makes his first start of the season. Wright (3.38 ERA) is a knuckleballer who has made five relief appearances.
Key trends: New York is 2-7 in its past nine on the road. The "over/under" has gone under in eight of those. Boston is 4-0 in its past four on Friday. The over is 5-2 in the past seven in Boston.
Early lean: Yankees will be Jetered out (even if Thursday's game rained out). Take Boston.
Pirates at Reds (+127, 7.5)
Two key players on each side figure to sit here. Pirates catcher Russell Martin left Wednesday's game with tightness in his left hamstring, which he had strained earlier this season. I would imagine the Pirates will play it careful with him although they still have plenty to play for. The Reds don't have squat to play for, so outfielder and possible NL Rookie of the Year Billy Hamilton is surely done after suffering a concussion on Wednesday. The Pirates, who have clinched a playoff spot, start Vance Worley (8-4, 2.93). Pittsburgh has won his past four. He is 1-0 with a 3.24 ERA in 8.1 innings this season against Cincinnati. Todd Frazier has two homers in three at-bats off him. The Reds have lost four of the past five started by Mike Leake (11-13, 3.78). He is 1-0 with a 3.71 ERA in four starts against Pittsburgh.
Key trends: Pittsburgh is 4-0 in Worley's past four on the road against teams with a losing record. The Pirates have won six straight series openers. The Reds have lost four straight series openers started by Leake. The over is 4-1 in his past five vs. Pittsburgh.
Early lean: Have to take the team that still cares.
Angels at Mariners (TBA)
Los Angeles will be without Josh Hamilton the rest of the regular season, but he thinks he will be good to go in the playoffs. Likely AL MVP Mike Trout might get another day off as he's fighting an illness. It could depend on if the Halos have clinched the top seed in the AL by this game or not. They are on the verge of doing so. Seattle has totally collapsed and could be eliminated from wild-card contention on Thursday night. Plus the Mariners had to fly out from Toronto on Thursday evening. Jered Weaver (18-8, 3.52) is scheduled for the Angels, and he will also start Game 1 of the ALDS. He has a 2.72 ERA in his past six outings. Weaver is 1-1 with a 3.93 ERA this year vs. Seattle. The Mariners start a fading Hisashi Iwakuma (14-9, 3.54). He just 2-3 with a 9.12 ERA in his past six starts. Iwakuma is 0-1 with a 7.84 ERA in two starts vs. the Angels.
Key trends : Seattle is 5-2 in Iwakuma's past seven at home. The over is 8-0 in the Angels' past eight series openers. The over is 5-0-2 in Iwakuma's past seven overall. Seattle has won his past four at home against the Halos.
Early lean: There won't be a line posted until it's determined whether either team has something to play for. So hold off until then and take whichever club does. I doubt it will be both. I like under (probably 7) unless both starters are yanked if the game doesn't matter.
Rays at Indians (-165, 7)
Could Corey Kluber steal the AL Cy Young from Felix Hernandez? I rather doubt it, but Hernandez's career-worst start on Tuesday in Toronto has perhaps opened the door. Kluber (17-9, 2.53) has been a revelation this year. He is 4-0 with a 1.39 ERA in his past four starts and has struck out exactly 14 in each of his past two. No one had done that since Randy Johnson in 2004. Kluber has 258 strikeouts, five behind David Price for the MLB lead. Kluber's 10 outings of at least 10 strikeouts this season are the most for Cleveland since Sam McDowell in 1970. He beat the Rays earlier this year, allowing two runs in 6.2 innings and whiffing nine. Chris Archer (10-8, 3.42) goes for Tampa Bay. The Rays have won his past three, and he has a 1.83 ERA in that stretch.
Key trends: The Rays have won eight straight road starts. The Indians have won six straight series openers. The over is 5-0 in Tampa's past five against right-handers and 5-1 in Cleveland's past six overall.
Early lean: Under at -125.
Twins at Tigers (-215, 8.5)
Detroit could potentially clinch the AL Central on Friday depending on what the Tigers and Royals do on Thursday and then Friday. Detroit sends out what appears to be a tired Rick Porcello (15-12). He has had his best year but is 0-3 with a 5.57 ERA this month. He did pitch well two starts ago in Minnesota, allowing two runs in eight innings in a no-decision. Porcello won't have to worry about one of the better-hitting Twins as third baseman Trevor Plouffe (.258, 14 HRs, 80 RBIs) is done for the season with an arm injury. Minnesota counters with Anthony Swarzak (3-2, 4.52). He's only in the rotation of late due to an injury to Tommy Malone. Swarzak has a 6.60 ERA, mainly in relief, in 15 innings this year against Detroit. Miguel Cabrera hits .364 with two homers and seven RBIs off him.
Key trends: Minnesota is 0-5 in Swarzak's past five on the road. The over is 5-0 in Porcello's past five on Friday. Detroit is 11-5 in Porcello's past 16 against Minnesota.
Early lean: Detroit at -110 on the runline.
We would like to give you $60 worth of member's baseball picks absolutely free - Sign up for free baseball picks today.
Read more articles by Alan Matthews