Handicapping Russell Wilson in the Super Bowl 2014
by Trevor Whenham - 1/29/2014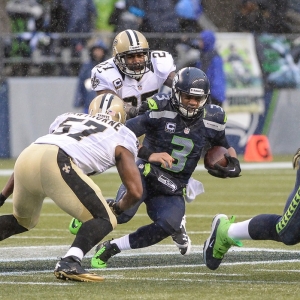 When it comes to quarterbacking storylines in the Super Bowl, Seattle's Russell Wilson can't hold a candle to Peyton Manning. Pretty much no one could. While Manning is the big star of the game, though, Wilson is a key figure in the outcome of the game as well, and he's an important consideration for handicappers.
There are countless ways you can break down the stats for Wilson. Instead of doing more of that, what I want to do is look at two storylines that are going to be significant in determining what you ultimately expect from Wilson on Sunday:
Preparation: We can be confident that Wilson is going to be ready for this game. Since the day he was drafted, he has impressed people with his work ethic and intense commitment to preparation. He made sure he was able to attend the Super Bowl last year just so that he would know what to expect when — not if — he led his team there. A lot has been made of the difference in experience between the two quarterbacks. While Manning obviously has the massive experience edge, it would be a mistake to overstate the significance or to think that the situation is going to be too big for Wilson.
What he needs to do: At times this year — quite a few times, really — Wilson has not been great. He has, for example, passed for less than 150 yards in a game five different times. He has also completed half or less of his passes in four games. That doesn't matter to this team and how they are built, though. In the sub-150-yard games the team is 4-1, including the playoff win against New Orleans when he managed just 103 yards. Seattle isn't here because Wilson can hurl the ball around with pinpoint precision. They are here in large part because he avoids mistakes. He has just nine interceptions compared to 27 touchdowns, he just once threw two interceptions in a game, and hasn't tossed a pick in his last three outings. It's not flattering to call a quarterback an effective game manager. In the tradition of A.J. McCarron at Alabama, though, that's what Wilson is — a guy who avoids mistakes, keeps his team moving forward, and has a very good sense of what is needed in the moment. It's quite likely that he is not going to post big numbers on Sunday and that his performance will fall far short of what we see from Manning. It shouldn't matter. Your assessment of Wilson for this game should simply come down to whether you think he can keep doing what he has been doing — avoiding mistakes.
Wilson props
Since the Super Bowl is so much about prop betting, it makes sense to take a look at some of the more interesting Russell Wilson prop bets that are available this year (all odds are from Sportsbook.ag):
Number of Wilson touchdown passes: You can bet individually on anything from zero to five, or you can bet on six or more. The favorite is one TD at +160, followed by two scores at +180. He has thrown one touchdown pass in five of his last six games, and he didn't throw one in the sixth, so one is a legitimate favorite. He once threw four TDs in a game, but that was early in the year against Jacksonville when the Jaguars were just awful. He threw three scores twice, and it's notable that they were in two of the tougher games he played — at Arizona and at home against the Saints. He rose to the occasion in those cases, and he could here, too. Three touchdowns pay +450, so it would be lucrative for bettors who backed him and were correct.
Number of Wilson completions: Three different times this year Wilson completed 15 passes. In another case he threw for 14, and last time out he threw 16 caught passes. This is a cluster. Fifteen completions certainly seems feasible, and it pays +1200. Could be worth a shot for long shot bettors looking for a thrill.
Will Wilson throw an interception?: The "yes" side is favored here at -130 with "no" at even money. I'll take the no quite happily. He threw a pick in just eight of 18 games this year, so even money would be profitable. He hasn't thrown one in the last three games when pressure has been high, so the moment shouldn't overwhelm him. He's facing a Denver defense that doesn't have an interception this postseason and which was only a middle-of-the-pack team during the regular season on that front.
Wilson rushing yards: The total here is set at 32.5. He is viewed as a mobile quarterback by the public, so the "over" is likely to get the bulk of the action. He exceeded this total seven times in his first 15 games and also had totals of 29 and 32 yards that came very close. In his last three games, though, he has averaged just over four carries per game and just five yards per game. For whatever reason, rushing has not been part of his game plan recently like it was before. Will that trend continue here? Or with little to lose and so much to gain will he rely on his legs like he is capable of? I lean to the "under," but not with a lot of conviction.
Get free picks from any Doc's Sports handicapper – there is no obligation for this offer and no credit card required. Just sign up for an account, and you can use the $60 in free picks for any Doc's Sports Advisory Board handicapper and any sport. Click here to get started now.
Read more articles by Trevor Whenham