MLB Betting Advice: Hot and Cold Teams for Runline Wagering
by Ricky Dimon - 8/21/2014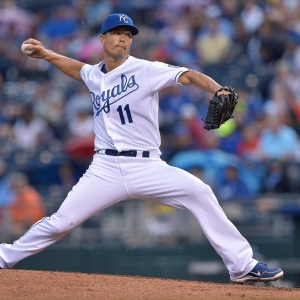 Break up the Royals! With little more than five weeks left in the 2014 Major League Baseball season, Kansas City is in first place. That's right; the boys in blue have a one-game lead in the American League Central over heavily-favored Detroit as of Wednesday afternoon. While the Royals are hot, the A's currently find themselves at the other end of the spectrum. Oakland is still the second best team in baseball, but it is also the second best team in its own division.

All odds provided by Sportsbook.ag

Hot

Kansas City Royals - Kansas City took a 5-2 loss at Colorado on Wednesday, but it is still 10-4 against the runline in its last 14 games (11-3 overall). For the most part, the team has been comfortably covering spreads thanks to a high-powered offense. The Royals have scored 25 runs in their last three wins and have crossed the plate 38 times in their past five victories. Alex Gordon is hitting .328 in August with five home runs. In the same 19 games, Billy Butler is batting .338 with 11 RBIs. Kansas City, which has a three-game weekend series at Texas coming up, is 45-20 against the runline on the road.

Milwaukee Brewers - The Brewers' runline record is 5-1 in their last six outings (5-1 overall) and 9-4 in their last 13 (9-4 overall). They are still 1.5 games clear of St. Louis atop the National League Central even though the Cardinals are also playing good baseball at the moment. Milwaukee has scored at least five runs in five of its last six games. Carlos Gomez has left the yard six times in August, and Aramis Ramirez boasts a .397 average so far this month. The Brew Crew plays nine of its next 12 on the road, where it is 38-25 against the runline. It is a -160 favorite to win the division.

Seattle Mariners - Against the runline, the Mariners are 8-2 in their last 10, 12-3 in their last 15, and 15-4 in their last 19. They lost their game on Wednesday at Philadelphia but covered the spread in a 4-3 setback. For the entire season, Seattle is 73-53-tied for the second-best mark in all of baseball with Kansas City. The team plays a lot of close games, and it has 23 one-run losses in 2014, second most in the American League behind Boston. Seattle has not allowed more than four runs in a game on 18 straight occasions and in 27 of its last 28 contests.

Cold

Oakland Athletics - Ten games ago, Oakland had a seemingly comfortable 4.5 game advantage atop the best division in baseball-the AL West. Fast forward to the present, however, and the A's actually trail the Angels by 1.5 games. That's what happens when you go 2-8 in your last 10 and your biggest rival goes 8-2. Oakland is also 1-6 in its last seven and 2-6 in its last 10 against the runline. The A's have not won back-to-back games against the runline since July 26 and 27. They have allowed 32 runs in their past six outings. Oakland is a +220 favorite to win the AL Pennant.

Cincinnati Reds - The Reds have lost an incredible 31 one-run games this year. No other team has more than 25 such losses, and only four other clubs have more than 21 one-run setbacks. That competitiveness would suggest favorable profitability, and Cincinnati does in fact have a runline mark (65-62) better than its actual record (61-66). At the moment, though, the Reds are 2-7 in their last nine against the runline and 3-9 in their last 12. They have not won a game and covered the spread on the same day since Aug. 10.

Los Angeles Angels - L.A. may be 8-2 in its last 10 overall, but the team has not been paying dividends for its backers of late. Four of its six most recent victories have been of the one-run variety, all four of which have seen the losing team cover the spread. The Angles have five one-run wins since Aug. 9 (0-5 runline). Mike Trout, Josh Hamilton, and Erick Aybar are hitting no better than .219 in August. Los Angeles plays its next four games of this week on the road, where it is 35-26 against the runline. The Angels (Shoemaker) are -125 road favorites at Boston (De La Rosa) on Thursday.

Best overall

Baltimore Orioles - Baltimore has just 51 losses against the runline (74-51); no other team has fewer than 53 such setbacks. The Orioles generally manage to cover spreads despite winning a ton of close games. They have 25 one-run victories this season, most in the American League, and tied for second most in the majors behind the Marlins. Buck Showalter's club has a runline record of 3-1 in its last four, 6-2 in its last eight, 9-3 in its last 12, and 12-4 in its last 16. The Orioles enjoy a whopping nine-game lead in the AL East. They are +800 to win the World Series; the Dodgers are +450 favorites.

Worst overall

Texas Rangers - Texas, Boston, and Tampa Bay-perennial playoff teams in recent years-have been battling for this distinction throughout the 2014 campaign. The Rangers and Red Sox are currently tied with the worst runline record at 52-74, while the Rays register at 53-73. Overall, Texas is the worst team in baseball at 49-77, and only the Rockies are close to that kind of futility (50-76). Interestingly, though, Ron Washington's squad has won five in a row against the runline despite losing three of those five games.
How about $60 worth of member's baseball picks absolutely free? - You can use this $60 credit for any of our top MLB handicappers. Get on board now.
Read more articles by Ricky Dimon