MLB Handicapping: Best Baseball Trends for Profits
by Darin Zank - 5/20/2014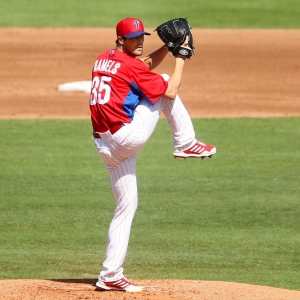 Scoring in the Major League is running almost exactly equal with that of last season, but more games have played "over" on the totals than "under." Now, does that mean baseball bettors should expect that trend to continue? Or should we expect a move back toward the .500 mark?
Here's an update on some of the betting trends and angles we've been following through the first seven weeks of this MLB season.
The Totals Report
Through Monday's action, 317 games had played over on the totals this season, while 301 games had stayed under. This is not a big split, but it comes as a bit of a surprise considering bookmakers know baseball bettors prefer betting overs rather than unders, and they set their totals accordingly.
Also, MLB games have averaged 8.3 total runs this season, exactly what they averaged last season. And yet unders outnumbered overs last year by a margin of 83 games.
So what should we, as baseball bettors, do with this information? Our best shot at a guess is that books won't adjust their totals, but MLB games, as a whole over the longer haul, will begin trending toward the unders.
The list of teams tilting toward the overs so far this season is led, somewhat surprisingly, by the Miami Marlins, who after going 62-83 on the totals last year have gone 27-15 this year. Some of this can be attributed to an improved Marlins offense that's averaged better than 4.5 runs per game but also to the fact that oddsmakers have posted low totals on Miami games. So far this year just five Marlins games have been tagged with totals of eight or above.
Other over teams this season include the Nationals (28-17), Twins (26-15) and Rockies (26-16).
The best under team this season has been the San Diego Padres, who have skewed the totals by a 14-28 margin. And it's not hard to figure out why; San Diego ranks third in the Majors in team ERA at 3.10 but dead last in scoring at 3.1 RPG. Even if every Padres game had been lined with a total of six runs, they'd be 18-20 on those totals.
Other under teams so far include the Red Sox (15-26), Braves (16-25) and Orioles (17-24), whose scoring is down by more than half a run per game this year compared to last.
Lefty/Righty Splits Update
The best lineups, statistically speaking, against right-handed pitching this season have been the A's (.350 OBP), Dodgers (.434 slugging), Rockies (.494 slugging) and Blue Jays (.435 slugging). Those four teams are a combined 71-56 against right-handed starters this season.
The worst lineups against righties this year have been the Padres (.273 OBP), Braves (.282 OBP), Cubs (.290 OBP) and Mets (.327 slugging). Those four teams are a combined 60-79 against righty starters this year.
The best teams against lefties this season have been the Rockies (.495 slugging), Yankees (.427 slugging), Braves (.493 slugging), Rangers (.350 OBP) and Red Sox (.349/.396). Those five teams have combined to go 39-30 against LH starters this season.
Finally, the worst lineups against lefties this year have been the Orioles (.279 OBP), Dodgers (.282 OBP), Indians (.327 slugging), Mariners (.299 OBP) and the Cardinals (.303/.341). Those five squads are a combined 28-34 against lefty starters this season.
Notice that Seattle, statistically, has struggled against LH pitching but is 11-6 vs. lefty starters. Our guess is the Mariners will soon begin trending back toward .500 vs. lefties.
The Bullpen Report
A couple weeks ago we mentioned our concern about John Axford and his travails as the closer with the Indians. Then, after giving up homers in back-to-back outings, Cleveland removed Axford from that role. Since then Bryan Shaw has gone 2-for-3 in save chances, and we've removed the Indians from our list of the best bullpens in baseball.
Our updated "best" bullpens list includes the Nationals (ML-best 2.08 ERA), Padres (2.18, 14-for-15 on save opportunities), Giants (2.21), Brewers (3.26, 18/24), Braves (3.01, 14/18) and Red Sox (3.00, 11/14). Those six teams are a combined 21 games above .500 on the season and have collectively leaned toward the unders by a 142-108 margin (57 percent).
Our list of the worst bullpens consists of the Astros (ML-worst 5.44 ERA), Reds (5.40, 91/56 K/BB), Blue Jays (5.26), Phillies (4.42), Rangers (4.40), Dodgers (4.38, 11 losses) and Rays (4.32, 10 losses). Those seven teams are a combined 21 games under .500 and have collectively trended toward the overs by a 178-153 margin (54 percent).
A few notes about our updated lists. First, the Pirates' pen ranks fourth in ERA at 2.85 but has blown as many save chances as it has converted, 10 each. Also, the A's pen ranks fifth with a 2.90 ERA but has blown more saves, eight, than it's converted, seven.
On the other end of the stick, the Reds' pen ranks 28th with a 5.14 ERA, but it should be bolstered by the return of closer Aroldis Chapman.
Our bullpen betting matchups for later this week will include backing Boston against Tampa and taking the overs in the Phillies/Dodgers series.

Try $60 worth of member's baseball picks absolutely free with no obligation and no sales people. Your $60 in free MLB picks are here.