MLB Handicapping: Pitching Rotations with Most Uncertainty
by Trevor Whenham - 3/13/2014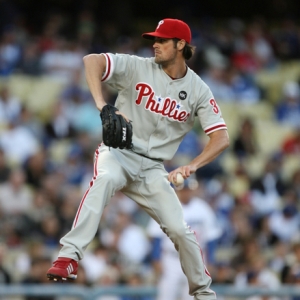 There is nothing more important in baseball than the starting rotation. A strong rotation can hide a lot of problems for a team and lead them to unexpected heights. Rotational woes, though, can sink an otherwise solid team. As the regular season nears, here are three rotations that I have serious concerns about:
Philadelphia Phillies: With Roy Halladay out to pasture, the Phillies were going to have a very different rotation then we were used to no matter what. Now issues with Cole Hamels really put the future into question for this team. Hamels is dealing with a fatigued shoulder. While there isn't pain, he just isn't throwing well, and he has started his preparations for the season from scratch. What the future holds is all just speculation at this point, but he almost certainly won't be ready early in the season. Hamels is the key to what is not a particularly deep rotation, so his absence would be a huge issue. That's not the only problem, though. Cuban free agent Miguel Alfredo Gonzalez was being relied on to fill a rotation spot, but he struggled badly in camp and is now out with shoulder soreness. He doesn't seem to be ready for major league action at this point. Jonathan Pettibone hurt his shoulder last year, and he is behind in his recovery. And there is the reality of relying on A.J. Burnett as a starter - something that always terrifies me. The schedule should allow this team to sneak through the first couple of weeks of the season with just four starters, but if they don't get some good luck in a hurry then depth issues are going to make for a long season in Philadelphia.
Atlanta Braves: The Braves signed Ervin Santana yesterday - a clear sign that they are panicking about the situation they are in on the mound. They only had to commit to him for one year, but he was very expensive - more than $14 million. The panic is warranted, though, because the team is having horrible luck - especially with elbow ligaments. The team is a walking advertisement for Tommy John surgery. Ace Kris Medlen is out and is expected to be facing his second Tommy John procedure in four years. His loss is a major blow. Brandon Beachy is struggling this spring as he comes back from surgery of his own. Gavin Floyd, a depth acquisition who is suddenly more important than ever, is slowly coming back from his own Tommy John procedure and could be ready by May. Mike Minor is dealing with injury issues as well, though thankfully not Tommy John related. Suddenly, a deep rotation has turned into a questionable one. Don't get me wrong - I really like Santana, and I think he is a good fit here. His elbow is far from certain to hold up all year, though, and he is a step down from Medlen. This team could indeed still have one of the best rotations in the NL. A while ago, though, that was all but assured. Now there is some uncertainty. On top of it all, the team needs to resist the temptation to rely too heavily on Julio Teheran. The young pitcher is a future ace, but he threw only 185 innings last year, and the last thing they want to do is to throw him out too much and risk yet another long-term injury.
Toronto Blue Jays: Last year the Blue Jays invested massively in their rotation, and they had almost nothing to show for the money spent. Injuries were a massive issue. Now the rotation is somewhat different, but the questions are significant. R.A. Dickey is the Opening Day starter. He's about 500 years old, though, and he didn't have the magic last year he had two years ago with the Mets when he won one of the more unlikely Cy Young Awards ever. Can he anchor a squad that wants to play in the postseason? Brandon Morrow, who is very talented, is back in action after all sorts of injury woes. If he can stay healthy all year it would qualify as a full-on miracle. J.A. Happ is looking to play a full season after missing so much time last year after taking a ball to the head. He is struggling with a back injury, though, and his readiness is far from certain. The bottom of the rotation has serious questions. Esmil Rogers is penciled in, but he sure doesn't inspire confidence, and the options behind him are no better. The only pitcher who is reliable - not because he is great, but instead because we can be reasonably certain of what we will get from him - is Mark Buehrle. When the rock of your rotation is Buehrle, you have serious issues. Toronto was long rumored to be in the market for another starter, and they seemed poised to land Santana but never pulled the trigger. The lack of a move is concerning - if they think they are good enough as they are then they are delusional.

WOW!! $60 of member's baseball picks absolutely free with no obligation - click here
Read more articles by Trevor Whenham