MLB Handicapping: Rays and Pirates Rough Starts
by Trevor Whenham - 5/23/2014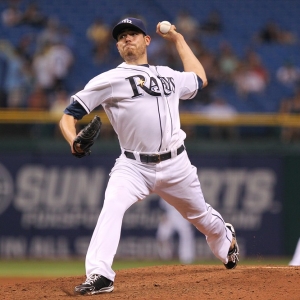 Teams that get off to disappointing starts in the face of high expectations are a part of baseball - a frustrating part for bettors and fans. This year, the two teams that easily qualify as the biggest disappointments are the Tampa Bay Rays and Pittsburgh Pirates. Both were picked by many to win their divisions or at least to be in the thick of the wild-card race. Instead, though, Pittsburgh sits at 19-26 and is eight games back in the NL Central, while the Rays have the same number of wins with two more losses, and they are six games back in the AL East.
So, what are the biggest issues for these two teams, and what can we expect from them going forward? Is there a reason to be optimistic about either team? Let's take a look:
Rays
The rotation: Matt Moore, Alex Cobb and Jeremy Hellickson are three nice pitchers to have in a rotation - especially behind an ace like David Price. A big part of Tampa Bay's problems, though, are that they haven't had the three of them in the rotation. Injuries have hit the team, and these three have been the biggest losses. With them out of the rotation things have been bleak. The once-rich Tampa Bay farm system is not in the best shape it has been in - far from it. That means that the replacement pitchers have not been up to the same level. Heading into the season the rotation was a big asset for this team. Now - not so much.
The Price Conundrum: David Price, or more specifically what to do with David Price, has been hanging over this team for too long. He is a major asset - one of the very best pitchers in baseball. He is also a free agent at the end of next season, and he is going to be very expensive to re-sign. Unless the Rays are about to enter a fundamentally different phase of their existence, they are very unlikely to be able to - or willing to - sign him again. Combine that with the suddenly empty farm system and the rough start to the season and it seems more and more likely that the team will look to deal him to a contender this year for a truckload of prospects. Price isn't having his best statistical year, but he is still striking out a ton of batters without walking many, and he is very effective. He will be heavily in demand, and when he is gone the team certainly isn't going to improve in a hurry:
Ugly AL East: The Toronto Blue Jays are, as I write this, tied for first place in the AL East. That's really all you need to know about the state of the division right now. The Jays lack a real rotation. The Yankees are without CC Sabathia for a while and have a host of issues. The Orioles are feisty but flawed. Add it all up, and the good news is that it's not like the division is going to run away from the Rays. I'm not at all convinced that the team is going to be able to get back in contention, but if they can right the ship it wouldn't be nearly as hard to get back into contention as it would be if they were playing in a tougher division - like the AL East of a few years ago, for example.
Pirates
Pitching: The Pirates have played 45 games. That is 45 chances for decisions from their starting pitchers. Those starters have five wins. Five! That is just plain ugly, and it's the biggest single cause for concern regarding this team. Combine that with a bullpen that has blown a league-leading 11 saves and you have a recipe for disaster. Wandy Rodriguez has been cast out. Edinson Volquez is likely going to join him soon. Brandon Cumpton appears ready to go in the minors, and Jeff Locke is easing back into action, too. Will it be enough? It's hard to believe that it will be. Last year when the team had the success they did it sure seemed like the pitching was overachieving - or at least performing to the top of their range of potential. That's not the case here.
Reinforcements are coming: Andrew McCutchen is playing well as you would expect, but he certainly isn't getting as much help as he could from the rest of the lineup. Russell Martin has just come off the disabled list, and he should be back in action soon. Gregory Polanco is one of the most exciting prospects in baseball, and he should be making the step up from Triple-A soon. Those two factors could combine to help and get things back on track.
Tough division actually helps: The division is an asset for the Pirates like it is for the Rays, but in a different way. There is a logjam at the top of this tough division. The Cardinals and Brewers are playing very well, and the Reds have plenty of potential to improve. These teams are going to be punching each other in the teeth all season long, and they are going to make it tough for each other to win a whole lot of games. If the Pirates can get back on track - and they are certainly capable of being better than they have been - then it wouldn't be as tough for them to catch up and get back in the thick of things than if there was one runaway team - like Detroit in the AL Central. If the Pirates can find a way to play .600 baseball the rest of the way - which is what a lot of people likely expected from them before the season started - then they could be able to get back into the mix of things at the end of the year.
Want free sports betting picks? Doc's Sports has you covered - get $60 worth of picks free from any of Doc's Sports expert handicappers. Click here for free picks (new clients only).
Read more articles by Trevor Whenham