MLB Handicapping For Teams Overrated in Futures Odds
by Trevor Whenham - 2/28/2014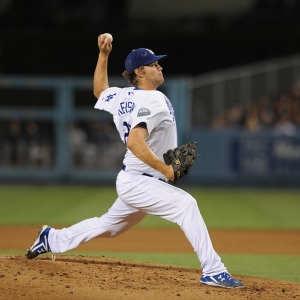 This is an interesting time for baseball futures. Spring Training has barely started, so we really don't know much about where teams are really at. That means that we are required to do a whole lot of guessing and assuming when it comes to evaluating teams. Enthusiastic baseball fans have been awoken from their winter slumber by the start of the Cactus League and Grapefruit League seasons, though, so attention being paid to futures odds, and betting volume as a result, is increasing significantly. Inevitably, then, there are teams that are at prices that don't offer any value at all — they are overrated from a futures betting perspective.
Here are five such overrated teams at this time of year:
Los Angeles Dodgers (13/2 to win the World Series): The Dodgers are favored to win the World Series. If the top prize was awarded on the basis of how teams spend money, they would be a lock to win it all. The Yankees have repeatedly shown us that that isn't the case, however. There is a lot of talent here — especially in the rotation. When guys are paid like this, though, egos are unquestionably going to be an issue. I didn't like the attitude last year, and I won't trust them again this year until they prove that they deserve it. They are also very reliant on the top end of their rotation. It is admittedly brilliant, but it's also so expensive that if they have long-term injury issues they can't really make a suitable replacement. This team is good enough to win it, but it's too much of a leap for me at this price to suggest that they are more likely than any other team to do so.
Detroit Tigers (9/1): Ever since the Tigers have become a legitimate contender I have had serious concerns about their toughness. They have been talented and have done well, but every year they have found a wall to run into to derail their season at some point. I am just not convinced that they have done enough to get tougher. Getting rid of Fielder certainly doesn't hurt on that front, but he was a very productive bat, and I don't think they have done enough to replace his production. They are also another team that is reliant on very strong pitching, and it seems dangerous to hope that those arms can keep producing without a setback. Again, while there is no doubt in my mind that this team is good enough to win, there is absolutely no value in this price in betting that they will.
New York Yankees (12/1): You can pretty much assume that the Yankees are going to be overbet all of the time, and this year is certainly no exception. Since last year this team has faced some major changes and distractions. Robinson Cano has moved to Seattle. A-Rod is gone for the year. Mariano Rivera has retired. Derek Jeter is about to set off on a retirement tour that will be so massive and distracting that it will make Rivera's look like it never happened. There are a lot of reasons this team could derail. People are also very excited about the arrival of Masahiro Tanaka. Though he certainly seems promising, he is a real unknown, and there is no guarantee that he will be as good as he would need to be to justify this price. There is no way that this squad should be at less than 20/1 right now.
Boston Red Sox (12/1): The Red Sox have to deal with the pressure of being the defending champions. That's tough for any team. On top of that, this is a team coming off a season where everything went their way all year, and they never quit overachieving. I give them full credit for winning last year, but I never once felt like they were the best team in the league. I don't expect them to be as good as they were, and I expect the division to be stronger, so I just can't have faith in this team at this price. There is absolutely no value here.
Texas Rangers (16/1): The team was really missing the power they had in their glory days last year with Hamilton gone and Cruz suspended. I just don't like Fielder enough to feel like he can make up for that. As good as Yu Darvish has been, it's also tough to trust that he can absolutely replicate that, and he needs to be at his best because this rotation just isn't deep or strong enough behind him. I also really don't like the addition of J.P. Arencibia to this team. He's only a backup catcher at this point, but he is a lousy player and a real negative clubhouse influence. It wasn't long ago that this was an elite team. I just don't think that they are anymore, and they aren't strong enough — especially in a division that should be very tight — to justify a price this low.
Read more articles by Trevor Whenham