MLB Handicapping: Are Toronto Blue Jays Legitimate Contender?
by Trevor Whenham - 5/28/2014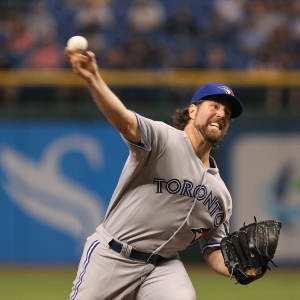 Baseball is a weird sport. Last year the Toronto Blue Jays came into the season as World Series favorites after a very aggressive offseason. The year turned into a 162-game horror movie as injuries piled on top of each other, pitchers forgot how to pitch, and nothing went right. They wound up 23 games out of first in the AL East.
This year expectations were dramatically more modest. Few pegged them as a playoff team heading into the year. The Red Sox, Yankees, Rays and Orioles all had more attention in the division. For a long time the Jays justified those opinions. A month ago today they were below .500 and seemed to be on the fast train to nowhere. But then something awoke in them. Since then they have gone 19-9, have won eight in a row, and have opened up a three-game lead on what has turned into a very winnable division. They have been the best team in baseball for more than two weeks.
But can they keep it up? Or will they crash back to earth and fade again into the forgotten corner they usually dwell in? Here are five factors to consider:
History: This is a team that hasn't made the playoffs since their last World Series win in 1993. Heck, the last time they were alone in first this late in the season was way back in 2000, and that only lasted until July 6 that year. There is not a history of success for this team or these players. The only taste of really being in the thick of things is what guys like Buehrle, Cabrera and others have with other teams. A lot of the real core of the team - Bautista, Encarnacion, Lawrie, Lind - are as unfamiliar with what is going on right now as the franchise is. That's a concern when things inevitably go poorly for a while and winning doesn't come quite as easily. Do they have what it takes to get it back on track and fight hard - which is what seasoned, successful teams do? Or will they just revert to the habits that have made them so frustrating for the last several years?
Attitude: When you watched games last year it was as if someone was broadcasting a kid's funeral. The team looked like it was the last place they wanted to be, they never smiled, and they seemed to be beaten down by everything that went wrong for them. It was a toxic team - you could feel it from 3,000 miles away. This year, though, things feel different. Much different. Some of that is obviously winning - that makes anyone feel better about themselves. It goes deeper, though. Morons like J.C. Arencibia are out of the clubhouse, and for the first time in years it seems like players and management are on the same page, leadership is quietly doing what it is supposed to do, and things are working. When you think of successful teams over the years you almost always think of clubhouses that don't get in their own way. For the first time in a long time that could describe Toronto - at least so far this year.
The division: In baseball so much of your fate is determined by your division. As fans of the team gripe, Toronto would have been a much better team over the last two decades if they were in the AL Central instead of locked in an arms race they can't win with New York and Boston. This year, though, the AL East is hardly overwhelming. The Yankees thought that they had sorted out their pitching, but the injury gods had other ideas. Boston is suffering through a serious post-World Series funk and seemingly panicking as they deal with it (the Drew deal stands out as laughable). The Orioles are fine but not inspiring at the moment, and the Rays have just been a disaster. It has long been that to win the AL East a team had to be exceptional. The way things are playing out this year, though, pretty good may just be good enough - like it has been in the AL Central for years.
Power bats: Edwin Encarnacion is a stud at the plate, and he is putting together a great year. Jose Bautista is still Jose Bautista - and he is enjoying good health again this year after some previous issues. Melky Cabrera isn't the roid-fueled superstar he was, but he is having an excellent season nonetheless. With those three at the core of a lineup they are going to score runs, and other teams are going to hate facing them. They have scored the most runs in the American League this year, and that is the biggest key to their success. It is also reasonably sustainable. They aren't going to be able to keep scoring runs quite like they have during their winning streak. If they can stay healthy, though - a big "if" - then they can easily be the best offense in the division.
Pitching: Last year the rotation was supposed to be great and was a nightmare. This year there were serious concerns, and it has been a very pleasant surprise. Mark Buehrle leads the majors with nine wins in 11 starts and has been brilliant. R.A. Dickey has just a 5-4 record, but with eight quality starts in 11 outings he has been fine. The back half of the rotation is a big of a concern, but they have found ways to cobble things together so far, and there are some options - including the payroll room to add another pitcher during the season if need be. Unlike the bats, the pitching isn't cause for easy enthusiasm. If they can keep doing some version of what they have been doing, though, it could be good enough. That being said, if this season does go sideways for the Jays then the blame will almost certainly lie on the starting pitching.

Doc's is offering $60 worth of member baseball picks absolutely free - no obligation, no sales people - you don't even have to enter credit card information. You can use this $60 credit for any of our top MLB handicappers. Click here for free MLB picks now.
Read more articles by Trevor Whenham