MLB Props Odds and Predictions: Derek Jeter's Final Season
by Alan Matthews - 2/13/2014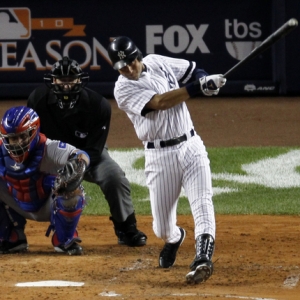 I used to be a MLB beat writer for a while. It sounds like a cool gig -- traveling all over the country and getting paid to watch baseball. Parts of it are very nice. One part I absolutely despised was the post-game interview. How would you feel if you just got out of the shower and you had a group of reporters waiting at your closet as you tried to get dressed? And how would you feel if you just had a really bad day at work. There were some definite a**holes in MLB in those situations. Derek Jeter was never one of them. He was the consummate pro, on and off the field.
So while I think he is a bit overrated simply because he's the captain of the New York Yankees (in some metrics, he is the worst defensive player in the major leagues of this century despite five Gold Gloves; his 71.6 career wins above replacement number is only 10th among shortstops), there's no question Jeter is one of the great Yankees and MLB players of all-time, and he will be a first-ballot Hall of Famer when his time comes. It's really a shame Jeter didn't hang it up after last season so he could have gone into Cooperstown with Mariano Rivera, the greatest closer ever. Any baseball writer who doesn't list Jeter (2020) or Rivera (2019) on his ballot should be disallowed from voting for the Hall of Fame, but you know a few clowns will do it simply on principle so neither is unanimous.
By now you no doubt know that Jeter is retiring after this season. This can't be a surprise to anyone as Jeter will be 40 in late June, and you don't play shortstop every day at age 40. You don't really play anywhere at age 40 unless you throw a knuckleball. Jeter was limited to 17 games last season with ankle trouble that plagued him after breaking it in the 2012 playoffs against the Tigers. He struggled in the few games he did play in, batting .190. In typically clutch Jeter fashion -- and you have to give the guy credit, he was clutch, especially in the playoffs, hence one of his nicknames was "Captain Clutch" -- he homered in his first at-bat of 2013. That would be his only one.
Jeter has won five World Series, was the 2000 World Series MVP, 1996 AL Rookie of the Year and a 13-time All-Star -- a major all-star off the field as well as Jeter dated some of the most glamorous women in the world. He is a career .312 hitter with 3,316 hits (10th all time) and 256 home runs. He ranks first in Yankees history in games played, at-bats, hits and stolen bases. With a healthy, productive season, Jeter could climb as high as No. 6 on the hits list, currently held by Cap Anson at 3,435 (there's some dispute about Anson's actual total). No. 5 Tris Speaker (3.514) is probably out of reach. Jeter holds the major-league record for playoff games, postseason hits and total bases. You don't think of Jeter as a major power guy, but his 20 playoff homers are No. 3 all-time.

This is a major coup for the Yankees in that late-season games are a lock to sell out now. Their final scheduled home game is Sept. 25 against Baltimore, and there are reports that some tickets for that game are going for $11,000 on the secondary market. According to the New York Daily News, the cheapest ticket available on StubHub on Wednesday night was $285.50 for a "Possible Obstructed View" seat in the bleachers. New York closes the season on Sept. 28 at Boston. You wonder if Jeter will play in that series if the Yanks are out of the playoff chase just so his last game can be at Yankee Stadium like Rivera's was. It doesn't seem in Jeter's nature to beg out of any game, however. It will be pretty cool to see how Red Sox fans honor him on that final day of the season. I do believe that's his final game as I don't think the Yankees make the postseason.
Clearly I have a betting angle to all this. The folks at Bovada have released three Jeter props. Let's look at them.
Will Jeter play a game in the 2015 regular season: "yes" 20/1, "no" 1/50. Jeter's word is pretty much his bond. He's not going to waiver. About the only way I could see him returning is if he suffers a season-ending injury early in the 2014 season like Rivera did in 2012.
Jeter's total games played: "over/under" 120.5 (both -115). I think you can win big here. In my opinion the site should have included games played at shortstop. There's no question in my mind Jeter plays more than 120.5 because the team will use him at designated hitter at least once a week if not more. For example, new signing Masahiro Tanaka is considered a ground-ball pitcher, so the Yanks are likely to use defensive specialist Brendan Ryan at short those days. Jeter also will want to be in there every day because he doesn't want fans who came to the park just to see him miss out.
Finally, Jeter's over/under average is .290 (both -115). Jeter only hit less than that in one full season, 2010 (.270). In his last full year, 2012, Jeter hit .316 with 216 hits. I have to lean under here. Jeter's too old to leg out any infield hits these days, and he seems likely to struggle for a while after essentially taking a year off. I look for Jeter to hit around. 275.

Read more articles by Alan Matthews