MLB Totals Betting Trends Report
by Aaron Smith - 4/15/2014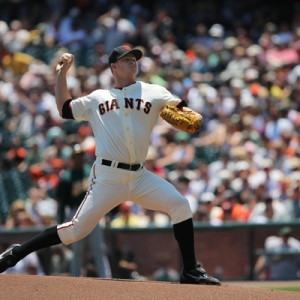 The Major League Baseball season is two weeks old. According to some people, the Milwaukee Brewers should practically be crowned World Series Champions. Those same people believe the Boston Red Sox are no longer a threat to even make the playoffs. The people spewing this kind of nonsense are the types of people you should pay no attention to this time of the year. Baseball is the longest season of any of the major sports, and two weeks isn't even close to enough time to judge how a team's season will go.
Betting on totals can be a wise way to make money when betting on baseball. Following trends can be a profitable strategy over the course of the long baseball season. Doc's Sports is going to keep a close eye on baseball totals trends through the 2014 season. This will be a bi-weekly article designed to help you get an edge on the books.
Top Five "Over" Teams (Over Listed Then "Under")
1. San Francisco Giants (11-2) Who would have expected the previously light-hitting San Francisco Giants to be averaging 5.08 runs per game through the first 13 games of the season? Angel Pagan and Michael Morse have both been tremendous for this offense so far this year. It's also true that the Giants pitching staff is far less dominant than it was a few seasons ago. The oddsmakers still need to catch up to the fact that this team won't have as many extremely low-scoring games as they used to have.
2. Minnesota Twins (10-2) Minnesota is on this list both because of some timely hitting and some terrible starting pitching. When your No. 1 starting pitcher is Ricky Nolasco, you don't have a good rotation at all. On the other hand, Minnesota is second in the majors in runs scored so far this year. The Twins aren't likely to keep scoring this many runs, and the books know this pitching staff isn't good.
3. Arizona Diamondbacks (12-4) Arizona has been the most disappointing team in the majors so far this year. The primary reason for that has been their horrible pitching staff. Arizona's overall team ERA is dead last in the majors at 5.96. Trevor Cahill has been kicked out of the rotation with his 9.17 ERA. This team badly missed Patrick Corbin, who is injured and out for the season due to surgery.
4. Los Angeles Angels (10-3) The Angels have bashed 21 home runs already this year, which is the most in the majors. Josh Hamilton's injury hurts this offense, but there are still plenty of other big bats here. Albert Pujols looks a little more like himself so far this year, and that will be the key to whether this team can continue this kind of offensive performance in the long run. What about Mike Trout? Trout's an absolute stud who can be counted on to put up huge numbers every single year.
5. Colorado Rockies (10-3-1) The Colorado Rockies have the best batting average in the majors so far this year. A lineup with guys like Carlos Gonzalez, Troy Tulowitzki, and Michael Cuddyer in the middle of the order is going to put up a bunch of runs. Unfortunately for Colorado, the pitching staff isn't good enough to consistently get them victories. Until something changes, this is a team I'll be expecting lots of high-scoring games from.
Top Five Under Teams (Under Listed Then Over)
1. Boston Red Sox (10-3) The reason the Red Sox are 5-8 to start the season is their offense. Boston's offensive performance so far this year has been anemic. Boston really misses Shane Victorino, who has been a spark plug for this team ever since he came to Boston. Will Middlebrooks is also missed. Dustin Pedroia's injury appears to be minor, so he should be back in the lineup soon. I expect this offense to put it together in the long run.
2. San Diego Padres (9-4) Some things never seem to change. The San Diego Padres are second to last in runs scored so far this year. San Diego is averaging just 2.92 runs per game. This offense has been a major problem for several years, and I see nothing to expect any different from them this year. Expect plenty of low-scoring games at Petco Park in 2014.
3. New York Yankees (8-5) The Yankees are fourth in the majors in batting average, but they average only 3.77 runs per game. It's obvious that this team hasn't been hitting at all with runners in scoring position. A lineup this talented is going to score runs in the long run. Like their hated rivals from Boston, I expect to see the Yankees take care of their offensive woes in the coming weeks.
4. Texas Rangers (8-5) The Texas Rangers offense is another underachiever so far this year. Texas is averaging only 3.54 runs per game. Do you really think that's going to continue, though? I certainly don't. This is a lineup with Choo, Fielder, Andrus, Rios, and plenty of other top hitters. Adrian Beltre's absence hurts the offense right now, but don't expect this offense to stay down for long.
5. Oakland Athletics (8-5) Oakland's pitching staff is one of the best in the majors every single year, and that is the case again this season. The bullpen is extremely deep, and the starting rotation contains several underrated pitchers. This Oakland team wins game with small ball, and that can lead to a lot of games that finish under the total. Don't be afraid to back the under with this team if the matchup looks favorable.
Read more articles by Aaron Smith