MLB Wagering Tips: Using Commercial Betting to Find Value
by George Monroy - 9/8/2014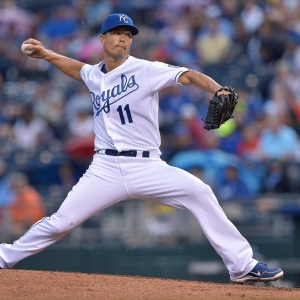 Wouldn't betting on baseball be much easier if we could place wagers after the games had started? Maybe we'd wait until the favorite grabbed a one-run lead and then bet on the moneyline. Or maybe we'd wait until the third inning to take the "over" on a high-scoring matchup. The options would probably be endless. Well, over the last few years, that is exactly what the online sportsbooks have begun to offer bettors-a chance wager on games after they have already started.
The wagers are called "in-game" or "commercial betting," and they allow gamblers the option to bet on baseball games in between innings. The in-game betting concept is offered for nearly every sport on the board, but baseball in particular is a great situation to take advantage of the in-game betting option. Let's go over a few tips for wagering on MLB commercial games.
How does it work?
In-game betting is fairly simple to for bettors to follow; during the commercials of a baseball game the oddsmakers will provide updated odds for bettors to wager on. The lines will usually be a new totals number, a new runline and/or moneyline. If a game gets out of control and one team is leading by more than two runs, the sportsbooks will stop providing moneylines and stick with runlines.
For example, if the Los Angeles Dodgers are leading the San Diego Padres by three runs at the end of the first inning, a new in-game line might have a new total at 11.5 runs and a runline line of 2.5 runs, with the juice leaning toward whatever side the oddsmakers feel the game will go. If San Diego is playing at home, the runline might be -155 to get the Padres at +2.5 runs. But if the Dodgers were at home, the -2.5 runs would probably be the favorite.
Taking advantage of the runs
Baseball final scores can be similar to the stock market in the way that prices move throughout the trading day. A certain stock may close with a one dollar gain but fluctuate wildly along the way. The same thing happens with baseball scores; one run may be the most common margin of victory, but a 5-4 outcome usually doesn't stay at a one-run differential along the way.
One of the best ways to take advantage of in-game betting lines is to look for home teams or large favorites that are trailing by multiple runs-which happens more often than you would think. A home team might go down by three or four runs early in a game, and a bettor might be able to catch them plus 2.5 or 3.5 runs. A natural reaction might be to wager on the team that is winning, but the taking the underdog plus runs is the better play.
Reducing moneylines
Another great way to take advantage of an in-game situation is to look for spots where a large pregame favorite goes down by one run. The pregame favorite will still be favored, but the moneyline should be drastically reduced. For example, the Dodgers might go into a game as a -280 favorite when Clayton Kershaw is pitching, but if he allows a run before Los Angeles has a chance to score, the moneyline might fall into the -120 to -150 range.
Kershaw allowed a quick run in two of his last three starts and had Los Angeles trailing 1-0 early in both games. The Dodgers eventually won both outings as those early runs were the only ones Kershaw allowed for the entire game. Excellent baseball teams fall behind early in games nearly every single day, so look to take advantage oft those lines.
Conclusion
In-game betting can be a tricky wager to navigate. Being able to put more action on a game could cause bettors to lose extra money in chasing a blowout. Remember, betting in general can be situational, and getting extra runs on a bad team may not make much of a difference when a huge blowout comes. But if you find the right situation where a great line pops up, learning to wager on in-game lines could provide great value for baseball bettors.
We would like to give you $60 worth of member's baseball picks absolutely free - Sign up for free baseball picks today.
Read more articles by George Monroy