NBA Handicapping: Surprising Results from Bulls Lately
by Trevor Whenham - 1/16/2014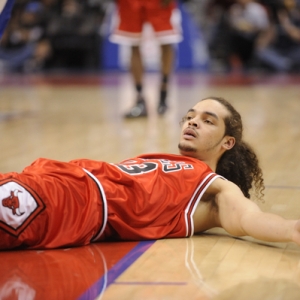 The storyline is supposed to be obvious. After losing former MVP Derrick Rose for another year and then seeing Luol Deng traded away for nothing but payroll relief, this should be a team that is in the gutter. Their will should be crushed, and they should be just going through the motions. That's what would make sense, but it is not what is happening. Instead, they have won six of their last seven and nine of their last 12. After an ugly start to the season, the team has fought back to just a game below .500, and thanks to playing in a painfully incompetent conference they are comfortably in a playoff position at this point.
So, how are they doing it? And, more importantly for bettors, can they be trusted to keep doing it? Here are seven factors to consider when looking at this team:
Pissed about Deng, but not pouting: When a team is robbed of a player of the caliber of Deng without anything useful in return they can often become deflated and frustrated, and their play will suffer accordingly. Since the deal, though, the Bulls have won four of five and have looked solid. While the players are openly and understandably frustrated by their fates, they are using that frustration as a motivating factor instead of as a reason to quit. That's a sign of a mentally-tough team.
Too much experience dealing without Rose: Sadly, over the last couple of years the team has had far more experience playing without their superstar than with him. The second lost season could have been a fatal blow for the team, but they are learning to overcome it effectively now because they have plenty of experience in this situation. There is an obvious gap in the lineup without Rose, and they have not replaced him seamlessly by any means, but while the team is obviously frustrated by the loss, they can no longer be called unprepared for it. Their recent success has a lot to do with their ability to handle this setback with composure.
Defense is brilliant: This is a good defensive team. Very good. They have allowed the second-fewest points in the league. Through all of their setbacks and frustrations the team has maintained a focus and intensity on defense that is far above average. It's a selfless devotion, and it is mostly consistent. When a team is committed to defense then it can be much easier for them to overcome changes in the roster than if they are a squad that relies heavily on offense. In this way, at least, having an underwhelming offense can be viewed as a positive — or at least not as a negative. There is likely to be something of a step back defensively in the coming weeks because Deng was their best all-round defender, but it isn't likely to be as dramatic as it might first seem.
D.J. Augustin a pleasant surprise: Augustin has carried far more of a load on the point than he ever ideally would with the absence of Rose. While it is hard to get excited over the long term with Augustin given the path of his career, he has been surprisingly strong for the Bulls, and he has been particularly good over the last couple of weeks. He's been a spark for this squad in their recent success, and he is just one example of how well this team has done at assembling a roster of spare parts that is far out-performing what you would normally expect of them.
More moves could be coming as part of re-tooling: Dealing Deng doesn't necessarily signal that this team is in the midst of a rebuild. In fact, management insists it is a re-tool and not a rebuild. Deng was a part of the core, though, so it isn't beyond the realm of possibility that more changes could be in store. While the team has been remarkably resilient so far, any further moves could be the straw that breaks the back of this team. Even a seemingly insignificant move could prove fatal if the team is more mentally fragile than they appear to be.
Schedule: While nine wins in 12 games is impressive no matter what, there is no doubt that the schedule makers get an assist on this streak. They have a lot of wins over some pretty underwhelming teams — Cleveland, Boston, Brooklyn, Memphis, Milwaukee, Charlotte and Orlando. Only Phoenix and Atlanta count as reasonably solid wins, and losses against Toronto and Washington aren't that impressive. Luckily, though, since they play in the East there are plenty of soft opponents on the schedule, and they aren't exactly going to have to run a gauntlet over the next month. In other words, there is no reason to believe that they can't keep doing what they have been doing at least into February.
Front-court: With Carlos Boozer and Joakim Noah starting and Taj Gibson around to soak up minutes, this is a deceptively-good front line. In fact, it doesn't get enough credit — this is an elite unit that leads the way, and it is very hard to play against. They vacuum the boards, and are a consistent force for this team. Their quality and stability has as much to do with the success of this team right now as anything.
Read more articles by Trevor Whenham