NCAA Tournament Facts and Interesting Information
by Trevor Whenham - 3/18/2014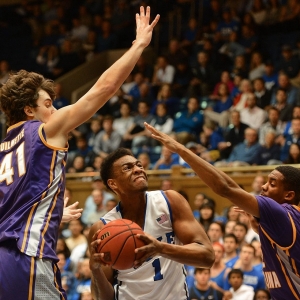 To get you ready for March Madness, here is a collection of NCAA Tournaments facts to get your brain working:
--There are approximately 147,573,952,589,676,412,928 different possible brackets with a 68-team field. Only one will be correct. Warren Buffett has grabbed a lot of headlines for underwriting a $1 billion prize for a perfect bracket this year, but given the odds against it, it's the safest bet anyone has ever made. If every person on the planet were to fill out a random bracket, the odds would still be way over a billion to one against a perfect bracket. Buffett hasn't disclosed how much he is being paid to insure the payout, but he is basically stealing whatever amount it is.
Free $60 in Member March Madness Picks No Obligation Click Here
--Blue is apparently the color of success. Last year was the first time in 12 years that the National Champion didn't have blue as one of their colors.
--23 Different teams have entered the tournament as the No. 1 overall seed and gone on to win it all, with Louisville last year as the latest. That would seem to make Florida very attractive here. Keep in mind, though, that Louisville was only the second team since 2001 to do so (and second in a row after Kentucky) and only the sixth since the 64-team era began in 1985.
--Don't get too chalky in picking your brackets — 2008 was the only year in which all four No. 1 seeds made it to the Final Four. On the other hand, three times — 1980, 2006 and 2011 — we have seen no No. 1 seeds survive until the final weekend. Overall, No. 1 seeds have won 18 of the 29 tournaments since the expansion to 64 teams.
--We are up to 116 tries for a No. 16 seed against a No. 1 without a single victory. Only five times have the lower seeds come within four points. For upset lovers, 1989 was almost the greatest year ever, when not one but two No. 16 seeds came within a single point of elusive victory.
--The biggest upset in NCAA Tournament history, at least in terms of points spreads, occurred in 2012 when Norfolk State, a No. 15, stunned Missouri, a team that many thought should have been a No. 1, in the opening round, as 21.5-point underdogs. In the championship game no upset has been more lopsided then when UConn beat Duke in 1989 as 9.5-point dogs.
--The lower seeds only have a historical edge in one pairing in the first round, and not surprisingly that is the No. 9 over the No. 8. The lower seeds have won 60 of the 116 meetings, though only four of the last 12. The No. 12 over the No. 5 is the upset that people most often talk about. Historically, the upper seed has won almost two-thirds of those games, but the underdog has advanced in six of the last 12 games.
--This year's Final Four takes place in Arlington,.Texas. UConn will be happiest about that — they have twice won titles in the state of Texas, including in 2011 in Houston. Louisville, Kentucky, Kansas and UCLA also have cut down nets in Texas.
--Brent Musberger — he who was recently unceremoniously demoted from his college football commentating duties — gets credit for first using the term "March Madness" when talking about the tournament in the 1980s. He certainly didn't invent the term, though — it has been in use describing high school tournaments in the midwest since as far back as the 1930s.
--It's easy to complain about the fat cats at the NCAA, but they don't actually collect the profits from this tournament — and there are lots of profits. Half of the proceeds are shared among all Division 1 schools based on the number of sports they play and scholarships they award. The other half goes to the conferences depending on how they have done in the tournament over the last six years.
--North Carolina has struggled lately, but they are tops with 18 Final Four appearances. UCLA has 17, though one was subsequently vacated. Kentucky and Duke are next with 15, and Kansas has 14.
--BYU and Missouri are at the top of a category they would rather not be. The Cougars have had 27 NCAA Tournament appearances without a Final Four appearance, and the Tigers have had 25. Xavier is next in line with 23.
--Mike Krzyzewski is far ahead of all active coaches with 11 Final Four appearances. Roy Williams is second with seven, followed by Tom Izzo with six. Coach K is tied with Dean Smith with the second most Final Four appearances of all time. He has a chance to tie John Wooden at the top of the list this year. Coach K leads the way among active coaches with four wins. That means that he has lost more finals than all but one active coach has appeared in. Two other active coaches — Roy Williams and Billy Donovan — have won two titles.
Want free sports betting picks? Doc's Sports has you covered – get $60 worth of picks free from any of Doc's Sports expert handicappers. Click here for free picks (new clients only).
Read more articles by Trevor Whenham