Super Bowl Betting: Money Management
by Trevor Whenham - 1/22/2014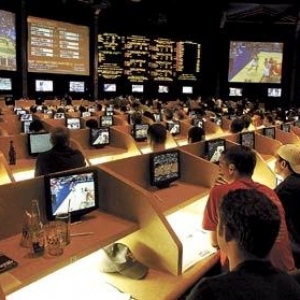 Handicapping is important when it comes to the Super Bowl. If you want to make a profit, though, then Super Bowl betting money management is more important than anything else. With so many options, so many distractions, and so much unpredictability, it's particularly important that you are protecting your bankroll. Here are three key steps to managing your money on football's biggest day:
Define your goals: If you want to have any Super Bowl betting success over the long term then you need to know what your goals are. Are you looking just to have a rooting interest in the game, or are you looking for a big score to cap off the season? Do you want to make as many bets as you reasonably can, or are you happy to just make a couple of bigger bets? Are you looking for a small, reasonably-secure return, or are you aiming for a big payday? Whatever your goals are will determine your entire betting approach to the game and will guide your handicapping as well. Defining your goals before starting to look for bets is like firing up your GPS before heading off on a road trip — it's a very good idea.
Set some limits: The Super Bowl is easily the biggest one-day sporting spectacle on the planet. Given all the hype and excitement, it can be very easy to get carried away and bet too much on the game. There is nothing worse than turning a winning season into a losing one because you bet too much, or too recklessly, on the Super Bowl. Before you bet any day you should know what your limits are for the day — what you are willing to lose. That is especially important for a game like this, though, when there are so many betting options and so many temptations for sports bettors. Decide what you are willing to bet — and potentially lose — and stop there. If you are betting online and you are worried about your self-control then only have what you are willing to bet in your account. If you will be heading to a sportsbook then only take the cash you want to spend, and leave your plastic at home.
Zero in on your targets: The number of options for betting on the Super Bowl increases every year, and the range and variety is mind-boggling. There is a prop bet for pretty much everything you could imagine — and a whole lot that you never would. You can bet on the length of the National Anthem, the color of the Gatorade bath, and everything in between. With so many options out there — and a lot of them seeming to offer some value — it can all be very tempting for bettors.
When you are looking to profit from the Super Bowl, though, you can't make your bet selection with a shotgun. A lot of people will just jump at every opportunity out there that sounds good, put some money on it, and hope for the best. That's just not the right approach. Instead of putting a little bit on every possible bet out there, winning bettors will focus only on the best that give them the best possible chance for success, and they will invest more heavily in those bets. Instead of a shotgun, the weapon of choice is a laser. That approach is really what can make the Super Bowl attractive. It's a much more challenging game to handicap than most, but because there are so many different betting options out there you can often find one that works nicely for you if check them all out, do your research, and apply some logic.
Beyond finding bets that make the most sense you also want to make sure that you aren't making bets that potentially cancel each other out. For example, if you are betting a lot of props that are optimistic about the offensive — passing yards or receiving yards, for example — then it might not also make sense to bet the "under" for the game. If the offenses are as explosive and successful as you are predicting then you could win the props, but your profits could be cancelled by losing the under. If the offenses struggle then you will win the total bet but likely lose the props. You have unintentionally hedged yourself and made it much more difficult to come out with a profit. You need to make sure that all of your bets are consistent with a particular vision of the game that you hold.
Want free sports betting picks? Doc's Sports has you covered – get $60 worth of picks free from any of Doc's Sports expert handicappers. Click here for free picks (new clients only).
Read more articles by Trevor Whenham