Super Bowl Halftime Betting Advice and Strategy
by Nicholas Tolomeo - 1/29/2014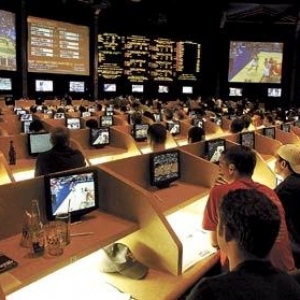 The length of an NFL halftime is 12 minutes – except for one game every season: the Super Bowl. For the Super Bowl, the NFL more than doubles the halftime in length to 30 minutes. While fans may mind a mediocre halftime act and a longer wait, Las Vegas sure does not. With a halftime line released almost the second the first half clock reaches 0:00, gamblers have a half hour to place a Super Bowl second-half wager. The Super Bowl second-half line is easily the most wagered halftime line of the NFL season.
Halftime betting allows bettors to wager on the score of the second half only and overtime, if necessary. The line comes out once the first half has been completed and is off the board once the second half begins. Most online sportsbooks post the halftime line just seconds into the intermission.
The second-half line is usually loosely based on the opening line but obviously changes somewhat considering what has happened so far in the first half. There is a second-half point spread and a second-half total.
Some lines are easier to figure out than others. Say the Denver Broncos, a three-point favorite at most sportsbooks, are winning by a field goal at halftime, then the second-half line will likely be a "pick'em," meaning Denver just has to win the game for you to win your bet.
While the lines appear to be posted in the blink of an eye right as halftime begins, they are long thought out and almost formulaic, with an experienced gambler very likely to predict the halftime line. Also, halftime lines tend not to overreact. If a seven-point favorite is winning by seven, the oddsmakers are not going to predict a repeat of the first half and make the favorites -7 in the second half and thus -14 for the game. They are likely to make the favorites only a half-point favorite, and hence -7.5 for the game.
There is a trade off with halftime betting. For one, instead of relying on stats from weeks or months ago or how the teams fared the last time they played, you can simply revert to what you have seen on the field during the first 30 minutes. Some bettors strictly wait for the halftime line to wager on a game.
There is very little time to handicap the second half, but there is also a distinct advantage of knowing the exact weather (of utmost important this year in MetLife Stadium), how the field is holding up, what players seem to be hobbled by injury and who has the momentum.
Halftime lines are not to be confused with live lines that some sportsbooks offer. A live line is wagering on the outcome of the entire game, and these lines are usually posted by online sportsbooks throughout the game.
If you already wagered on the game line, the halftime line could still hold plenty of interest for you. If your bet is a sure-fire loser then you can try to break even by taking the second-half line. Or if you game line bet looks like an early winner you can try to hedge your bet and middle the game with just about no risk. For example, if you wagered Seattle at +3 on the game line and the Seahawks were winning by a field goal at halftime, you could potentially take Denver at a pick in the second half and hope for a Denver one- or two-point win to win both of your wagers.
But be wary, while halftime betting is a great way to wager on a game that has a flow and tempo already dictated, it is also a great way to get off a winner or double down on a loser. And another word of caution; with halftime rolling around sometime near 8 p.m. on Super Bowl Sunday, you may not be in the same frame of mind as you were earlier in the day when you placed your wager about 14 beers and 21 buffalo wings ago. Plan accordingly and halftime wagering could become as routine, and hopefully profitable, as betting on the game line.
Want free sports betting picks? Doc's Sports has you covered – get $60 worth of picks free from any of Doc's Sports expert handicappers. Click here for free picks (new clients only).