2014 Super Bowl Handicapping: Injuries of Note
by Trevor Whenham - 1/29/2014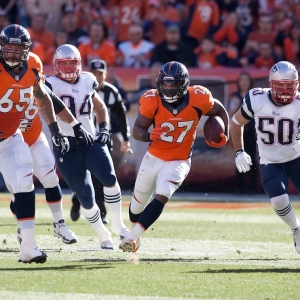 You don't want to see the Super Bowl decided because of injuries. Luckily, this year we aren't likely to see injuries be a major factor in the game — unless there is a major incident in practice this week. Here's a look at the injury situations for both teams:
Denver Broncos
Injuries have played a big role this year for the Broncos. The hits have especially come on defense with the key losses of Chris Harris Jr. and especially Von Miller. Both losses are significant, but the team has had time and experience dealing with both already, so we at least have a sense of what to expect in their absences.
As far as more immediate concerns, the biggest issue is running back Knowshon Moreno. The starter was injured late in the New England game, and he is dealing with a rib injury. He was limited in practice for the first week of Super Bowl preparation and is likely to be limited as well in the second week. He says he feels better and he expects to play — though there was never much doubt about that given the scope of the game. What remains to be seen, though, is how effective he can be with a tender rib.
When we think of ribs and running backs this year we have to think of Houston's Ben Tate. He played several games with a broken rib and was reasonably effective. Moreno should be reasonably effective — at least as effective as he needs to be in this Denver offense. The colder the game is, though, the more concern there is. Cold could mean an increased role for the running games, and in cold weather the hits will be more painful.
Kicker Matt Prater was sent home last week with an illness. He returned to practice on Monday, though, and should be ready to go. Beyond that the biggest questions are DTs Mitch Unrein and Sione Fua. Neither are starters, but if both are unavailable or limited then depth up front on defense would be a concern.
Peyton Manning and Terrance Knighton are likely to be on injury reports all week, but obviously it is incredibly unlikely that anything will come of it in either case.
Seattle Seahawks
Seattle has had a lot of injury issues this year — most notably on the offensive line. Their timing is very good, though, because they are as healthy as they have been in a long time right now.
The biggest issue lately has been Percy Harvin. He has had countless issues this year but is healthy right now, and barring a setback should be close to full strength for this game. Less certain is receiver Doug Baldwin, quietly an incredibly efficient player. He has a hip injury and didn't practice at all in the first week of preparation. He had a big game against San Francisco last time out, so it will be important to watch his progress as the game nears. Indications are that he'll be ready and that the team is just being cautious, though, so there probably isn't too much reason to panic.
Marshawn Lynch also missed some practice time, and his absence would be very significant. He has missed some time throughout the year, though, and hasn't missed a game. He's just being cautious with his knee and should be fine. Caution in the first week of practice was a common trend because Byron Maxwell, Brandon Mebane and K.J. Wright also took it easy to let themselves heal and be ready for the game. At this point, though, there is no indication that any of them will be limited during the game.
All in all, you can be sure that Pete Carroll is feeling pretty good about the health of his team coming into this game. There are a few minor issues, but it is basically impossible to be any healthier heading into your 19th game since the start of the regular season.
Doc's Sports has a great offer for new clients. You can get $60 worth of picks from any Advisory Board handicapper for any sport he handicaps. All with no obligation and no credit card needed. Claim your free picks today.
Read more articles by Trevor Whenham