2014 Super Bowl Quarterbacks: Manning vs. Wilson
by Trevor Whenham - 1/28/2014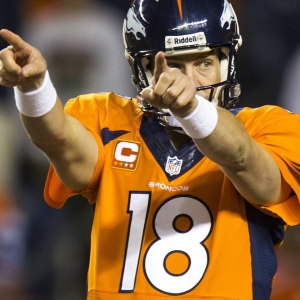 The quarterbacks are always a big story in the Super Bowl. That is especially the case here, though. Peyton Manning is the biggest story in the game, and given the surprising lack of personalities and intriguing storylines on the Broncos this year he will get even more than the very significant amount of attention he would get regardless. Russell Wilson won't get nearly as much attention, but he's a very intriguing young player with a whole lot of success in just two years, and he will be at the center of a lot of talk this week as well.
Because the quarterbacks get so much attention, they are obviously a very important consideration for handicappers. It is particularly important to analyze them accurately here because Manning gets so much attention and can lead to so much public bias.
We could look at the quarterbacks in 100 different ways and break the stats down a million different ways. As I look at the quarterbacks, though, there are five storylines that stand out as the most significant to wrap my head around:
The conditions
The most overplayed storyline in this game is the weather. The forecast isn't as cold as it could be, and Manning's history in sub-zero games is not nearly as bad as it is perceived to be. This year, for example, he has had a substandard freezing game, but he also obliterated the Titans when it was very cold. The weather isn't going to be the deciding factor that it could be.
There are some considerations that the weather forces us to make, though. For one, though Manning isn't likely to be dramatically affected by the weather, the drawn-out length of this game could be a potential concern for him. Of less attention, the weather could be an issue for Wilson as well if the cold, wind or visibility makes it tough to go deep. In the AFC Championship the Patriots picked away with short plays to set up deep passes. Brady was ineffective on those passes on that day, and the Patriots struggled as a result. Wilson has a better deep arm in a lot of ways, though, and could likely look to follow a similar path in this game. If Wilson isn't able to go deep effectively, though, then the team could struggle.
Durability
Manning has stayed remarkably healthy the last two years given the injuries he has overcome. I certainly didn't expect that to happen and have been overly pessimistic on this front as a result. Given how banged up he has been, the cold, and how relentlessly physical the Seattle defense is, though, you can't help but be a little concerned about the durability of the elder statesman — and the world of trouble the team would be in if he was injured.
Wilson avoiding mistakes
Wilson's numbers in the playoffs have been more solid than spectacular — 58 percent completions, 159 yards passing per game, one touchdown, and a combined rating of 89.1. What he has noticeably been effective at, though, is avoiding mistakes. He has done enough to win and little to make winning more difficult than it absolutely needed to be for his team. The contrast between his play and Colin Kaepernick in the NFC Championship, for example, is striking. As much as anything, then, your evaluation of this game has to determine not whether Wilson can have an exceptional game, but whether he can overcome Denver's game-planning enough to avoid mistakes.
Experience
This is an overrated factor for the most part, but the difference is certainly striking. Manning has seen and done everything in this league. He's been in this game. He's won this game. He has been the center of attention and speculation. Nothing is going to surprise him or knock him off his game.
While Wilson is very studious and as prepared as he can possibly be — he attended the Super Bowl last year just to get a sense of what it might be like when he came as a player — there is no substitute for experiencing the mania and insanity that is this week. The media will soon grow tired of the Richard Sherman storylines, and Wilson will be subjected to even more scrutiny than he already has. He has a better chance than many would to handle it well, but you have to look at the possibilities when considering this game regardless.
Public perception
Peyton Manning, in the eyes of many, walks on water. He is wildly-popular, and his offensive exploits are lauded. All you need to know to get the true sense of his power is to look at the early line movement in this game. Seattle opened as slight favorite, but almost immediately the action poured in on Denver. The line swung to as much as three points before falling back. That was a very strong movement given what Seattle accomplished through the season, and it's a clear sign of the public affection. You can't evaluate this game without paying close attention to the Manning love and what that means for where value can be found.
Want free sports betting picks? Doc's Sports has you covered – get $60 worth of picks free from any of Doc's Sports expert handicappers. Click here for free picks (new clients only).
Read more articles by Trevor Whenham