2014 Super Bowl Weather: Handicapping the Elements
by Trevor Whenham - 1/21/2014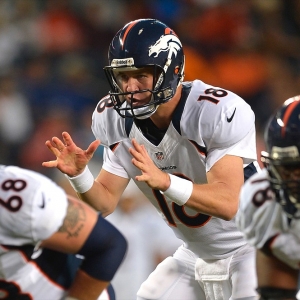 Maybe it is because when I look out my office window right now I see a big snow drift — as I expect to for six or more months each year. Or maybe it's because I'm a Canadian and we are used to winter. Or maybe I'm just not a wimp. Whatever the reason, I think the whole controversy over the potential of a cold-weather Super Bowl is one of the most ridiculous storylines i have heard when it comes to the NFL — and that's saying something. When looking at how the weather impacts Super Bowl handicapping, here are seven factors to consider:
Chances of poor weather: Unless you are holding off on betting until game time or close to it, there is a lot of risk involved it involving the weather in your handicapping. Several different historical looks at what the weather could be have said basically the same thing — that there is about a 50-50 chance that the weather won't be a big factor. In the 50 percent that aren't ideal, what we see could vary — it could be particularly cold, windy, snowing or raining, or some combination of the three. Only particular extremes of any of those possibilities would have a real impact on the outcome of the game, and the likelihood of that happening in most models hovers at 20 percent or less. In other words, the likelihood is that the weather won't be a big factor, so overcompensating in your handicapping would rob your bet of any value you might otherwise have found.
Both teams face same conditions: I'm not going to dwell on this one too much. The common theme is that the weather would be much worse for the Broncos because they pass more. While that could be true to an extent, if the conditions are so bad that they affect visibility, traction or the ability to kick effectively then they are going to have a big impact on both teams. Denver passes more, but Seattle can't win if they don't at least score somewhat. They are less-gifted offensively, so could even be more impacted by factors that make offense more difficult.
Field conditions will be best they can possibly be: The NFL is heavily invested in the success of this game, so you can be certain that everything that can be done to have the field in the best shape possible will be done. Every expert at their disposal will be in place and ready, so the negative impacts of the weather will be minimized as much as possible.
Not new to either team: If this was a matchup of the Saints and the Dolphins then maybe the weather would be a bigger factor. The Broncos play in a winter wonderland, though, and while Seattle doesn't get as cold, the wind and rain frequently make it miserable. These teams both know what they are getting into.
Crowd impact will be minimal: One of the storylines people consider when the weather is bad is that the crowd isn't as loud as it is in ideal conditions. Fans are bundled up and kind of miserable, and they are somewhat subdued as a result. In the Super Bowl, though, that isn't a real factor. The game is shockingly quiet all the time, and because both teams are from so far from New York, the stadium isn't likely to be flooded with fans of one side or the other. Cold or warm, both teams are going to face a much quieter stadium than they are used to at home.
Sample size: This is the biggest problem of all. When it comes to weather, all anyone wants to talk about is how Manning struggles when it is cold. Do you know how many games Manning, who is 37 years old, has played with a kickoff temperature of 32 degrees or less in his long and distinguished career? Eleven. That's it. Those games have been spread over many years, so there are so many factors involved that as trends go, this one is all but meaningless. Sure, his record is 4-7 in those games, but only if the sample size was much bigger and the reason for the losses was clearly and obviously the weather would this really be meaningful.
This year he played two games with freezing temperatures at kickoff. The first was the collapse in New England. The Broncos were up 24-0 at the half and lost in overtime. Manning's numbers were far from his best then, but he still threw two touchdowns, including a late one to force overtime. Two weeks later it was just 18 degrees when the Broncos hosted the Titans. Manning completed 39-of-59 passes for 397 yards and four touchdowns. So much for those struggles that day. It was also just above freezing when Manning and the Broncos lost at home to the Chargers. Manning's numbers were far from disastrous that day, though — 289 yards and two touchdowns. The team didn't perform as well against the Chargers that day as they did against most teams — but then they struggled against the Chargers in relative terms all three times they played them.
I could go on, but it all boils down to this — if anyone tells you that Manning struggles dramatically more than most quarterbacks in particularly cold weather, they don't have the numbers behind them to prove it. Factoring the potential for Manning to struggle in the weather into your handicapping in a significant way would be a big mistake.
Public will overstate the effect: This one goes pretty much without saying. When there is any story that is covered heavily by the media, the public is all but certain to overreact, and that is likely to be the case here as well.
Want free sports betting picks? Doc's Sports has you covered – get $60 worth of picks free from any of Doc's Sports expert handicappers. Click here for free picks (new clients only).
Read more articles by Trevor Whenham