Sweet 16 Betting: Biggest Handicapping Factors for NCAA Tournament
by Trevor Whenham - 3/26/2014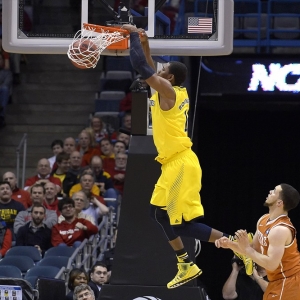 The best and worst part of the break between the round of 32 and the Sweet 16 is that we have time to think about what we have seen so far and what is to come. It's good because it gives us time to really prepare for these games after the frantic pace of last weekend. It's bad, though, because it gives us time to realize how much we don't know and how many big questions face us. Here are six of the biggest Sweet 16 betting questions to ponder heading into the next phase of the NCAA Tournament:
Can Iowa State adjust to life without Niang?: The Cyclones came into the tournament looking strong and haven't disappointed so far. Losing George Niang in their opener with a broken foot really hurt this team, though. They have no shortage of talent, but Niang has played a crucial role. They were able to survive their second game over North Carolina, but that was close, and adrenaline had a whole lot to do with the win. Now teams have more time to prepare for the team and figure out how to adjust to and exploit the absence of Niang. Heading into the tournament I really felt like Iowa State was a strong second-tier contender to win it all - not at the same level as the very best, but very much in the discussion. They still could be, but they need to show that they can handle this tremendous adversity with grace and confidence. It's also a very good test of whether Fred Hoiberg is the coach that he certainly seems to be.
Can Michigan recreate that first half against Texas?: From an offensive perspective, no team in this tournament has played a better half than Michigan did in the first half against Texas. They couldn't miss a shot, they decimated whatever defensive scheme Texas threw at them, and they frustrated and exhausted massive center Cameron Ridley - the player with the biggest potential to exploit Michigan's weaknesses. It was ruthlessly efficient, and when you combine that with the experience of the run to the final the team had last year you would have an extremely dangerous tournament squad. It's that efficiency that made the team the runaway regular-season Big Ten champion. When teams occasionally found ways to disrupt the squad, though, they struggled - and lost games they shouldn't have. Finding ways to maintain their style of play for four more games is the biggest focus of John Beilein going forward. Your faith in his ability to do so will entirely determine how you bet on this team.
Was Michigan State's second-half lapse against Harvard a fluke?: Michigan State should have crushed the life out of the Crimson. For the first half they did. But then Michigan State started to forget who they were, and they let Harvard dictate the pace and style of play. It wasn't a fatal lapse, and class ruled in the end, but as things get tougher going forward the Spartans can't afford to let their focus wane again. In a tournament where seeds are all messed up, the Spartans have as good a chance as any team to win it all. This field is so deep and evenly-matched, though, that we can't easily trust this team if we can't expect them to perform at a peak level for whole games.
How much will Kentucky grow from that win?: Kentucky has the most talent of any team in college basketball, but execution and chemistry have been massive issues all year. They won an absolute gem of a game against Wichita State, but they don't get any rest the remainder of the way if they want to keep going. Louisville is a massive test for this team, but it's one they could be up for if they can learn from that last win and continue to develop as a team.
What happens when Baylor meets resistance?: The Bears have been extremely impressive in their two wins. They absolutely destroyed a pretty good Creighton team that featured the runaway National Player of the Year. As good as they have been, though, they have faced two very beneficial matchups. Now they face a Wisconsin team that is going to punch them repeatedly in the face. Get past that and things don't get easier, either - especially if Arizona and their ridiculous length and athleticism advances as I expect. Baylor needs big boy pants to keep rolling along. Did they pack them?
Which Cinderella stays at the ball?: Dayton and Stanford are playing by far the least likely of the eight games in the Sweet 16. Both teams have been impressive, but neither was expected to be here. More often than not we see surprise teams come out in the second week looking not nearly as sharp as they were earlier because they have spent too much time dwelling on the enormity of where they are and because better teams have had more time to prepare to play them. Here, though, we can be absolutely certain that one of these shockers will win and advance. The biggest puzzle of this round is trying to figure out which squad will be ready to play at the level required to live another day.
Get free picks from any Doc's Sports handicapper - there is no obligation for this offer and no credit card required. Just sign up for an account, and you can use the $60 in free picks for any Doc's Sports Advisory Board handicapper and any sport. Click here to get started now.
Read more articles by Trevor Whenham