Which Team Will Masahiro Tanaka Sign With Odds and Predictions
by Alan Matthews - 1/16/2014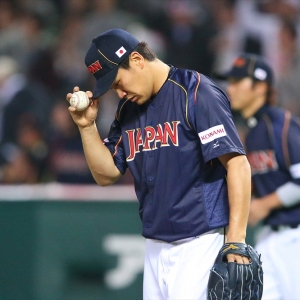 As hard as it is to believe, Spring Training opens in Florida and Arizona in less than a month -- Feb. 13, to be exact. The Opening Series games, which do count, between the Dodgers and Diamondbacks in Sydney, Australia, are slightly more than two months off.

Yet because of one player, we still don't know where most of the top free-agent pitchers will sign. Those guys are waiting on Jan. 24, which is the deadline for which team Japanese star right-hander Masahiro Tanaka will choose his big-league club. The 25-year-old Tanaka was an amazing 24-0 with a 1.27 ERA for the Rakuten Golden Eagles of the Japanese Pacific League last season, winning that league's Cy Young Award. He's easily the best pitching prospect to emerge from Japan since Yu Darvish. That signing worked out extremely well for Texas, although most believe Tanaka isn't quite an ace like Darvish but will be a very good No. 2 in the major leagues.
In years past, we would have known by now where Tanaka was headed because whichever team submitted the largest posting bid -- which was a silent auction type process -- would have owned Tanaka's big-league rights. The one benefit of that system was the MLB team had all the leverage. This season MLB and the Japanese League agreed to a new system where there could only be a maximum of $20 million for a posting fee, so more than a dozen teams reportedly put that money down for the right to negotiate with Tanaka. Only the team that he agrees to sign with will pay that $20 million. The negative to this process is that Tanaka now holds all the leverage, and thus he is expected to get a deal worth more than $100 million whereas Darvish got $61 million over six years from the Rangers, which is a steal now. Tanaka is probably looking at $20 million a season.
Once Tanaka is signed, pitchers like Matt Garza, Ubaldo Jimenez, Ervin Santana and Bronson Arroyo will see the markets for their services open up. The Yankees, for example, desperately need pitching and would likely have to sign one of those four if they can't get Tanaka.
Bovada has a prop on where Tanaka signs. Let's look at every team and their odds.
Yankees (3/2): New York got a major boost with Alex Rodriguez's suspension, which saves the Yankees about $24 million this season. The team wants to have a payroll of under $189 million for luxury tax purposes, but that's impossible to get Tanaka (the posting fee won't count toward that). While the Yanks have boosted their lineup, the pitching staff has major questions behind CC Sabathia, Hiroki Kuroda and Ivan Nova. The success of Kuroda and former slugger Hideki Matsui could help sell Tanaka on the Big Apple (but then there's Kei Igawa and Hideki Irabu). Plus, there's no more cosmopolitan city in America.
Dodgers (11/4): Could the Dodgers throw $120 million or so at Tanaka after just giving Clayton Kershaw $30.7 million a season and signing Zack Greinke to a $147 million free agent deal last year Frankly, L.A. is so awash in cash with its local TV deal that the Dodgers could afford it. L.A. also had success in Asia with Hideo Nomo and, last season, Korea's Hyun-Jin Ryu. A top four of Kershaw, Greinke, Tanaka and Ryu would be scary good.

Mariners (5/1): Seattle use to be ahead of the curve in Japan as their owner was Hiroshi Yamauchi, the former patriarch of Nintendo Corp. He died in September and had been relegated to minority ownership. The M's already have an excellent Japanese pitcher in Hisashi Iwakuma, a former teammate of Tanaka's, and a Big 3 of Felix Hernandez, Iwakuma and Tanaka could make Seattle a contender along with the Robinson Cano signing.
Cubs (7/1): Ken Rosenthal of Fox Sports tweeted on Thursday that the Cubs are "pushing hard" to sign Tanaka. Chicago does have money to spend as it has done nothing this offseason. However, the Cubs are probably two years from contention, and Tanaka may not want to wait that long. And as popular as the Cubs are, they aren't the global brand that the Yankees or Dodgers are. It would be a coup for Theo Epstein to land Tanaka to mollify an increasingly-disappointed and uneasy fan base, but the Cubs probably would have to blow bids by the Yankees and Dodgers out of the water.
Red Sox (10/1): Boston seems to have gotten away from paying big money to free agents, and that certainly worked well last year. The Sox also didn't meet with Tanaka in person but have spoken to his agent. I don't think this is a fit -- the Sox need to worry more about signing Jon Lester, who can become a free agent after this season. Boston also was burned on Daisuke Matsuzaka.
Diamondbacks (12/1): Arizona is definitely the sleeper team. The Snakes added offense in Mark Trumbo and badly need a No. 1-type pitcher. They asked the White Sox about Chris Sale but were turned down and have talked to the Cubs about Jeff Samardzjia. I'm just not sure Tanaka wants to play in the oven that is Phoenix.
Angels (15/1): For some reason, the Halos didn't meet with Tanaka in person when he was in L.A. Was it to throw other teams off the scent? I doubt it. I simply don't think L.A. can afford to give out another $100 million contract with Albert Pujols and Josh Hamilton taking up so much salary cap room and the fact Mike Trout is going to become baseball's first $300 million man in a year or two.
Rangers (15/1): Texas has been busy this offseason in beefing up the offense in adding Prince Fielder and Shin-Soo Choo, but the pitching staff needs help, especially after Derek Holland recently tripped over his dog, hurt his knee and will miss the first half of the 2014 season. How happy would Darvish be to make about half of what Tanaka does?
White Sox (18/1): The Sox are probably the most surprising team on this list as they aren't exactly big spenders these days. They are also likely a few years from contention and are overshadowed in their own city. Chicago's big offseason signing was Cuban first baseman Jose Abreu to a $68 million deal, and I can't see the Pale Hose spending an additional $140 million or so on another untested player.
Blue Jays (18/1): Toronto has the interest and the money, but Tanaka wants to play in the U.S., not Canada.
Reports are that Tanaka's wife wants him to play on the West Coast. So does he want to play in the limelight of L.A.? Will Seattle suffice? Or will Mrs. Tanaka be OK with the circus in New York? She is a well-known pop singer in Japan and wants to further her own career. I don't think the Yankees will be outbid here. They need him much more than the Dodgers do. In addition, the Yanks presumably have a good relationship with Tanaka's agent, Casey Close, as he also represents Derek Jeter.
Read more articles by Alan Matthews