Betting Odds and MLB Free Picks for Team Props for Monday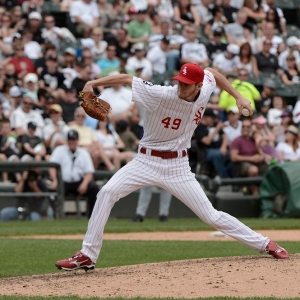 If you are looking for a good way to add some additional betting options to your MLB wagering, then you should take a closer look at some of the team props My Bookie releases in conjunction with each day's games. The trick to cashing in on some of these team props is to take a closer look at current from as opposed to the oddsmakers' tendency to rely more heavily on season averages and overall performance. The following is a trio of team prop picks for Monday night's games.
Philadelphia at Arizona First Inning Score (+100 YES & -130 NO)
The Philadelphia Phillies have been one of the lowest-scoring teams in the National League this season with an average of 3.7 runs a game, but over their last 10 contests they have gone 7-3 while averaging 5.7 runs a game. They will face the Arizona Diamondbacks on Monday night with Aaron Harang on the mound. The right-hander has been continually shelled over his past several starts with four or more earned runs allowed in seven of his last eight starts.
The Diamondbacks are still one of the top scoring teams in the NL with an average of 4.4 runs a game, but when it comes to their pitching staff's ERA they are well down the list at 4.07. They will go with Rubby De La Rosa as their starter, and his ERA has jumped up to 4.56 after allowing four or more earned runs in three of his last six starts.
This all adds up to a high level of scoring opportunity and a play on the "yes" there will be first inning score in this matchup.
Detroit Tigers Score First (+100) Kansas City Royals Score First (-130)
Detroit will kick off a three-game road series this Monday night against AL Central rival Kansas City. The Tigers won two of three against the Royals last week at home, but they proceeded to drop two of three to Boston at home this past weekend. They did belt a total of 15 runs in two wins against Kansas City and Boston during this stretch, but in the other four games they managed to score a total of only seven runs.
The Royals will be going with Johnny Cueto as their starter for Monday night. Since coming over from Cincinnati in late July, he has made two previous starts, including one against Detroit in which he held the Tigers to two earned runs on five hits through seven innings. Earlier in the year while still with the Reds, he allowed three earned runs against the Tigers on three hits, including a home run.
Detroit will go with Matt Boyd as their starter on Monday night, and in three previous starts he has been shelled for 12 earned runs. His best outing was against Kansas City during that three-game stint, but I still think there is enough value in the Royals' current form to merit a play that they will score first in Monday night's matchup.
Total Los Angeles Angels Runs: 3 (-135 Over & +105 Under)
The Angels will never be confused with some of the top power hitting teams in the American League with an average of 4.2 runs a game, but they did a good job getting runners across the plate in this past weekend's 2-1 series win over Baltimore. They were shut out in Saturday's 5-0 loss, but in Games 1 and 3 they outscored the Orioles 13-8 to get the two wins.
I really like Los Angeles' chances to go "over" three runs in tonight's series opener against the Chicago White Sox on the road. Chicago will turn to Chris Sale as their starter, which could add up to a long night for White Sox fans based on his current form. The left-hander is still a solid 9-7 this season with a 3.52 ERA, but over his last 10 1/3 innings pitched he has allowed 14 earned runs. I am banking on one more shaky start on Monday night to cash in on this MLB team prop pick.
Read more articles by Dave Schwab