2015 Big West Tournament Expert Picks and Betting Odds
by Robert Ferringo - 3/11/2015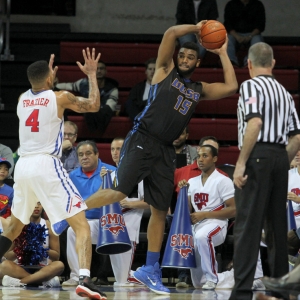 The Big West is one of my favorite mid-major conferences. The league is an oasis for transfer players and cast-offs from major conference programs. It is also a bit of a throwback league in that most of the teams still play in bandbox "arenas" that closely resemble what you'd expect a major metropolitan high school team or a quality junior college team to play in.
Regardless, the Big West is absolutely loaded this season, and this has been one of the most intriguing and hotly-contested conference races in the nation. The league is ranked No. 13 of all conferences in the country, ahead of better-known leagues such as the Horizon, Conference USA, the Colonial and the Sun Belt.
The 2015 Big West Conference Tournament will take place at the Honda Center in Anaheim, CA. The top eight teams from the nine-team league will all battle from March 12-14 to claim the league's automatic bid to the NCAA Tournament.
Here is Doc's Sports Big West Conference Tournament preview:
The Favorite: UC-Santa Barbara (+260)
The Gauchos are the favorites despite finishing in second place in the league this year. And the reason is simple: they have Alan Williams and no one else does. Williams is one of the best mid-major players in the country and an absolute beast in the post. Williams leads the team in scoring, rebounding and blocks, and everything UCSB does revolves around him. That doesn't mean UCSB is a one-trick pony, though. Santa Barbara played well in the seven games that Williams missed with a shoulder injury. They surround Williams with a host of capable guards, and this team was battle-hardened against a very challenging nonconference schedule. They took Kansas, SMU and Oregon to the limit - all on the road - and two of those games went to overtime. UCSB is not just good enough to win this tournament; I think they are capable of knocking someone off in the NCAA Tournament if they make it there.
The Contender: UC-Davis (+300)
UC-Davis is one of the best shooting teams in the country, hitting an outstanding 44.6 percent from 3-point land this year. Jim Les' group will bomb from anywhere, and guard Corey Hawkins and his 20.6 points per game lead them. Hawkins is the son of former NBA player Hersey Hawkins, and the senior is kind of a poor man's Steph Curry in the Big West. He can score from anywhere and will be tough to knock out of this tournament. But he isn't alone. Forwards Josh Fox, Josh Ritchart and J.T. Adenrele are each tough, experienced players, and they hold things down on the inside. UC-Davis loves to play small, and at times they have five guys under 6-foot-6 on the court at one time. That obviously leaves them vulnerable to bigger teams like Irvine and Santa Barbara. Regardless, they went 14-2 in conference play and have shown an ability to win at home and on the road. If they stay hot from the outside they could shoot themselves into the Big Dance. Be wary: the regular-season champion has won this tournament only once in the last five years and not since 2012.
The Sleeper: Long Beach State (+450)
The 49ers didn't exactly live up to expectations this year in the Big West. Expected to compete with UCSB for the top spot in the league, Long Beach endured a five-game losing streak after a 7-1 Big West start and slid down to the No. 4 seed. However, they have one of the best backcourts in the conference with seniors Michael Caffey and Tyler Lamb (formerly of Connecticut) leading the way. Inconsistency plagued this team on offense all season long, and they are capable of long shooting droughts from the outside. But they are supremely athletic and, like UCSB, are battle-tested after their annual death march nonconference schedule. Long Beach is just as talented as either of the top two seeds, and if they were to knock UC-Davis off in the semis it could set up another classic Big West showdown with rival Santa Barbara.
The Spoiler: Cal Poly (+1000)
Believe it or not but the Mustangs are the defending champions of this tournament. Joe Callero's crew shocked everyone last year by winning from the No. 7 seed. They enter the tournament losers of four straight and seven of 10. But they still have the confidence of a defending champion. And even though there's no way in hell they are going to repeat, they could just muck up the works for some others (like first-round opponent UC-Santa Barbara, whom they just lost to 64-56 last Saturday). Poly has a very distinct style: ugly. They try to grind games down with tough, gritty defense and a methodical offense. They want games to be played in the 50s, and they hope to execute down the stretch to steal hard-fought wins. It worked for them last year. Do they have any magic in them this time around?
Early Round Matchup To Watch:
No. 4 Long Beach State (-1) vs. No. 5 Hawaii (5:30 p.m., Thursday, March 12)
If Long Beach State is going to reach its potential they are going to have to first get past one of the scrappiest teams in the conference. Hawaii beat Pittsburgh, Nebraska and Colorado in nonconference play this year, and they fight tooth and nail. Granted, those wins all came out on the islands, and the Warriors aren't the same team when they play on the road. But they did destroy Long Beach 78-59 back on Feb. 26, and they aren't scared at all. Long Beach did win the other matchup, though, and is clearly the better team. But Hawaii really gets after it with perimeter defense, and they could exploit LBSU's shaky offense. I definitely give Long Beach the edge in this one and think they advance. But I don't see Hawaii making it easy.
Big West Conference Tournament Predictions: I honestly could see any one of five teams winning this tournament. Besides UCSB, Davis and Long Beach, UC-Irvine is another contender. They have one of the largest frontcourts of any mid-major team in the country, and they can blot out the sun with a pair of seven-footers. But I think that this tournament is Santa Barbara's to lose. They have the best player in Williams. And the resilience and ability that they showed during that stint without him is what sold me on this year's group. I think that either Long Beach or Hawaii could knock off UC-Davis in the semifinals. And I think that the Gauchos will dispose of whoever's left from the top of the bracket in a very good final.
Want free sports betting picks? Doc's Sports has you covered - get $60 worth of picks free from Robert Ferringo or any of Doc's Sports expert handicappers. Click here for free picks (new clients only).
Read more articles by Robert Ferringo
---
Most Recent March Madness Betting