Five To Follow MLB Betting: Friday July 17, 2015 Opening Line Report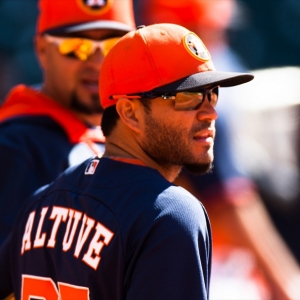 So how important from a playoff perspective is it to be leading your division at the All-Star Break with MLB's second half to begin on Friday? Let's look to last year's standings at the break. Your American League leaders were the Orioles, Tigers and A's. Baltimore and Detroit won their divisions while Oakland was a wild-card team. In the National League, the leaders were the Nationals, Brewers and Dodgers. Washington and Los Angeles won their divisions. Milwaukee finished 82-80 and out of the playoffs. I'm very confident in five current division leaders making the playoffs: Royals, Angels, Nationals, Cardinals and Dodgers. I'm not on the Yankees. We shall see. Let's at least hope for a bit more offense in the second half. Runs per game (8.2) are at the lowest point since 1981. There have been a whopping 32 games that finished 1-0. Is this women's fastpitch softball?
Rangers at Astros (-150, 8)
Texas isn't going anywhere this season but might next season. Ace Yu Darvish has missed all of this season after undergoing Tommy John surgery. But assuming he recovers OK that's a big addition. So would be left-hander Martin Perez, who makes his first start in 14 months off Tommy John surgery on Friday in Houston. Perez was an excellent 10-6 with a 3.62 ERA in his first full season in 2013 and the Rangers gave him a four-year, $12.5 million extension. He lasted only eight starts in 2014 before going down. It's Collin McHugh (9-5, 4.50) for the Astros. He has faced Texas once this season, in his season debut, allowing a run and five hits over six innings. Elvis Andrus is 3-for-6 off him. Prince Fielder is 2-for-3.
Key trends: Texas is 4-1 SU in its past five vs. Houston. The "over/under" has hit under in nine of the past 11 games in this series. The under is 12-5 in Astros' last 17 home games vs. a left-handed starter.
Early lean: Astros and over.
Mets at Cardinals (-140, 7)
St. Louis will welcome back All-Star outfielder Matt Holliday here. He was elected to start the ASG, was in Cincinnati and even took some batting practice, but he didn't play. There was some talk he might be activated last weekend, but the club elected to play it cautious. Holliday, hitting .303, has been out since June 8 with a strained quad. Cards might need all the help they can get against excellent Mets rookie Noah Syndergaard (4-4, 3.11). He was dominant in his final start before the break, allowing one run and four hits over eight innings vs. Arizona and striking out a career-high 13 while throwing a career-best 116 pitches. Because of all those pitches, it wouldn't shock me if he's on a bit of a limit here. Syndergaard has never faced St. Louis. It's Lance Lynn (6-5, 2.90) for St. Louis. He comes off maybe his worst start, allowing five runs and nine hits over four innings in Pittsburgh. Lynn is 1-3 with a 3.42 ERA in four career starts vs. the Mets.
Key trends: The under has hit in five straight Mets games in St. Louis. The over has hit in six of the Cardinals' past seven games.
Early lean: Love the under. Take St. Louis.
Mariners at Yankees (-153, 7.5)
Seattle has been vastly disappointing thus far, but one major bright spot has been the pitching of rookie left-hander Mike Montgomery (4-3, 2.29). He has allowed two runs or fewer in six of his eight starts. His big-league debut was at home vs. the Yankees on June 2, allowing one run and four hits over six innings. It's Masahiro Tanaka (5-3, 3.63) for New York, which has won its past three. He came off a six-week stint on the disabled list June 3 in Seattle and was fantastic, allowing a run and three hits over seven innings. Robinson Cano is 1-for-7 with a homer and two RBIs off him. Nelson Cruz is 0-for-9 with four strikeouts. Kyle Seager is 1-for-6 with four whiffs.
Key trends: Seattle has won five straight at the Yankees. The over is 6-1 in the Mariners' past seven games.
Early lean: Yankees and under.
Indians at Reds (-110, 8)
The one interleague series to kick off the second half is the battle of Ohio. And it's a bit of an audition for Cincinnati's Mike Leake (6-5, 4.08). Now that the All-Star festivities are done in the city, the Reds should start the fire sale any day. Leake is all but gone as an impending free agent. His value is fairly high right now as he comes off his best outing of the year, shutting out the Marlins on three hits over eight innings and striking out a season-high 10. He pitched in Cleveland on May 22 and allowed five runs and seven hits in four innings. All-Star Jason Kipnis is 3-for-11 off him. Brandon Moss is 2-for-3 with a homer. Michael Brantley just 1-for-12. Indians lose the DH here. It's Trevor Bauer (8-5, 3.76) for the Tribe, a team I expect to start moving up the wild-card standings. Bauer was strong vs. the Reds on May 24, allowing a run and five hits over 7.2 innings.
Key trends: The under is 5-1 in the Tribe's past six. The Reds are 5-0 in their past five at home vs. the Tribe. The under is 5-2 in Cincinnati's past seven.
Early lean: Indians and under.
Twins at A's (-160, 7)
Oakland doesn't have much time ahead of the deadline to determine if it's a seller or not. The A's are 41-50 despite an excellent plus-44 run differential. Their problem is a terrible record in one-run games, to the tune of 8-22. All-Star Sonny Gray (10-3, 2.04) is on the mound here, and he's not going anywhere. Gray is in the Cy Young conversation as he leads the AL in ERA. He closed the first half with a stellar outing, throwing a complete-game two-hitter in Cleveland. He's 2-0 with a 5.40 ERA in two career starts vs. the Twins. Brian Dozier is 2-for-5 with an RBI off him. Minnesota's Ervin Santana (0-0, 6.00) makes only his third start of the season off an 80-game suspension. He was good in the first, at Kansas City, but rocked in the last, vs. Detroit. Oakland's Billy Butler is 8-for-31 with five homers and nine RBIs career off him. Ben Zobrist is just 2-for-16.
Key trends: The A's are 9-1 in their past 10 at home vs. the Twins. The under is 5-1 in Oakland's past six at home. The over is 7-3 in Oakland's past 10 after an off day.
Early lean: A's and under.
Doc's Sports has had a winning tradition for more than four decades. Don't believe us? Try us out for free, and we are convinced you will be a believer. Get $60 worth of free sports picks - members' picks just like our paying clients get - here .
Read more articles by Alan Matthews