Five To Follow MLB Betting: Sunday, July 12, 2015 Opening Line Report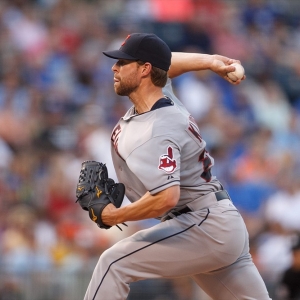 With the first half of the season coming to a close on Sunday night, this is when trade talks will really heat up as general managers now have a dead period to get down to business with one another. You could see something during the All-Star Break, although probably not before Wednesday as MLB doesn't want anything interfering with All-Star festivities. I would say there are only five sellers for sure right now: Miami, Philadelphia, Milwaukee, Cincinnati and Colorado, San Diego, Oakland (Ben Zobrist is a goner), and the Chicago White Sox are close. The New York Mets are 100 percent going to make some sort of trade for a bat -- they are talking with the Brewers again about third baseman Aramis Ramirez and now also shortstop Jean Segura. Houston, the Dodgers and the Cubs are pretty much locks to add a starting pitcher. Otherwise it likely will be minor pieces that are on the move.
A's at Indians (-128, 7)
Stellar pitching matchup here, and I expect both to dominate with the early start after a night game. It's All-Star Sonny Gray (9-3, 2.20) for Oakland, and the fact he's pitching Sunday might ends his chances of starting Tuesday's Midsummer Classic. Gray had 11 days between starts when he took on the Yankees last time out due to a bout with Salmonella. He wasn't razor-sharp, allowing three runs and six hits over seven innings. That dropped him from first to second in the AL in ERA. Gray hasn't faced the Tribe this season. Michael Brantley is 3-for-6 with two doubles off him. Jason Kipnis 0-for-3 with two strikeouts. Cleveland's Corey Kluber (4-9, 3.45) shut out the Astros over 6.2 innings on five hits last time out. He leads the AL with 148 strikeouts. Oakland's Marcus Semien is 2-for-6 with a homer off him. Billy Butler is 4-for-24 with eight strikeouts.
Key trends: The A's have won 11 straight Gray starts on Sunday. The Tribe are 1-4 in Kluber's past five vs. teams with a losing record. The "over/under" has gone under in five straight Kluber home starts.
Early lean: Get this total while it's at 7. Go under big.
Yankees at Red Sox (-134, 8.5)
It irritates me previewing Yankees-Red Sox games, but this one is on TBS and I try to preview those games that will have live betting at sportsbooks as this will. The Bombers will lead the AL East into the break, and I didn't see that coming. Nathan Eovaldi (8-2, 4.45) goes here. That trade with the Marlins to get him has worked out pretty well. Eovaldi hasn't allowed more than two runs in any of his past four outings. He is 1-0 with a 3.75 ERA in two starts this year against Boston. Pablo Sandoval murders the guy, going 12-for-17 with three doubles, a homer and 10 RBIs. That's T-ball stuff. Red Sox lefty Wade Miley (8-7, 4.50) struck out a season-high nine last time out in a no-decision against the Marlins. Miley is 0-1 with a 3.65 ERA in two starts against the Yankees this season. Carlos Beltran is 1-for-7 with three RBIs against him. Brian McCann is 3-for-8.
Key trends: The Red Sox are 5-0 in Miley's past five at home. The under is 5-1 in his past six there.
Early lean: Red Sox, a Sandoval hitting prop and over.
Reds at Marlins (+125, 6.5)
Could this be Johnny Cueto's final start for the Reds? He's a goner, no doubt about it. Shoot, if I'm the Reds I deal Cueto (6-5, 2.61) before he takes the mound because his value will never be higher. He was way better than Nationals ace Max Scherzer last time out, throwing a complete-game two hitter and striking out a season-high 11. Cueto was the first Reds pitcher to toss a shutout with so few hits and that many strikeouts since Jose Rijo in 1990. Cueto hasn't faced Miami this season. Dee Gordon is 4-for-12 off him. The Marlins' Dan Haren (6-5, 3.34) is also a goner. He had his 12th quality start of the season last time out, holding the Red Sox to a run over six innings. Haren lost in Cincinnati on June 19, allowing two runs over 6.1 innings. Marlon Byrd feasts off him, going 14-for-30 with five doubles, three homers and six RBIs.
Key trends: The Reds are 5-1 in Cueto's past six starts. The Marlins are 0-4 in Haren's past four against teams with a losing record.
Early lean: Marlins and under.
White Sox at Cubs (-157, TBA)
One of the biggest All-Star snubs among pitchers in the National League was the Cubs' Jake Arrieta (9-5, 2.80). He has better numbers than the Giants' Madison Bumgarner, for example, but Bumgarner was chosen by his manager, Bruce Bochy, for the NL team. Arrieta is also rolling with a 3-0 record and 1.17 ERA over his last three starts. He has a 3.67 ERA in 27 interleague innings this season. The White Sox's Gordon Beckham is 2-for-10 off him. Melky Cabrera is 1-for-5 with a homer. It's Pale Hose lefty Jose Quintana (4-8, 3.69). He was a tough-luck loser last time out vs. Toronto, allowing two runs and four hits over eight innings. Quintana hasn't allowed more than three runs in his past eight starts. Anthony Rizzo is 1-for-6 off him. Starling Castro is 0-for-5.
Key trends: The Sox are 2-5 in Quintana's past seven road starts. The Cubs are 2-5 in Arrieta's past seven at home. The under is 7-1 in Arrieta's past eight at home vs. teams with a losing record.
Early lean: Cubs and under regardless of number.
Cardinals at Pirates (-168, 6.5)
This is your first-half finale, the Sunday night game on ESPN and also will have live betting. It's rookie left-hander Tim Cooney (0-0, 3.95) for St. Louis. He was solid at the Cubs last time out, allowing a run and three hits over 5.1 innings. The team is turning to Cooney again over Tyler Lyons as one of the two had to remain in the rotation while Jaime Garcia recovers from a left groin strain. Cooney has never faced the Pirates. Pittsburgh has won three straight started by lefty Francisco Liriano (5-6, 2.99). He has allowed just four combined runs in that stretch. Liriano is 0-1 with a 3.77 ERA in two starts this season against the Cardinals. All-Star Jhonny Peralta is a .327 hitter with three homers, seven RBIs and 14 strikeouts in 49 at-bats against him. Yadier Molina is 3-for-19. Mark Reynolds just 1-for-18 with eight strikeouts. Maybe those two get the night off.
Key trends: The Cards are 2-6 in their past eight against lefties. The Pirates are 6-1 in their past seven against lefties. Pittsburgh is 1-10 in its past 11 when Liriano starts vs. the NL Central. The over has hit in three of Liriano's past five vs. St. Louis.
Early lean: Pirates and over.
How about $60 worth of member's baseball picks absolutely free? - You can use this $60 credit for any of our top MLB handicappers. Get on board now.
Read more articles by Alan Matthews