Five To Follow MLB Betting: Tuesday, May 12, 2015 Opening Line Report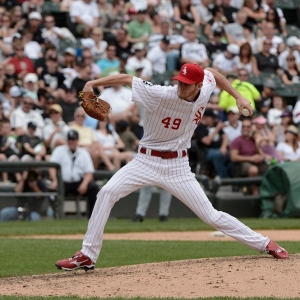 When this season started, I would have put Red Sox manager on John Farrell on any Top 5 list of guys who had to worry least about their job. Now I'm not so sure. It was a curious weekend for the struggling Red Sox as they fired pitching coach Juan Nieves. So Farrell gets a pass because he won the 2013 World Series with Boston, but Nieves, who was also the pitching coach that year, doesn't? He has been replaced by Carl Willis, who was the Indians' Triple-A coach. The club also shipped outfielder Allen Craig, who used to be a darn good player with the Cardinals, to Triple-A. He and Joe Kelly came over from St. Louis last season for John Lackey, which is a total heist right now for the Cards.
Blue Jays at Orioles (-123, 8.5)
Toronto has put starting outfielder Michael Saunders on the 15-day disabled list with left knee inflammation -- he tore ligaments in that knee this spring and had surgery on it. Saunders wasn't hitting much when healthy, so perhaps it's not a big loss. The Jays face Baltimore's Chris Tillman on Tuesday. Tillman (2-4, 6.25) was supposed to be the ace of the Orioles, but as you can see by his numbers hasn't pitched like it much in 2015. He has been torched twice by Toronto this season, allowing seven runs over 4.1 innings on April 23 and seven runs over 2.2 innings on April 12. Josh Donaldson is 5-for-13 with two doubles, a homer and four RBIs off him. Jose Bautista has two dingers in 30 at-bats off Tillman. Lefty Mark Buehrle (4-2, 6.00) gets the call for Toronto. He has faced the Birds twice this season, and the Jays won then both, totaling 25 runs. He gave up five runs over 12 innings combined. Chris Davis is 8-for-25 with two homers off him. Delmon Young is a career .393 hitter against him with four dingers.
Key trends: The Jays are 10-1 in Buehrle's past 11 road starts vs. a team with a losing record. The Orioles are 6-0 in Tillman's past six starts in Game 2 of a series. The Orioles are 0-4 in Tillman's past four at home vs. Toronto. The "over/under" has gone over in four of Buehrle's past five against Baltimore.
Early lean: Blue Jays and over.
Twins at Tigers (-150, 8.5)
Detroit has lost catcher Alex Avila to the disabled list with a knee injury that might require surgery. It sounds likely that will happen, and he would miss somewhere between 2-6 weeks. Avila is hitting .200 with two homers and eight knocked in. It's Alfredo Simon (4-1, 3.44) on the mound for Detroit. The Tigers won his first four starts but have dropped his past two. He lasted only five innings last time out vs. the White Sox, allowing three runs and walking four. Kurt Suzuki is 3-for-7 with two homers and three RBIs off Simon. Kyle Gibson (3-2, 2.97) goes for the Twins. He hasn't allowed a run over his past two starts, spanning 14 innings. His worst start of the year was his season debut at Detroit, allowing six runs and eight hits in 3.2 innings. Miguel Cabrera is 5-for-12 with a homer and four RBIs off Gibson.
Key trends: The Twins are 2-9 in Gibson's past 11 against teams with a winning record. The under is 5-1-1 in his past seven overall.
Early lean: Tigers and over.
White Sox at Brewers (+122, 7.5)
In a bit of a scheduling oddity, it's the second straight interleague series for the White Sox but after hosting the Reds over the weekend they lose the designated hitter in Milwaukee. Presumably that means Adam LaRoche. Chris Sale (2-1, 5.93) comes off a five-game suspension, and maybe the extra rest helps him because he hasn't looked right in his past two starts. It's the first time since 2013 he has had back-to-back non-quality starts. Few Brewers have seen Sale in the regular season. Ryan Braun is 1-for-2 with a walk off him. Mike Fiers (1-4, 5.46) goes for Milwaukee. He threw up a bunch of fives last time out: five innings, five hits, five runs and five walks in a loss to the Dodgers. Alexei Ramirez is 1-for-3 off him. There's an outside chance the Sox use Jose Abreu at third base to get LaRoche into the lineup at first base.
Key trends: The Sox are 1-5 in Sale's past six on the road. Milwaukee is 1-4 in Fiers' past five at home. The over is 4-0 in his past four at home.
Early lean: White Sox and under.
Marlins at Dodgers (-128, 7.5)
The Marlins' Dan Haren never wanted to leave the Dodgers as he is from southern California, and he gets the chance to stick it to them on Tuesday after being traded this winter. Haren (4-1, 2.68) has allowed just four runs over 18 innings over his past three starts, and the Marlins have won them all. Adrian Gonzalez has three homers and eight RBIs career off Haren. Andre Ethier is a .420 hitter with two homers and nine RBIs in 50 at-bats. Mike Bolsinger is scheduled for Los Angeles as he will be called up from Triple-A. The rotation is a bit up in the air because of a rainout on Saturday, but apparently the team will not use that to skip the No. 5 starter's spot. In his only major-league start with the Dodgers on April 23, Bolsinger allowed one run in 5 ⅔ innings. He took a shutout into the sixth inning against the Giants, but did not factor into the decision.
Key trends: The Marlins are 5-1 in their past six during Game 2 of a series. The over is 5-0-1 in Haren's past six.
Early lean: This will matter a lot to Haren, so take the Marlins.
Mets at Cubs (-135, TBA)
It's a big day for Mets fans Tuesday as top pitching prospect Noah Syndergaard is set to make his big-league debut. He was called up from Triple-A Las Vegas to take the spot of Dillon Gee (groin injury) in the rotation. Syndergaard was 3-0 with a 1.82 ERA in five starts in Triple-A. ESPN's Keith Law ranked Syndergaard as the No. 17 overall prospect in baseball. Jake Arrieta (3-3, 3.41) goes for the Cubs. The Cubs have lost his past two starts, with Arrieta allowing nine runs and 16 hits over 11.1 innings. Curtis Granderson hits him well, going 9-for-25 with three homers and eight RBIs.
Key trends: The Cubs are 4-1 in Arrieta's past five at home vs. teams with a winning record. The under is 5-1 in h is past six in that situation.
Early lean: Cubs and under no matter the number (likely around 7.5 but depends on wind).
Doc's Sports has had a winning tradition for more than four decades. Don't believe us? Try us out for free, and we are convinced you will be a believer. Get $60 worth of free sports picks - members' picks just like our paying clients get - here .
Read more articles by Alan Matthews