2015 March Madness Bracket Predictions: East Region
by Robert Ferringo - 3/17/2015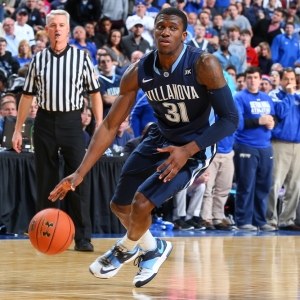 It's déjà vu all over again for Villanova and Virginia. Just one season ago they were the top two seeds in the East Region, with Virginia earning the top slot. Flash-forward a year and they are once again: the top two teams in the East and the favorites to advance. However, they are both hoping that things go a little better this time around as Villanova failed to survive last year's opening weekend and Virginia couldn't do better than the Sweet 16.
The East Region semifinals and finals will take place on Friday, March 27 and Sunday, March 29 in the Carrier Dome in Syracuse. Here are Doc's Sports March Madness bracket predictions for the East Region (with odds courtesy of Sportsbook.ag):
No. 1 Seed: Villanova Wildcats (+140 to win East Region)
I have been saying for over a month that Villanova is the second best team in the country. They have better athletes than Wisconsin. They have more experience than Duke. They shoot better than Arizona. And they were by far and away the best team from the No. 2-rated conference in the country this season. The Wildcats have flown under the radar due in large part to the fact that ESPN refuses to talk about them since Fox Sports owns the broadcast rights to the Big East. The results have been the most undervalued team in the nation the last two years and an amazing 45-18 against the spread mark for the Wildcats. They have a core of players that have been together for three years and can matchup with just about any style. Villanova can get over reliant on the 3-point shot. But they are one of the most efficient offensive and defensive teams in the nation. These guys are a real threat to cut down the nets.
Villanova Tournament Predictions: I think Villanova is going to have a very difficult game against either N.C. State or LSU in the second round. But if they survive that I think they are on a direct path to the Final Four. Oklahoma and Virginia match up well with the Wildcats. But I don't know that either will still be playing.
No. 2 Seed: Virginia Cavaliers (+200 to win East Region)
The Cavaliers secured their second straight ACC regular-season title this year but couldn't win the tournament for a second straight season. After powering through the midseason loss of All-American candidate Justin Anderson, the Cavs tried to work him back into the rotation last weekend. It didn't go so well, with Anderson failing to score in 26 combined minutes in two ACC tourney games. Regardless, these guys proved they are more than fine with or without Anderson. Malcolm Brogdon is one of the best crunch time players in the country. And Virginia's pack-line defense suffocates opponents. Virginia is ruthlessly efficient on both ends of the court. If they have a weakness it is extended cold spells on the offensive end. Also, the Cavs really didn't post any impressive nonconference wins over power opponents. UVA has negative momentum after losing two of three, and they don't have what I would consider a great win since Feb. 2. But they are a No. 2 seed for a reason and will be difficult to handle.
Virginia Tournament Predictions: I'm probably selling Virginia short, but I think that their ceiling is the Sweet 16. They aren't playing their best basketball right now. And the more you comb through their resume this year the more you find that this group isn't battle-tested against top competition. I don't see them as a realistic national title contender, and I can't see them coming out of this group.
No. 3 Seed: Oklahoma Sooners (+600)
The Sooners picked up 22 wins against the nation's No. 3 most difficult schedule. Guard Buddy Hield was the Big 12 player of the year, and Lon Kruger has one of his best teams yet out of Norman. The Sooners really only play seven guys, so they don't have a lot of moving parts. Their starting five does the heavy lifting, and they are well-balanced. TaShawn Thomas and Ryan Spangler provide the muscle inside. Isaiah Cousins and Jordan Woodard are the shooters. Hield is the straw that stirs the drink. Oklahoma plays outstanding perimeter defense. But they have been horrible in postseason tournaments under Kruger. The Sooners are a woeful 1-6 straight up in Big 12 Tournament and NCAA Tournament games the past four years.
Oklahoma Tournament Predictions: This is a tough team to peg. They've beaten a lot of quality opponents this year and half of their 10 losses have come by three points or less. I think the Sooners match up well with Virginia and Villanova. But I don't think they are capable of beating both of them. A Sweet 16 berth would be a nice step for this team, which should bring four of five starters back for a more serious run next year.
No. 4 Seed: Louisville Cardinals (+1000)
The Cardinals are just two years removed from a national championship. But this team seems a lot further away from reaching the Final Four than any Rick Pitino team in years. The Cardinals have not been the same team since point guard Chris Jones was suspended, and they are just 5-5 in their last 10 outings. That includes a 10-point loss in their lone ACC Tournament game. Louisville has two excellent players in slick guard Terry Rozier and beast forward Montrez Harrell. But the rest of the roster is pretty weak beyond that. Louisville is still outstanding defensively. But they are really just a placeholder team. They didn't really beat anyone this season - even with Jones - and without him they don't have a point guard. You can't win in March without a point guard. These guys aren't a threat to go anywhere fast.
Louisville Tournament Predictions: The Cardinals should survive the opening weekend. It's probable. Pitino is an all-time great coach, and Rozier and Harrell give him two studs to lean on. But Louisville doesn't have a prayer of coming out of this bracket, and Pitino deserves credit for masking how mediocre this team has been this year. Keep your expectations low, and don't look for a deep run out of this group.
No. 5 Seed: Northern Iowa Panthers (+800)
The Panthers took advantage of Wichita State's Missouri Valley Tournament semifinal slip-up to win Arch Madness and vault themselves up to a Top 25 seed. The Panthers have spent the last month ranked in the Top 15 and are considered one of the best mid-major teams in the nation. They have wins over tourney teams Stephen F. Austin, North Florida, Iowa and Wichita State, as well as a double-OT loss to tourney staple VCU. UNI hasn't been to The Big Dance since their Sweet 16 run in 2010. Like that team, this year's version relies on a deep nine-man bench and smothering defense. Center Seth Tuttle was a surprise addition to several All-American teams and is their go-to player. Northern Iowa wants to play a slow, methodical game and is most comfortable grinding out games in the 50s.
Northern Iowa Tournament Predictions: The Panthers are definitely on upset alert in the first round. Wyoming plays the exact same pace as the Panthers, who will have had 12 days in between games when they take the court on Friday. Even if NIU survives that coin-flip game, they would have Louisville waiting in the wings. It isn't likely that NIU games will be very pretty. But I see any one that they play coming down to the final two minutes, so they could provide us with some exciting, if not visually appealing, moments.
No. 6 Seed: Providence Friars (+4000)
The Friars have very quietly had a strong season out of the Big East. Like Oklahoma, Providence has mustered 22 wins against a Top 10 overall schedule. Providence scored a big nonconference win over Notre Dame back in December, and they could be a sleeper in this region. Providence has not one but two All-Americans in Kris Dunn and LaDontae Henton. They have outstanding size and a nice blend of youth and experience. Providence is one of the last teams in the nation to utilize the flex offense, and they consistently attack the basket. They've struggled against good teams over the last month. But if Tyler Harris can get hot and if Henton continues his recent form then these guys could be a bracket buster out of this region.
Providence Tournament Predictions: I like how the Friars match up with either of their potential first-round opponents (Boise State or Dayton) and I think they will get that win. Then would come a potentially excellent game against Oklahoma in Round 2. I think Providence matches up better against UVA (or Michigan State) than OU does. So if the Friars win their Sweet 16 game I think they could be a surprise Elite Eight squad where they could take a fourth shot at Villanova.
Best first-round match up: No. 7 Michigan State vs. No. 10 Georgia
N.C. State versus LSU is another really good matchup. But Michigan State is heating up, and Georgia is a veteran team with a solid system and nice potential. You don't get a lot of Big Ten-SEC basketball matchups, especially among the better teams in the respective leagues, and I think that this one could be a very entertaining game. Georgia has some injury issues, especially Kenny Gaines' sprained foot, but if they are healthy they will definitely put up a fight. Michigan State made the Elite Eight last year, and Tom Izzo is amazing in the tournament. But the Spartans could still be thinking about how they choked away the Big Ten title, and that could open the door for an upset.
Best potential second-round match up: No. 3 Oklahoma vs. No. 6 Providence
These are two potential sleeper teams to come out of this bracket. Both have 22 wins and both have played Top 10 schedules this year. Both teams also boast their respect conference players of the year at the point (Hield and Dunn). Both squads rely on hard-nosed defense and half-court execution, and this is a game that is almost guaranteed to be tight coming down to the final 60 seconds. Providence would have an edge on the interior and would be throwing body blows all game long. But I would love to see how Dunn handle's Oklahoma's voracious perimeter pressure. All in all this would be an under-the-radar gem for any hardcore college hoops fan.
Upset Alert (first round): No. 5 Northern Iowa vs. No. 12 Wyoming
Despite the common narrative surrounding this game, these teams aren't mirror images of one another. Both teams do like to shorten the game with methodical possession and both have built their foundations on stifling defensive pressure in the half court. Both also have outstanding mid-major post players in Tuttle and Wyoming's Larry Nance Jr. That is where the similarities end. Wyoming's guards are a lot more reckless and freelance with the ball a lot more than UNIs. Also, Northern Iowa shoots (and makes) a lot more 3-pointers than the Cowboys. This is a 5-12 matchup and that's always a red flag. As is the fact that this game is almost guaranteed to be played in the 50s and be a tight game down the stretch.
Upset Alert (second round): No. 2 Virginia vs. No. 7 Michigan State
This would be a rematch of last year's Sweet 16 game, which Michigan State won 61-59. That was a back-and-forth game in the final nine minutes and was tied with less than two minutes to play. The Spartans took that one and are more than capable of taking down the Cavaliers again. Brogdon would be able to do whatever he'd like against the Michigan State backcourt. But the Cavs don't really have anyone to matchup with Denzel Valentine or keep Sparty off the offensive glass.
Dark Horse team: No. 7 Michigan State
It's Tom Izzo and it's March. What more needs to be said? The Spartans are playing as well now as they have all season long. Michigan State has won eight of 11 games, and two of those three losses came in overtime. A look at Michigan State's metrics shows that they underachieved a little bit this season. And right now this is an upperclassmen-laden roster ready to peak and go on a patented Michigan State run. Virginia looked very vulnerable last week in the ACC Tourney. If Michigan State knocks them off in their second game then this region could break wide open.
Team That Makes Me Nervous: No. 3 Oklahoma
I just can't tell how good this team is. They've been one of the top teams in what was by far the best conference in the nation this year. They have good guards, a tight rotation, and several favorable matchups on their path through the region. But they've been a train wreck in March under Kruger. And this tournament may merely be a setup for next season when the Sooners are loaded with seniors. So because they could be locked up in so many nearly coin-flip games with Providence, Virginia and Villanova it's really tough to gauge how far this team is capable of going.
2014 East Region Predictions: I think the best action of this region - and potentially some of the best action of the early rounds of the tournament - will happen in the bottom pods. Providence, Oklahoma, Michigan State and Virginia are all capable of marching to the Elite Eight, where I expect Villanova to be waiting. Picking between that group of four teams is next to impossible until we see how they come out in their openers. Regardless, I think it will be tough for any of them to knock off the Wildcats, so I'll call for Villanova to advance.
Doc's Sports Advisory Board has set some lofty standards worldwide for college basketball handicapping. They normally do their best work during March Madness. Click here for $60 worth of free college basketball picks. No credit card needed, and you will never deal with a salesman. These are good for Robert Ferringo March Madness picks or from any Advisory Board handicapper on the Doc's Sports Web site.
Read more articles by Robert Ferringo