MLB Baseball Betting: Houston Astros a Major Surprise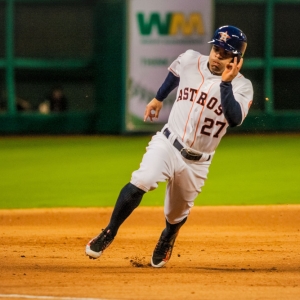 Every year in baseball there are a few things that just don't make any sense. Teams that were supposed to be good that are awful. Others that seemed hopeless that are lighting it up. We are only a month into this season, so a whole lot can change, but the Houston Astros, who have been the laughing stock of the league for years, are definitely in the latter category.
With a win on Thursday night they moved to 19-10 - the best record in the American League, and second best overall behind only St. Louis. It's still very early, so this doesn't mean much, but it has been very impressive and fun to watch so far.
Here are five factors to consider when trying to figure out how they are doing it and what it means to us as bettors:
Manager: There are a lot of reasons that this team is where it is, but I give as much credit to new manager A.J. Hinch as anyone. It has been a long time since the team had stability at the manager role - I'd generously say Phil Garner in 2007 was the last competent guy, but I wasn't high on him, either.
Six different guys came between Garner and Hinch. Hinch looks like he could have the role for a while at this rate, though. He is aggressive but smart in his decision making. Most significantly, though, he has this team loose - something that has definitely not been the case as the team has lost most games they played for the last several years.
It's impressive in particular because Hinch, who is still just 40, was so lousy as manager with the Diamondbacks in 2009 and 2010. He learned from that experience significantly, though, and has mellowed and grown wiser. He seems to be a very good fit with his roster so far. Unless he reverts to his previous form any time soon he's an asset for the rest of the year.
Division: The AL West has been a major disappointment so far. The Angels and Mariners were both seen as legitimate contenders, but Anaheim is just 13-15, and the Mariners are much worse at 11-17. Oakland was a wild card after their massive roster changes, but so far the return has been dismal - they are just 12-18. Aside from maybe the Rangers at 12-16 the whole division is much better than their records and should start to show it. That makes it tougher for the Astros to keep winning. Already they were swept in three games by the Rangers this week, though they bounced back nicely with a come-from-behind win over the Angels.
Youth: Including two guys on the DL, there are 14 non-pitchers on this roster right now. One - Jed Lowrie at 31, is older than 29. This is a young, young team. There is a deep and impressive group of youngsters on the farm, too, and they are obviously young. There are disadvantages - inexperience chief among them. The advantages outweigh that, though. For starters, they are very cheap, and that makes things flexible for management. More significantly, though, they have not yet developed the bad habits that can come from being around a lousy team like the Astros have been. Losing teams can become losing teams just because it's all they know what to do.
Between the youth and the turnover in personnel, this is largely not the team that has been terrible for so long. Most guys haven't been around long, and guys like Jose Altuve, who incredibly just turned 25, have emerged as leaders for the new generation. This is a well-built team that is only going to get better with age.
Pitching: There s a lot to like about the arms on this team - at least so far. It is not a flashy group. They don't throw hard for the most part - in fact, they have the lowest average velocity in the league this year - but they throw smart, locate well, and keep the ball on the ground.
You could complain that they don't have a real ace, but on the flip side they don't have a real dud, either - Scott Feldman is at the bottom of the pile of the full-time starters, and he is far from awful. This is not a world-class rotation by any means, and there is going to be some downward adjustment - Dallas Keuchel is going to crash from his 3-0 record and 0.80 ERA in six games, for example - but there are at least a few teams in the league that would trade places with this team in a minute.
Part of what really builds confidence for the rotation is the bullpen. Last year they were just awful. After some changes, an overhaul of attitude and the way they are used, though, this bullpen has been good this year. Actually, more than good.
Betting performance: This team has been a strong one to bet on - top three in the league so far. The two reasons for that are clear. First, expectations were low, so the public took a while to catch on. Second, and more significantly, they are an incredible 11-2 on the road - by far the best record in the league. A team outperforming expectations that can't lose on the road - a license to print money.
WOW!! $60 of member's baseball picks absolutely free with no obligation - click here
Read more articles by Trevor Whenham