MLB Betting Advice: Handicapping Madison Bumgarner Season Win Total
by George Monroy - 4/4/2015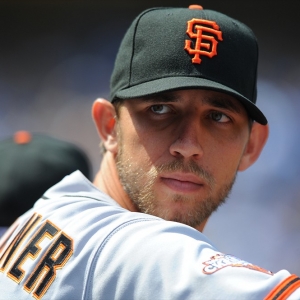 Madison Bumgarner may be the greatest postseason pitcher in the last 30 years-and that statement might be selling his accomplishments short. The San Francisco Giants ace capped off another title run with two World Series victories, five scoreless innings in a Game 7 save, and an MVP award to take his accomplishments into a realm that few pitchers can even enter. Statically, Bumgarner's World Series performance was the best since Sandy Koufax put up similar numbers in 1965 for the Los Angeles Dodgers 50 years ago. The pitchers championship series output was that spectacular.
Bumgarner and the Giants will enter 2015 not receiving Top 10 World Series odds and with the burden of having two subpar post-World Series seasons under their belts. The pitcher and the team continue to excel during the playoffs, yet they have both struggled at times during the regular season. Let's take a closer look at Bumgarner and how he might perform during 2015 and figure out the right side to take on his win totals odds from Sportsbook.ag.
Madison Bumgarner 2015 Win Total
Win Total: 14.5 ("over" -120)
Bumgarner will be entering his seventh year in the league and is still in the early stages of his development. The Giants pitcher has won more than 14.5 games only twice in his short career, both during his World Series championship years in 2012 and 2014 where he won 16 and 18 games, respectively. The following seasons after a championship win, however, have not been kind to Bumgarner as he managed to win only 13 games in over 30 starts during both years.
Fatigue and maybe even injury can play a factor in Bumgarner's 2015 as the MVP pitched a quarter of a season's worth of innings during last year's playoffs. The San Francisco ace finished October having thrown 52.2 innings over six starts and a relief appearance throughout the postseason while also averaging 207 innings worth of work over the last four seasons. Expect the Giants to limit Bumgarner's workload throughout the year as they did the following seasons after a World Series wins.
In each post-championship year the clubhouse dropped the pitcher's innings output by 10 and 20 innings, respectively, and they will probably do so again in 2015 as San Francisco would like to keep Bumgarner fresh for another potential title run. In 2013, St. Louis Cardinals' ace Adam Wainwright had a similar output in a long postseason that saw his team reach the World Series. Wainwright pitched 276 innings during that run and entered 2014 looking just as spectacular, until fatigue and injury caught up with him during the second half of the season.
Madison Bumgarner 2015 Win Total Predictions
Wagering on the "under" here feels like the easiest choice to make. Bumgarner performed like the best pitcher in baseball the last time we saw him. However, expect San Francisco to limit his output early in the year to avoid injury and save the ace for the postseason. The Giants have been winning World Series titles on an every-other-year basis, and if history holds true the team might take a year off for next season's run. Either way , expect Bumgarner to end 2015 with 13 or 14 wins and stay under his win total wager.
Read more articles by George Monroy