MLB Betting Advice and Handicapping: Totals Trends Report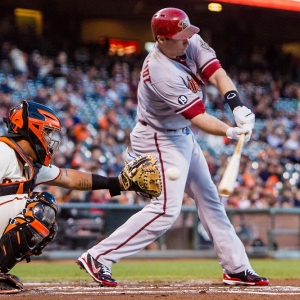 The Major League Baseball season is a little more than two weeks old. Bettors need to remember how long this season is because as nice as some of these surprises are so far this year, there is still plenty of time for things to change. The Washington Nationals are far better than a .500 team, and that will show in time. While the Mets are certainly an improved team, they aren't going to keep winning games at the rate they have thus far.
Doc's Sports wants to keep an eye on totals trends this year. For this article, we'll examine totals trends every two weeks. This should be something that helps bettors stay informed. Since baseball has such a long season, trend bettors can take advantage of streaks by certain teams and make a nice profit.
Free $60 in Member MLB Picks No Obligation Click Here
So far this year, the "over" has dominated. The over is 112-86 in all games combined so far this season. Scoring in baseball is still down from a few years ago, but it isn't down as much as the oddsmakers have been anticipating. Recently, we have seen a barrage of scoring that has led to over bettors cashing in big. Can it continue? Time will tell. We'll keep track of it here. Note that statistics used in this article are for all regular season games played through April 21.
Top Five "Over" Teams
1. Seattle Mariners (9-3) The Seattle Mariners have been one of the biggest disappointments in baseball so far this year. This is a team that a lot of experts thought might win the American League West. They still could, but they'll have to play a lot better than they have so far. The bullpen, which was one of the best in the majors last year, has really let this team down in the early going. Closer Fernando Rodney has a 10.13 ERA. On the plus side, Nelson Cruz has been a tremendous addition to this offense.
2. New York Yankees (10-4) The Yankees have seen 10 of their first 14 games go over the posted total. The biggest reason for this is their ability to knock it out of the park. The Yankees rank first in the big leagues in home runs with 20 already this year. Four guys on this team have already hit four home runs this year. The fact that Stephen Drew has is definitely an aberration, but the Yankees do have a lot of power hitters in this lineup. In order to contend, the Yankees will need their starting pitching to be a little bit better.
3. San Diego Padres (10-4-1) Oddsmakers knew they would have a tough time lining the totals for this team. San Diego has been a terrible offense the past few years, but the offseason acquisitions they made have changed that in a big way. With Matt Kemp and Justin Upton in the middle of the order, the Padres are piling up the runs. This is a team I want to keep a very close eye on this year. How will the oddsmakers adjust? San Diego still has a good rotation and a tremendous bullpen. Their offense is much better than last year, and their defense is a lot worse. Look for their totals to rise quickly in the coming weeks.
4. Oakland Athletics (10-5) The Oakland Athletics continue to impress me with how they are able to put together quality offenses with guys that other teams didn't even want. Moneyball is still alive and kicking in Oakland. On paper, the Athletics have a really bad offense. On the field, that hasn't been the way it has gone thus far. They are eighth in the majors in runs scored. The problem for the Athletics is that their defense has been terrible. They have already committed 15 errors this year, and that has led to several close losses.
5. Atlanta Braves (9-4) Atlanta has seen a lot of games go over very low totals. This Braves offense isn't good, but they have been better than expected for the first couple weeks. This is a spot where I see a great opportunity. The oddsmakers are slowly adjusting the Braves totals upwards, and Atlanta's offense is going to come back to earth sooner rather than later. I expect the "under" to be a good play in Atlanta's games in the next few weeks.


Top Five "Under" Teams


1. Cleveland Indians (4-9) The Cleveland Indians have been another big disappointment in the early going. It's been all about the bad offense for the Tribe. This team hasn't been hitting at all. A good example was this past weekend when they were quieted by both Mike Pelfrey and Trevor May, two guys who have been terrible in the past couple seasons. I still think this offense will come around, and the Indians are a better team than they have shown in the first two weeks.
2. Houston Astros (4-9-1) Houston surprisingly sits atop the AL West standings at 8-6. The Astros have gotten some tremendous starting pitching and excellent bullpen work. The Astros bullpen, which was the second worst in baseball last year, has a stunning 1.98 ERA so far this year. This pitching staff is improved, but they aren't as good as they've looked so far. I expect the over to begin having value in Houston's upcoming games.
3. St. Louis Cardinals (4-8) St. Louis is on this side of the report because of their brilliant pitching early in the season. The Cardinals rank first in the majors with an amazing 1.90 team ERA. Most important to me has been the success of Michael Wacha. He was injured a lot last year, and there were questions about him entering the season, but he has looked great. St. Louis ranks No. 22 in the majors in runs scored because of some poor hitting with runners in scoring position.
4. Arizona Diamondbacks (6-8) The Diamondbacks are a tough team to get a read on right now. Arizona isn't going to be good this year, but they have played competitively in the first couple weeks. This pitching staff has a ton of questions surrounding them. Paul Goldschmidt is one of the best hitters in the majors, but the Diamondbacks haven't surrounded him with much talent at all.
5. San Francisco Giants (7-8) Here's a really big disappointment. The World Series Champions from last year sit in dead last in the National League West. San Francisco is averaging only 2.87 runs per game this season. It's clear that this team misses Pablo Sandoval, but they probably miss Hunter Pence even more. Unless this offense can pick up their production, the Giants are going to continue to disappointment.
Read more articles by Aaron Smith