MLB Betting Advice and Handicapping: Totals Trends Report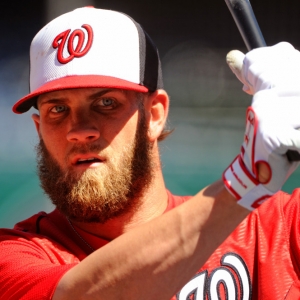 In the National League, it is the Washington Nationals who are tearing it up as many expected them to before the season. In the first couple reports of the season I said there was no way the Nationals would stay around .500, but I'll admit I didn't expect them to win 17 of their next 21 games. The Dodgers seem to be able to beat just about everyone other than the Giants! How bad were the Dodgers in their sweep at the hands of San Francisco? They didn't score a single run in the three-game series! The Houston Astros have been the biggest surprise of the season, and they currently have the most wins in the American League. Houston should continue to be competitive, but I'm skeptical of their ability to keep winning at this rate.
The Major League Baseball regular season is a marathon, and over the course of the season you'll want to latch onto certain trends that could make your season a profitable one. Doc's Sports will be doing a bi-weekly totals trends report to keep tabs on which teams are trending in one direction or the other. Statistics in this report are for games played between May 6 and May 21.
Top Five "Over" Teams (Number of Overs Listed First)
1. Washington Nationals (11-2) Bryce Harper is on another planet right now, and his red-hot hitting has been contagious as the whole lineup has been on fire the last couple weeks. Washington couldn't hit at all early in the year; now they are hitting everything. Reality is the offense wasn't as bad as they looked early in the year, and they aren't as good as they look right now. Be careful taking the over constantly with this team, because they have a tremendous pitching staff.
2. Minnesota Twins (9-4) If the Houston Astros are the biggest surprise in baseball, then the Minnesota Twins are No. 2. Paul Molitor is doing an amazing job with this team. The pitching staff isn't any good at all, but they are a stunning 23-17 through 40 games. The Twins lineup has some sneaky-good hitters who are adept at getting on base. Brian Dozier has good power for a middle infielder, too. Look for plenty of high-scoring games this year with the Twins as their rotation struggles and their offense continues to hit.
3. Los Angeles Dodgers (9-5) In the last five games, the Dodgers have scored a grand total of two runs. Over the course of the last two weeks, the over has been a good play with the Dodgers, but this week alone it hasn't been. I'm very interested to see what happens next with this team. The Dodgers now face San Diego, who's pitching staff certainly isn't as good as the Giants. Can this offense rebound quickly? I think they probably will. They are too good to be getting shut out constantly.
4. San Diego Padres (9-5) The Padres are a much different team this year. San Diego's offense is far better than it has been in the past few seasons, and their defense and pitching staff is much worse than it has been. This is a team that I believe bettors would be wise to continue looking for spots to play the over with throughout the course of the season. The oddsmakers are slow to respond to the big changes in San Diego, especially when they are playing at home in a pitcher-friendly park.
5. Atlanta Braves (8-5) I think Atlanta's offenses is one of the worst in baseball, but they continue to find a way to score runs. Still, as I look down their lineup I see a lot of guys overachieving right now. As the oddsmakers adjust the Braves totals upwards in the coming weeks, I'll be looking to bet on some low-scoring games involving this team.
Top Five "Under" Teams (Unders Listed First)
1. Boston Red Sox (11-2-1) What happened to the Red Sox offense? This is a lineup that looks like one of the best in baseball on paper, but they haven't been good at all in the last two weeks. It was the Red Sox pitching coach who was fired a few weeks ago, but it has been the offense, not the pitching staff, that has been to blame for their recent swoon. Like the Dodgers, I do expect the Red Sox offense to get it going eventually, so don't get too down on this group.
2. Los Angeles Angels (11-3) The Angels offense has underachieved in a big way so far this year, but they still sit one game over .500. The Angels have gotten 25 quality starts out of their starting rotation, which is third most in all of baseball. This is a team that I expect to see more high-scoring games from over the course of the year. I don't think their offense is as bad as they've looked lately, and I don't think their pitching staff is quite this good either.
3. Seattle Mariners (8-4-1) Seattle's bullpen shockingly looked awful during the month of April, but they've turned things around and have been good as expected in recent weeks. The under is 13-7-1 in the Mariners games at home so far this year, while the over is 10-9 in their games away from Safeco. Nelson Cruz is hitting the cover off the ball, but no one else on this offense has done much of anything all year.
4. Baltimore Orioles (8-4-2) One thing that many baseball bettors overlook is defense. The Orioles have one of the best defenses in baseball, and they have a manager who does a great job managing the bullpen. This can make a huge difference, and that's why the Orioles have typically been a good under bet under Buck Showalter. They have a very good offense as well, so make sure you get enough value, but always remember how good this team is defensively.
5. New York Yankees (8-4-2) The Yankees offense was red-hot early in the year, but they have cooled off of late. Jacoby Ellsbury going to the disabled list was another big blow for this lineup. He was the table setter for this team, and he'll be missed. If the Yankees are going to stay in contention, they need more production from guys like Carlos Beltran and Brian McCann.
Doc's Sports has a great offer for new clients. You can get $60 worth of picks from any Advisory Board handicapper for any sport he handicaps. All with no obligation and no credit card needed. Claim your free picks today .
Read more articles by Aaron Smith