MLB Odds and Trends: Nationals Clear Title Favorites with Max Scherzer
by Alan Matthews - 1/20/2015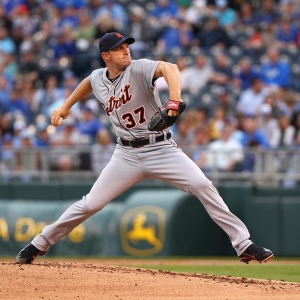 Baseball's Hot Stove League had been rather quiet for a few weeks, but that all changed on Monday when the No. 1 free agent on the market this offseason, former Tigers pitcher and Cy Young Award winner Max Scherzer, signed a whopping seven-year, $210 million deal with the Washington Nationals -- the one team that didn't need starting pitching.
Oddsmakers quickly reacted, making the Nationals clear World Series and National League pennant favorites. The Nats are +500 at Sportsbook.ag to bring a Fall Classic title back to D.C. for the first time since 1924, and they are +250 favorites to win the pennant. The Nationals and Los Angeles Dodgers had been at the same price on both props. At Bovada, Washington is a +600 favorite for the World Series, and that site isn't yet offering pennant odds. We should start to see plenty of MLB season props once the Super Bowl concludes with pitchers and catchers reporting to Arizona and Florida with in less than a month.
I wouldn't go putting all your eggs in Washington's basket quite yet, but that rotation looks amazing. I just don't think the team is done making moves. Scherzer, 30, won the Cy Young in 2013 with Detroit, going 21-3 with a 2.90 ERA, 0.97 WHIP and 240 strikeouts. He was nearly as good last year with a 18-5 record, 1.18 WHIP, 3.15 ERA and 252 strikeouts. Scherzer was very good in the 2012 & '13 postseasons but struggled a bit in his lone ALDS start last year against the Orioles, allowing five runs and seven hits in seven innings in a loss.
No pitcher -- not even Clayton Kershaw -- is worth $30 million a season, and this will probably be a terrible deal in four years or so. But Scherzer has been durable, making at least 30 starts every year since 2009. Scherzer's wins above replacement number of 12.7 for the past two seasons is the third-best in MLB behind Kershaw and Chris Sale.
But why did the Nationals need him? Their starting five of Jordan Zimmermann (4.9), Doug Fister (4.5), Stephen Strasburg (3.5), Gio Gonzalez (2.3) and Tanner Roark (5.1) combined for a stellar 20.3 WAR. That group's combined ERA of 3.04 was the best in the majors. Now you are going to bump the young Roark from that rotation?
I don't think so. That's because Zimmermann and Fister will become free agents after this season, while Strasburg will after 2016. Thus, I think one of those guys will be dealt. The Nats could make a truly monster move and include All-Star shortstop Ian Desmond in a trade with one of those pitchers as Desmond will be a free agent after this season and already has turned down a reported $110 million extension. The team already traded for his potential replacement at short in Yunel Escobar; for now he's penciled in at second base.
Or maybe GM Mike Rizzo keeps everyone, at least to start the season, to really go for that championship and worry about next year in the winter. Rizzo knows Scherzer well as Rizzo was the scouting director in Arizona when the Diamondbacks took him with the 11th pick in the 2006 draft. One area Rizzo may want to upgrade, if he makes a trade, is in the bullpen. The Nationals lost relievers Tyler Clippard, Rafael Soriano and Ross Detwiler this offseason. Last year those three combined for 195 1/3 innings and a 3.09 ERA. So that's basically what Scherzer is likely good for. Will Scherzer really do any better than Roark did in 2014 when Roark was 15-10 with a 2.85 ERA in 198 2/3 innings? Doubt it.
As for the Tigers, it was never likely that Scherzer was going to return after turning down a six-year, $144 million deal before last season. Detroit made a pre-emptive strike by trading for David Price at last July's deadline, and the Tigers now have a rotation of Price, Justin Verlander, Anibal Sanchez and newcomers Shane Greene and Alfredo Simon. I have major questions about the latter two, Sanchez has had injury problems and Verlander is trending downward. Price will be a free agent after the 2015 season. Detroit is now +2000 to win the World Series and +900 to win the AL pennant. It will be the AL Central favorite again when those odds are posted, but it won't be by a wide margin over Kansas City and the White Sox.
NL Rookie of Year Odds
This prop isn't out yet, but the Chicago Cubs made a trade on Monday that makes me believe that third baseman Kris Bryant, the reigning Minor League Player of the Year, will be in the majors no later than the third week of April -- to delay his free-agency clock -- and that he will be your overwhelming NL Rookie of the Year favorite.
The Cubs traded minor-league pitcher Dan Straily and starting third baseman Luis Valbuena to Houston for outfielder and leadoff man Dexter Fowler. Thus, there's now a gaping hole at the hot corner. Cubs GM Jed Hoyer said that trade doesn't alter Bryant's timetable to the majors at all, but that's hogwash. Fowler is a free agent after this season, and the Cubs are clearly trying to win in 2015 after landing Jon Lester. Bryant hit 45 homers with 110 RBIs between Double-A and Triple-A last season. He's a monster and gives the Cubs their best chance to win at least among the team's other third base options.
The Cubs also likely aren't done making moves before the season begins, although the lineup and 80 percent of the rotation looks set. Chicago will trade catcher Wellington Castro because the Cubs acquired two catchers this offseason in Miguel Montero and David Ross. The team also would like to trade lefty starter Travis Wood, who regressed last year, in a salary dump. The Cubs are +1400 to win the World Series and +700 to win the pennant.
Read more articles by Alan Matthews