MLB Series Odds with Expert Picks and Predictions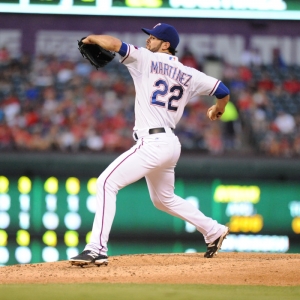 The new MLB season is underway, and the great thing about this sport is that there is any number of ways to wager on the games. While most bettors will focus their handicapping efforts on each day's games, Monday offers the perfect opportunity to wager on the outcome of an entire series.
BetOnline has posted a complete set of betting odds for this week's MLB series, and I have narrowed things down to my three "best bets" for these moneyline odds.
Los Angeles Angels (-115) vs. Texas Rangers (-105)
The Angels are off to a slower-than-expected start at 2-4 after getting swept by Kansas City this past weekend by a combined score of 19-8. They come into this series with Matt Shoemaker on the mound for Monday night's opener. He has won all four previous career starts against Texas, and he should be able to get his team off to a fast start tonight. It also helps that Los Angeles is 6-0 in his last six starts on the road.
Texas (3-4) is slated to go with Nick Martinez in Tuesday's Game 2, and it is just 5-15 in his last 20 starts overall and 1-8 in his last nine starts at home. This could easily hand this series to the Angels in the first two games. However, even if they lose one of the first two, I love their chances to get the series win with a 13-2 record against the Rangers in the last 15 meetings overall and a 9-1 record in their last 10 trips to Texas.
Oakland Athletics (-120) vs. Houston Astros (+100)
Oakland lost a weekend series to Seattle 2-1 after winning the opener 12-0 as a -109 home favorite. It comes into this series against Astros with Scott Kazimir on the mound for the opener. The Athletics are 22-7 in his last 29 starts as favorites, and they are 5-1 in their last six games following a loss, so I like their chances to win Game 1.
The Astros are an even 3-3 on the year with a 2-1 series loss to Cleveland at home and a 2-1 series win against Texas on the road this past weekend. Houston will turn to Asher Wojciechowski as its starter for Tuesday's Game 2. He lost his season opener last Thursday against Cleveland after allowing four runs on eight hits in just four inning of work. If the A's fail to win one of the first two games, they are still a solid pick in this series with a 15-6 record in their last 21 road games against Houston as part of an overall record of 31-13 in the last 44 meetings.
Seattle Mariners (+105) vs. Los Angeles Dodgers (-125)
Seattle (3-3) will begin this interleague series with James Paxton on the mound, while the Dodgers will counter with Brandon McCarthy. Paxton was fairly solid in a 2-0 loss to the Angles in his first start, while McCarthy stole an early win against San Diego on some solid run support after getting lit up for four runs on nine hits in five innings of work. I am going with the Mariners to draw first blood with a win on Monday night given that they are 5-2 in Paxton's last five starts as underdogs.
Moving on to Tuesday's Game 2, the Mariners have penciled in Hisashi Iwakuma as their starter, while the Dodgers' starter has yet to be named. I also like Seattle's chances in this game given its 6-0 record in Iwakuma's last six starts in the second game of the series and a 10-4 record in his last 14 starts on the road. It also helps that Los Angeles has had trouble at home in an interleague series with a 2-5 record in its last seven games. This series will still probably come down to the final game on Wednesday, but the early stats and trends still lean towards Seattle in this one as a slight underdog.
Read more articles by Dave Schwab