MLB World Series Odds for Current Division Leaders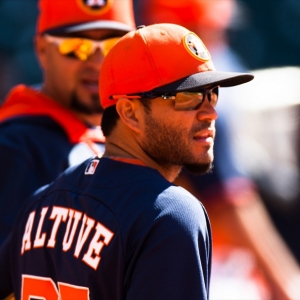 There are currently exactly six division leaders in baseball. There are six divisions. I should have warned you that we were starting off this article with rocket science. What we can be all but certain of is that not all six of these teams will be division leaders - or even wild-card teams - by the end of the season. Some of these teams will be, though. So, which teams are which? Here's a look (odds to win the World Series are from Bovada):
Tampa Bay Rays, AL East (28/1): It's no surprise that the Rays have the longest odds of any team on this list to win the World Series. They really have no business being in the lead of their division. Their offense is unimpressive. Their defense is overachieving in a big way. They just shouldn't be as good as they have been so far. The issue, of course, is that no other team in the division is seriously good, either. The Yankees have issues. The Jays have pitching woes. The Orioles might ultimately be the best of the group, but they have struggled at times this year. The Rays could quite possibly win the division just because someone has to. I wouldn't bet on it, though.
Kansas City Royals, AL Central (7/1): The Royals are the co-favorites to win the World Series along with the Cardinals. It's a good time to be a baseball fan in Missouri. The Royals have done a lot of things well this year - none more than convincing their fans to scam the All-Star Game voting system. Their offense is solid, and their pitching has been outstanding. They have experience to build on, and they are deep. This is a tough team to beat. Their division should be a tougher test than it has been so far, but the Tigers have been a big disappointment, the White Sox have been a disaster, and the Twins are overachieving as much as any team outside of Houston. I am as confident that the Royals will win their division as I am about anything on this list.
Houston Astros, AL West (18/1): The Astros have been a great story this year, and they are a team to watch in the future. The way they are building they remind me of the Royals five or six years ago. Like those Royals back then, though, they have no business contending right now, and they are not going to be able to stay where they are in all likelihood. Their strong start built a cushion, and the division around them has been in no hurry to deflate that cushion. Texas could catch them, though, and the Angels absolutely should be able to. I have no faith that a team this young and lacking in talent in key spots is ready for primetime this year. I'm not jumping off the bandwagon but instead just settling in for a long ride before we get to the promised land.
New York Mets, NL East (18/1): I couldn't stand the Mets heading into the season and thought that they were getting too much hype. I respect the start that they have had, but I mostly feel the same way still. Neither their offense nor their pitching is ultimately good enough at this point. The Nationals can't consistently get out of their way, but Washington is a dramatically better team from top to bottom than the Mets are, and now that they are only a game and a half behind it seems inevitable that the Mets will falter and fall. Washington will win the division.
St. Louis Cardinals, NL Central (7/1): The Cardinals have allowed 186 runs. No other team has allowed fewer than 207, and only two others have allowed fewer than 230. The pitching the Cardinals are getting is incredible - and basically sustainable. Their offense is good enough for their needs. Their experience is rich, and their coaching is strong. They can't lose at home - their seven home losses are four better than any other squad. They are built to win. They will be tested by the Pirates and Cubs, but this is the best team in baseball, so it stands to reason that they are the best in their division - and should come out on top.
L.A. Dodgers, NL West (15/2): 12-18. That number defines the issues I have had with this team since they started trying to solve all of their problems by spending money. 12-18 is their record on the road this year. There is absolutely no excuse for a team this talented to be that awful away from home. They are mentally weak. That caught up to them last year and the year before, and it will be their downfall again this year. Unfortunately, their division is weak - the Giants are barely holding on and aren't good enough to win the division, and the rest of the teams are lousy. The Dodgers will win the division almost by default, but they are not going to win the World Series.
Want free sports betting picks? Doc's Sports has you covered - get $60 worth of picks free from any of Doc's Sports expert handicappers. Click here for free picks (new clients only).
Read more articles by Trevor Whenham