NBA Betting Trends: Totals Report for Hot Over and Under Teams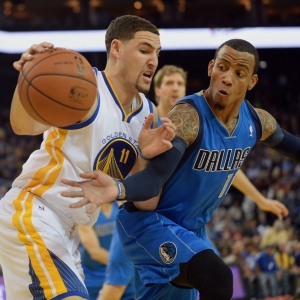 Are the Golden State Warriors going to lose a game this year? Of course they are, but it's still fun to talk about an unbeaten team in the NBA this late in the season. San Antonio has the second-best record in the NBA, and the Spurs have been extremely impressive thus far this season. There has been a lot of talk about Cleveland struggling this year, and LeBron James has talked about being disappointed with their effort a few times. Still, the Cavs have the third-best record in the NBA. It's awfully early in the year to say this, but if someone other than the Warriors, Spurs, or Cavaliers wins the NBA title this year, it will be a surprise.
Doc's Sports has done an NBA Totals Trends report in the past, and we'll be doing it again this season. We'll highlight the Top Five 'Over' teams and the Top Five 'Under' teams in each article. Because of the streaky nature of the NBA, it can be profitable to look at these totals trends and try to jump on a winning streak before the oddsmakers adjust. This report will be offered on a bi-weekly basis throughout the NBA regular season. The statistics listed for this article are for games played between Nov. 20 and Dec. 3.
The 'under' is hitting at an extremely high rate of almost 56 percent for the year thus far. In the past week, the under is cashing at a 59 percent clip. As you will see in the report below, it was a little difficult to find 'over' teams.
Top Five Over Teams (Over Listed First)
1. Golden State Warriors (5-1) Here's an over team thanks to the ridiculously-hot shooting of Stephen Curry and company. Golden State is averaging an amazing 115.3 points per game, and they are shooting 43.3 percent from 3-point range. They have six players on their roster shooting better than 40 percent from long range. Golden State's defense has been just a tick worse than last year, but this is primarily about their ultra-efficient offense.
2. Phoenix Suns (6-2) Phoenix has always wanted to push the tempo under Jeff Hornacek, but the team has really picked up the pace in the past couple weeks. They went from sixth in the NBA a couple weeks ago up to first in the league as of today in terms of pace of play. Additionally, Phoenix is struggling on the defensive end. The Suns are allowing opponents to shoot 47.0 percent from the floor.
3. Houston Rockets (4-2) Houston has a new coach in J.B. Bickerstaff, but they continue to be one of the biggest disappointments in the league this year. Houston is near the bottom of the NBA in all defensive statistics. They are allowing opponents to shoot 46.8 percent from the floor. James Harden has been blaming his defensive lapses on playing heavy minutes. This team plays an easy schedule in the next week, so we'll see if they can get on a streak.
4. Indiana Pacers (4-2) Paul George has been on fire. No one could have possibly expected George to play so well this year. He is putting up 26.5 points per game and knocking down 43.1 percent of his attempts from beyond the arc. As a team, Indiana is second to only Golden State in 3-point percentage. Indiana hosts Golden State on Dec. 8, and that should be an exciting game to watch.
5. Milwaukee Bucks (4-3) Milwaukee is playing at the slowest pace in the league, so it's not tempo that has them on this side of the report. Instead, it is a combination of the numbers getting too small and the Bucks defense giving up points in bunches. Milwaukee was a good defensive team last year, and I'm really not sure what happened to this team's defense.
Top Five Under Teams (Under Listed First)
1. Chicago Bulls (5-0) When Fred Hoiberg was announced as the Chicago Bulls coach, many assumed the Bulls would be a high-scoring team and their defense would struggle. Both of those assumptions have been wrong so far this year. The Bulls are first in the NBA in field goal percentage defense. Opponents are shooting only 40.9 percent from the floor. On the other hand, Chicago is shooting only 42.2 percent on offense themselves. Derrick Rose is shooting 34.3 percent right now, and he's clearly hurting this offense.
2. Los Angeles Clippers (7-1) The under is 8-1 in the Clippers last nine games. The Clippers have been maddeningly inconsistent so far this year. They have shown the potential to be a very good team, but they can't seem to put it together for a full game very often. This is a team I'm avoiding altogether until I can get a better handle on them. They start an important road trip on Monday.
3. Oklahoma City Thunder (6-1) Oklahoma City has been a good under team of late, but a closer look at their games shows that many of those games have just barely gone under the posted total. Two of their last five games have gone under by a single point. If the oddsmakers adjust the numbers down much with Oklahoma City, there will be value on the other side.
4. Minnesota Timberwolves (5-1) Minnesota has slowed down their tempo to the league average this year. The Timberwolves have also started to play some better defense. Karl-Anthony Towns was great in the first month, but his numbers have dipped a lot in the past five games. Minnesota plays five up-tempo opponents in the next week, so don't be surprised if they have some higher-scoring games in the near future.
5. Miami Heat (5-1) The under is now 14-3 in the Miami Heat's 17 games so far this year. Their commitment on the defensive end has been very impressive. This team has a much higher upside than they did last year based on an improved roster as well as that commitment on defense. I still think Miami is a good under team, but I'm worried that the numbers are going to get awfully low soon because the oddsmakers can't continue to line their games so high.
Doc's is giving $60 worth of member's picks free - no obligation, no sales people - you don't even have to enter credit card information. You can use the $60 credit any way you please on any of our top NBA handicappers. Click here to get started. Also, for a limited time only, you can get three handicappers NBA picks for the price of one! Click Here for more details!
Read more articles by Aaron Smith