NBA Handicapping: Why Milwaukee Bucks are one of Best ATS Teams
by Trevor Whenham - 2/17/2015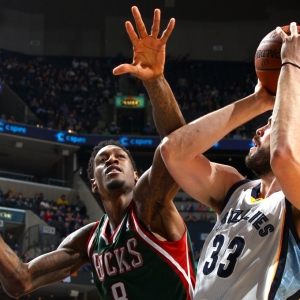 It comes as no surprise that the Hawks and the Warriors, the teams that lead the two conferences but are running away with them with their consistently excellent play, are two of the three best teams in the NBA against the spread. What is far more surprising, though, is that sandwiched between those two superpowers when it comes to ATS performance is the Milwaukee Bucks. Milwaukee - where basketball careers have long gone to die. Arguably the most anonymous team in the league. Yet here they are - playing well, covering spreads like crazy, generating profits as a result, and doing it all without attracting any attention.
The question that matters for bettors, though, isn't what they have done but whether the Bucks can keep being a great team to bet on. Let's take a look:
Better than most would guess: This is far from scientific, and I don't intend to prove it, but I am pretty sure that if you asked 50 people on the street if they paid a bit of attention to the NBA, then asked them what the record of the Milwaukee Bucks was through the all-star break, few would get it, and almost all guesses would be lower than reality. This team is 30-23. That's a very respectable record - good enough for sixth in the Eastern Conference and even good enough for a playoff spot in the tougher Western Conference. People would underestimate that because it has been a long time since Milwaukee has been relevant, because Jabari Parker was lost early this year, and because Larry Sanders is such a walking drama factory. When a team is this far, and this quietly, above reasonable expectations, it's all but assured that they will be attractive for bettors. It's important to realize, too, just how far beyond expectations they have gone. With their 30th win they became the first team in the history of the NBA to have doubled their win total from the previous year by the all-star break. That's amazing when you think about it.
Sanders: We might as well touch further on Sanders while we are on the topic. The center is very talented, and the team invested heavily in him with a four-year deal after an excellent 2012-13 season. It has a total disaster. Injuries hit him, and he has been suspended up until recently for a violation of the league's substance abuse policy. He hasn't been around and has been far less than a positive influence when he was around. The team is a very solid 16-8 since he has been gone, and now the word is that the team is negotiating a buyout with the troubled player. His departure could truly be addition by subtraction.
Defensively excellent: This is a strong defensive team - sixth in points against, and better than that in several key defensive stats. They are completely and relentlessly committed to defense, and that is having a big impact. The credit here, remarkably, goes to Jason Kidd almost entirely. The team allowed 6.5 more points per game last year than they are this year - a massive difference. Kidd has a lot of off-the-court baggage, but on the court he is making real impact - which is hard to believe given what the start of his coaching career looked like. As long as Kidd can keep being heard then this team is going to keep performing defensively.
Very good shooting team: This is only an average scoring team, but they shoot very well. They are a Top-5 shooting team and sit third in the league in 3-point percentage. While they don't always score well, strong shooting does make it easier to close gaps later in games and therefore to cover spreads.
Consistency: What is most striking about this team given all they have faced - injuries, youth drama, and so on - is how consistent they are from a betting perspective. Just once all season have they failed to cover a spread three games in a row. Three other times they have not covered twice in a row. That's it. When they struggle they bounce back very well. It's not what you would expect from a team like this.
Pressure will mount: The team has all but locked up a playoff spot, but things will get more intense as the postseason nears and reality weighs on the team. Combine that with the fact that the public will only start to pay more attention to them as they play well, and it's likely to become tougher to cover spreads the rest of the way than it has been so far.
Read more articles by Trevor Whenham