NBA Odds and Predictions: Friday, January 30 Opening Line Report and Handicapping
by Alan Matthews - 1/29/2015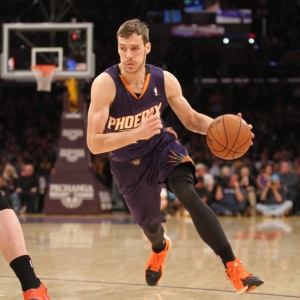 I have the NBA League Pass, and I'll watch just about any game that's televised. However, a game arrives on Friday night that I'm not sure I would even bother with if it was the only game of the night -- that's not to say it can't be good betting value, however. That would be Minnesota at Philadelphia, teams that have a combined record of 17-74. Believe it or not, this could be important down the line in terms of which team gets the most ping-pong balls in the 2015 draft lottery in May. Here's a look at that matchup and the rest on Friday night.
Timberwolves at 76ers (-3, 193)
What, no national TV? Really, this belongs on the Lifetime Network or something. Both sides do have some good young players, will get another this summer, and might be good in a few years. Philly ended a six-game losing streak with Wednesday's rather surprising 89-69 blowout of Detroit. Michael Carter-Williams returned after missing a game with an illness and had 14 points and 10 assists, falling a rebound shy of a triple-double. Sixers guard Tony Wroten, who partially tore his ACL two weeks ago, said before the game that he plans to have knee surgery and will likely miss the remainder of the season. Minnesota also won its last game, 110-98 at home vs. Boston -- the Wolves have yet to win two straight this year (Philly has). Kevin Martin had 21 points in his return from a 34-game injury absence to end Minnesota's 10-game home losing streak. The Wolves lost at home to Philly 85-77 on Dec. 3. That was the Sixers' first win of the year after starting 0-17, one shy of the NBA record for worst-ever start. I actually called that win back then.
Key trends: The Wolves have covered one of their past six after a win. Philly has covered one of its past five after a win. The "over/under" has gone under in eight straight 76ers home games.
Early lean: 76ers and under.
Trail Blazers at Hawks (-7, 201)
Clearly the game of the night as Atlanta puts its franchise-record 17-game winning streak on the line. The Hawks won yet another game by double figures on Wednesday, 113-102 at home vs. Brooklyn (didn't cover for once, however). The Hawks had six players score in double figures in winning their 31st game in their past 33. They already have matched their win total of last season. Portland couldn't win in Cleveland on Wednesday even though the Cavs didn't have LeBron James. The Blazers lost 99-94 as Cleveland point guard Kyrie Irving went psycho. LaMarcus Aldridge had 38, but Portland lost its sixth in the past seven. Damian Lillard struggled shooting and obviously defending Irving. Portland lost at home to Atlanta 115-107 on Jan. 3. That was game No. 4 of this Hawks winning streak.
Key trends: The Blazers are 2-5 ATS in their past seven vs. teams with a winning record. Atlanta is 10-1 ATS in its past 11 vs. the West. The road team has covered four of the past five meetings.
Early lean: I think this streak ends, but I'm not guaranteeing that. I will take the points and over.
Raptors at Nets (+7, 196.5)
Brooklyn lost for the 11th time in 13 games on Wednesday in that 11-point defeat in Atlanta. Joe Johnson led the Nets with 26 points, and rumors are he's close to being traded to perhaps Charlotte. Deron Williams again sat out Wednesday and don't look for him here. Toronto won its fourth straight Wednesday, 119-102 over visiting Sacramento. Lou Williams had 27 points and Toronto hit a season-high 17 3-pointers. Toronto improved to 7-2 in the second game of back-to-backs. The Raptors won the first meeting with Brooklyn, 105-89 in Toronto on Dec. 17.
Key trends: The road team has covered five of the past eight meetings. The over is 5-2 in the past seven at the Nets.
Early lean: Raptors and over.
Rockets at Celtics (+5, 202)
Wednesday was a good news/bad news thing for Houston as it did win its third straight game by beating Dallas 99-94. The Rockets saw the return of forward Terrence Jones from a very long injury absence and he had 10 points and five rebounds in 21 minutes. However, the Rockets played without Dwight Howard, who has a fluid buildup on his knee. Howard will not play here and probably miss a few more games as well. Boston closed a six-game road trip with a 110-98 loss in Minnesota on Wednesday. Boston played in Houston on Nov. 1 and lost 104-90 as James Harden had 28 points and Jones 25 points and 10 rebounds. Howard did play in that one. Boston was 1-for-25 from 3-point range.
Key trends: Houston is 11-1 ATS in its past 12 vs. teams with a losing record. Boston is 6-1 ATS in its past seven vs. the West. The under is 5-0 in the past five meetings.
Early lean: I'll take the points with no Howard in there.
Kings at Cavaliers (TBA)
What will Kyrie Irving do for an encore here and will LeBron James play? LeBron sat out Wednesday's 99-94 win over Portland with a wrist injury that isn't thought to be serious and he's day-to-day. So Irving became the primary offensive guy and went off with a career-high and NBA season-high 55 points, also breaking the Quicken Loans Arena record. He made a team-record 11 3-pointers in the Cavs' eighth straight win. Kevin Love left the game briefly after banging knees with a Blazer but did return, so he should be fine. The Cavs improved to 2-8 without James. Sacramento lost its seventh straight on Wednesday, 119-102 in Toronto. DeMarcus Cousins was in early foul trouble and had one of his worst games with 13 points, four rebounds and nine turnovers. The Kings beat visiting Cleveland 103-84 on Jan. 11, which was their last win. James missed the game. The Cavaliers fell behind by 15 points in the second quarter and the Kings maintained a double-digit lead throughout.
Key trends: The Kings are 1-7 ATS in their past eight road games. The Cavs are 5-0 ATS in their past five vs. the West. The over is 7-1 in Sacramento's past eight following a loss of more than 10 points.
Early lean: Wait on LeBron.
Clippers at Pelicans (TBA)
L.A. won its sixth straight on Wednesday but failed to cover in a 94-89 victory at Utah. The Jazz led 83-81 late in the fourth quarter but couldn't hold on in losing their 13th straight to L.A. Jamal Crawford led the Clips with 21 points. He started because J.J. Redick was a late scratch with back spasms. Wednesday was the first of an eight-game road trip for Los Angeles. The Pelicans lost 93-85 at home to Denver on Wednesday, but the bigger news was that star Anthony Davis injured his groin during the game and will undergo an MRI. If he's lost for any extended period, this team's playoffs hopes are gone. And bet against New Orleans for however long he's out. The Clippers beat the visiting Pelicans 120-100 on Dec. 6.
Key trends: The home team is 5-1 ATS in the past six meetings. The under is 8-1 in the Pelicans' past nine overall.
Early lean: Wait on Davis.
Mavericks at Heat (+8.5, 193)
Miami lost 109-102 at home to Milwaukee on Tuesday. Chris Bosh had 26 points and Hassan Whiteside continued his great play with 16 points and 16 rebounds, but the Heat lost Dwyane Wade in the third quarter with a strained right hamstring strain, and he's not going to play for a little while at least. Luol Deng and Chris Andersen missed the Bucks game with their own injuries. Dallas lost its fourth straight on Wednesday, 99-94 in Houston. The Mavericks were down by 3 with 15.9 seconds left when James Harden knocked Tyson Chandler down on a shot. He was given a flagrant foul after a review, but Chandler missed both free throws. And then the Mavericks couldn't score on their possession. Monta Ellis led Dallas with 33 points. The Mavs lost 105-96 at home to Miami on Nov. 9. Deng had a season-high 30 and Wade had 20.
Key trends: Dallas has failed to cover its past eight after a loss. The Heat are 1-5 ATS in their past six at home. The under is 7-0 in Miami's past seven vs. the West.
Early lean: The way Dallas is playing I'll happily take the points even minus Wade.
Warriors at Jazz (+10.5, 205.5)
I could see Golden State coming out very flat here after seeing its franchise-record 19-game home winning streak end 113-111 in overtime on Tuesday in a thriller against the Bulls. Golden State became a total jump-shooting team in that game and wasn't hitting -- that could be the Warriors' only fault. They also were killed on the boards playing without Andrew Bogut, who was sick. He should return here. Utah lost its second straight Wednesday, 94-89 to the Clippers. Utah played well enough to win until fading late in the fourth quarter. That's the Jazz's problem: no go-to player late in games. Utah is 0-2 vs. the Warriors this season, losing each by at least 11 points.
Key trends: The Warriors are 4-1 ATS in the past five meetings. The under is 11-0 in Utah's past 11 when its opponent allows more than 100 points in its previous game.
Early lean: Utah keeps the loss in single digits.
Bulls at Suns (TBA)
Second of a back-to-back for Chicago as it was at the Lakers on Thursday night. The Bulls are likely to be gassed after that game and Tuesday's emotional win in Golden State. Jimmy Butler was expected to return from a one-game illness absence on Thursday and thus should be OK to go here as well. Phoenix ended a two-game skid with Wednesday's 106-98 home win over the Wizards. Phoenix improved to 5-2 on its franchise-record eight-game home stand. This is the first meeting of the season between the teams. Chicago won both games last year and has won five in a row in the desert.
Key trends: The under is 4-1 in Chicago's past five in the second of a back-to-back. The Bulls are 4-1 ATS in the past five meetings.
Early lean: Phoenix runs tired Chicago out of the gym.
Read more articles by Alan Matthews