NBA Odds and Predictions: Wednesday, April 8 Opening Line Report and Handicapping
by Alan Matthews - 4/7/2015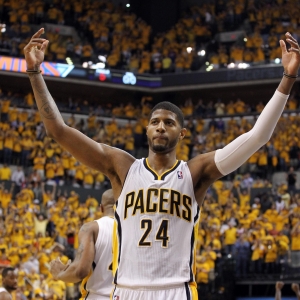 I'm definitely not a fan of the Indiana Pacers, but as someone who loves the NBA Playoffs I was glad to see Pacers superstar Paul George make his return from that gruesome broken leg suffered this summer on Sunday against Miami. George had 13 points and clearly fired up his teammates. If the Pacers can sneak into the playoffs as the No. 8 seed, I could absolutely see them upsetting Atlanta in the first round with George now playing. Here's a look at every game on a very busy Wednesday.
Raptors at Hornets (+3, 198)
Charlotte was in Miami on Tuesday. The Hornets now are saying that center Al Jefferson might be done the rest of the season, and they remain without forward Cody Zeller and Michael-Kidd Gilchrist. I don't see how, then, this team makes the playoffs. Toronto has dropped two straight high-scoring games, falling 117-116 in overtime on Saturday vs. Boston. DeMar DeRozan had 38 points in the loss, including 18 in the fourth quarter. The Raptors played without Kyle Lowry and Amir Johnson. I doubt you see Lowry in this one but maybe Johnson.
Key trends: Toronto is 0-4 against the spread in its past four in Charlotte. The "over/under" has gone over in the past four meetings.
Early lean: Raptors and under.
Bulls at Magic (+7, 193.5)
Chicago's last chance to have a shot at winning the Central Division ended with a 99-94 loss in Cleveland on Sunday. That was the last time those two will play before what many expect is a playoff collision. The Bulls played again without both Derrick Rose and Kirk Hinrich. It's quite possible that Rose does play Wednesday off his knee surgery. Hinrich is day-to-day. Orlando comes off wins in Minnesota and Milwaukee over the weekend. The Magic had lost 12 straight on the road before that. The Bulls have won eight straight games in Orlando.
Key trends: The Bulls are 1-5 ATS in the past six meetings. The over is 7-2 in the Magic's past nine at home.
Early lean: Bulls and over.
Wizards at 76ers (+6.5, 191.5)
Washington won a third straight Saturday, 92-83 in Memphis. Bradley Beal scored 20, John Wall had 18 points and 14 assists. The Wizards outscored Memphis 26-5 on the fast break. .The Wizards rested forwards Nene and Paul Pierce. I could see them sitting out again here because they wouldn't be needed to beat Philly. The 76ers lost a sixth straight Sunday, 101-91 at the Knicks. The Wizards lead the season series with Philly 2-1. They just beat the Sixers in D.C. 106-93 on April 1. Pierce missed that one too.
Key trends: Washington is 2-6 ATS in its past eight in Philadelphia. The over is 9-4 in the Sixers' past 13 vs. teams with a winning record.
Early lean: Wizards and under.
Celtics at Pistons (pick'em, 199)
Boston won in Toronto 117-116 in OT on Saturday on Marcus Smart buzzer-beating layup. Isaiah Thomas scored 25 points, Tyler Zeller had 20 and Evan Turner added 18 points and 10 assists for the Celtics. Turner has really been good of late. Forward Jared Sullinger, who played three minutes in Friday's loss to Milwaukee after missing the previous 24 games with a broken left foot, played just over 12 minutes against Toronto. Detroit ended a two-game losing streak Saturday, 99-98 over Miami. Reggie Jackson scored 15 of his 29 points in the fourth quarter, including the winning layup with five seconds remaining. Detroit rallied from 15 down in the fourth. The Pistons and Celtics have split two meetings.
Key trends: Boston is 1-5 ATS in the past six in Detroit. The over is 5-0 in the past five meetings.
Early lean: Celtics and over.
Hawks at Nets (TBA)
Atlanta hosted Phoenix on Tuesday. Paul Millsap missed that game with an injury and will sit this one out as well. It wouldn't surprise me if Coach Mike Budenholzer holds out a few other guys in the second of a back-to-back. I'm sure Brooklyn would be fine with that as it fights for a playoff spot. The Nets bounced back from an embarrassing 131-99 loss in Atlanta on Saturday with a 106-96 makeup game win over visiting Portland on Monday. That game was originally to be played in January but was snowed out. Brook Lopez dominated the matchup against twin brother Robin with 32 points and nine rebounds. Deron Williams added 24 points and 10 assists for the Nets. Joe Johnson barely extended his NBA-leading streak to 879 straight games with a field goal, making his lone basket with 1:55 to play.
Key trends: The Hawks are 4-1 ATS in the past five in Brooklyn. The over is 5-1 in the Nets' past six overall.
Early lean: Love Nets to win here.
Pacers at Knicks (+10.5, 190)
Indiana beat the Heat 112-89 on Sunday as George had 13 points in 15 minutes. He obviously will be on a minutes restriction for a while. In a great moment, Duke coach Mike Krzyzewski, who coached Team USA when George was hurt, met privately with George. Of course, Coach K was in Indianapolis for the Final Four, with Duke winning its fifth national title on Monday night. This is one of those games the Knicks don't want to win as they try to inch closer to clinching the worst record in the NBA. They come off a 101-91 home won over Philly on Sunday to end a nine-game losing streak. The Pacers lead the season series 3-0.
Key trends: Indiana is 5-2 ATS in the past seven meetings. The under is 4-0 in the past four.
Early lean: On the fence about the side but huge on under.
Pelicans at Grizzlies (-6, 186)
New Orleans hosted Golden State on Tuesday. I said in previewing Tuesday's games that it was possible Pelicans guard Jrue Holiday might return for that one. Now you are hearing he's still experiencing soreness in his lower right leg and could be done for the season. Memphis has only been a .500 team for several weeks. It lost 92-83 at home to Washington on Saturday. The Grizzlies were only 1-for-15 from long range. Forward Jeff Green left the game in the second half with back spasms and did not return. He's day-to-day.
Key trends: The Pelicans are 7-1 ATS in the past eight in Memphis. The under is 5-0 in the past five there.
Early lean: Grizzlies and under.
Cavaliers at Bucks (TBA)
Cleveland won a third straight Sunday, 99-94 over Chicago and is about to clinch the Central Division and No. 2 seed in the East. LeBron James had his first triple-double of the season against Chicago, and J.R. Smith had eight 3-pointers. The Cavs notched win No. 50 and improved to a league-best 31-7 since Jan. 15. Milwaukee's two-game winning streak ended Saturday with a 97-90 home loss to the Magic. The Cavaliers lead the season series 2-1.
Key trends: The Cavs are 2-5 ATS in the past seven meetings. The under is 7-1 in Milwaukee's past eight at home vs. teams with a winning road record.
Early lean: The only reason I can figure for the TBA is that the Bucks' Giannis Antetokounmpo suffered a nasal contusion in Saturday's game and had to leave for a bit, but it shouldn't preclude him from playing. None of the Cavs stars seem in jeopardy of sitting out (at least due to injury), but I guess wait and see the number.
Rockets at Spurs (-6.5, 207.5)
San Antonio was in Oklahoma City on Tuesday. Houston has won three straight and not scored less than 108 points in any of them. The Rockets put up 115 in Sunday's three-point win at the Thunder. James Harden had yet another 40-point game with 41 in a great individual duel with Russell Westbrook -- that scoring race is going down to the season's final day. Dwight Howard looked pretty good in that one as well with 22 points in 23 minutes. The Spurs and Rockets split two early-season meetings, each winning at home.
Key trends: Houston is 7-1 ATS in the past eight meetings. The under is 4-1 in the past five.
Early lean: Rockets and over.
Lakers at Nuggets (-10, 208.5)
Los Angeles played the Clippers on Tuesday. Denver dropped a fourth straight Saturday, 107-92 to those Clippers. The Nuggets' best player, point guard Ty Lawson, was a late scratch with a sore right forearm but looks likely to return. His backup, Jameer Nelson, left in the second quarter with a right hip flexor strain. The loss assured the Nuggets of their first losing record at home since the 2002-03 season. Denver finished 17-65 and selected Carmelo Anthony in the draft that year. The Nuggets lead the season series 2-1.
Key trends: The road team is 5-0 ATS in the past five meetings. The over is 5-1 in the past six in Denver.
Early lean: Nuggets (if Lawson plays) and over.
Kings at Jazz (TBA)
Sacramento hosted Minnesota on Tuesday. It wasn't likely that Rudy Gay was going to return from injury in that one for the Kings as he recovers from a concussion. He was questionable. Utah last played Sunday in Sacramento, a 101-95 win. Rookie Rodney Hood had 13 of his career-high 25 points in the fourth quarter. Maybe he was fired up from Duke's Final Four win on Saturday. Guard Trey Burke missed a second straight game with a lower back injury. DeMarcus Cousins, who was coming off back-to-back triple-doubles, had 26 points and 12 rebounds. Gay sat out.
Key trends: The Kings had covered six of the past eight in Utah. The under is 10-4 in Utah's past 14 at home.
Early lean: Wait on Gay and more so Cousins -- there's talk he might not play on the road any longer this year.
Suns at Mavericks (TBA)
Phoenix was in Atlanta on Tuesday without both Brandon Knight and Alex Len. They won't play here. It looks like Knight is done for the year. Dallas dropped a second straight on Saturday, 123-110 at home to Golden State. The Mavericks, already without Chandler Parsons because of right knee soreness, lost point guard Rajon Rondo to a hyperextended left knee in the third quarter. Rondo was injured when he collided with Harrison Barnes while Barnes was driving to the basket in the third quarter. The Mavs thought both could return to practice Tuesday, so they might play. The Suns lead the season series 3-0.
Key trends: The Suns are 4-0 ATS in the past four meetings. The under is 8-2 in the past 10 in Big D.
Early lean: Mavericks won't get swept.
Timberwolves at Trail Blazers (-15, 204)
Minnesota was in Sacramento on Tuesday with more than half the roster questionable due to injury. The Blazers traveled across country for a makeup game in Brooklyn on Monday night and they essentially punted on it, leaving LaMarcus Aldridge, Nicolas Batum and Chris Kaman all at home. I would imagine they all play in this one. Minnesota surprisingly leads the season series 2-1.
Key trends: The Wolves have failed to cover the past six in Portland. The over is 8-3 in the Blazers' past 11 vs. teams with a losing record.
Early lean: Blazers and over.
Doc's Sports has established ourselves as the best in the business for well over 40 years. We want you to see why! That is why new clients can get $60 worth of member's picks free by clicking this link for a no-hassle signup.
Read more articles by Alan Matthews