2015 NCAA Tournament Bracket Picks: Midwest Region
by Robert Ferringo - 3/17/2015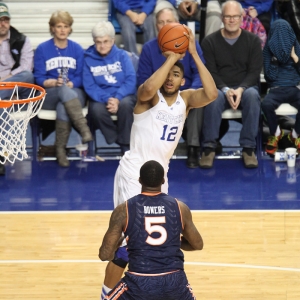 I completely understand that The Powers That Be (see: the anti-capitalist fascists that run the whore-outfit known as the "NCAA") desperately wants to soak the "Can Kentucky go undefeated" storyline for every single penny. TPTB absolutely want the Wildcats to advance to the Final Four and national title game because it would dominate the sports headlines, drive viewership for those games, and ultimately lead to more revenue for the corrupt organization that is responsible for the NCAA Tournament.
I get all that. But does the NCAA and their selection committee have to be so blatant about it?
The Midwest Region is by far the weakest bracket in the NCAA Tournament. Granted, as the No. 1 overall seed in the NCAA tournament the Wildcats did earn an "easier" road to the Final Four. But a quick scan through the Midwest reveals that there are zero true challengers to the Wildcats in this group.
The Midwest Region semifinals and finals will take place on Thursday, March 26 and Saturday, March 28 in Cleveland. Here are Doc's Sports March Madness bracket predictions for the Midwest Region (with odds courtesy of Sportsbook.ag):
No. 1 Seed: Kentucky Wildcats (-400 to win Midwest Region)
Kentucky is an outstanding team. But they are not an all-time great team. Not even close. And anyone that suggests that they are - undefeated season or not - is an idiot or a slack-jawed UK enthusiast. The Wildcats' primary strength is clear: they are massive. This is an absolutely enormous team, with four quality players standing 6-foot-10 or taller. Karl-Anthony Towns is like a mini-Zach Randolph on offense, and Kentucky's size allows them to dominate the glass on both ends of the court. Kentucky also has four very good guards, led by the all-around solid Harrison Twins, pure shooter Devin Booker, and creative point guards Tyler Ulis and Trey Lyles. Kentucky plays 10 men routinely, and it will take a flawless game to beat them. That said, Ole Miss, Texas A&M and Georgia all had the Wildcats on the ropes. So UK is beatable.
Kentucky Tournament Prediction: If you were offering me "Kentucky" or "The Field" I would bet on "The Field" simply because it is the NCAA Tournament and I've seen better teams than this UK one not win it all. Again, they are unbeaten but not unbeatable. Fortunately for the Wildcats, no one matches up well with them until a potential rematch with Kansas in the Elite Eight. But Kansas won't beat the Wildcats, so they should easily advance to the Final Four. Once there I think that Wisconsin, Arizona, Villanova or Duke would be the only teams that can take down UK.
No. 2 Seed: Kansas Jayhawks (+1000 to win Midwest Region)
What Bill Self has done with this hodgepodge group is nothing short of amazing. They have lost a ton of talent over the past two seasons but just keep cranking out Big 12 titles. This year they were the regular-season champions and made the league title game despite the fact that their two best frontcourt players, Perry Ellis (knee) and Cliff Alexander (eligibility), were non-factors. Kansas is just 7-5 in its last 12 games overall. But they've beaten some very good teams and shown an uncanny ability to come from behind or rise above lackluster play to get a win. Their backcourt trio of Frank Mason, Wayne Selden and Kelly Oubre is supremely talented. But their chemistry seems shaky, and they need super-shooter Brannen Greene to be a factor. Ellis is the team's leading scorer and rebounder, but he isn't 100 percent. That casts the role of paint enforcer to underrated Jamari Traylor and underutilized Hunter Mickelson.
Kansas Tournament Predictions: Right now this team is a little shakier than you would expect a Kansas team or a No. 2 seed to be. Even in the Big 12 tournament they barely beat a weak TCU team one day and turned around and manhandled a tournament No. 3 seed (Baylor) the next. They were up double-digits on Iowa State in the title game before blowing that lead. So how this team is going to hold up in the one-and-done pressure of this bracket is beyond me. If they survive their second-round game against Wichita State or Indiana then they should make their way to a showdown with Kentucky in the Elite Eight.
No. 3 Seed: Notre Dame Fighting Irish (+1000)
The Irish are riding high after their somewhat surprising ACC tournament championship. Notre Dame bested Duke and North Carolina in their own backyard on back-to-back nights en route to the title, and this team seems to have a lot of momentum right now. Notre Dame may have the best backcourt in America with Jerian Grant, Pat Connaughton, Demetrius Jackson and Steve Vasturia. They often play all four at once, and the quartet can all shoot, handle the ball and defend the perimeter. However, that leaves the big man duties to their lone player 6-10 or taller, Zach Auguste. Freshman Bonzie Colson has been giving them quality minutes as a second forward. But if these guys are going to win it will be because their guards shoot the lights out. The Irish have been a terrible play in the NCAA Tournament, going just 1-4 in The Big Dance since 2010. They have also only survived the opening weekend once in the last 15 years.
Notre Dame Tournament Predictions: Notre Dame had to max out to win the ACC and they have zero depth. If they have a letdown then (once again) they won't make it out of the opening weekend. Northeastern is no pushover. And both Butler and Texas could pound the Irish on the inside. This team has a great four-guard rotation. But I think they peaked in Carolina last weekend and they will likely find a premature exit in this tournament.
No. 4 Seed: Maryland Terrapins (+2500)
After four years of not making the NCAA Tournament, the Terps are back in the Dance. They have lost just one time since Feb. 9, and they get the job done with a dynamic one-two perimeter punch from Dez Wells and Melo Trimble. Wells is a savvy veteran and one of the best closers in the game. And for my money Trimble is the best freshman guard in the country this season. The X-factor for this team is the multidimensional duo of Jake Layman and Evan Smotrycz, two forwards that need to play well for this team to advance. The Terps have some size, but it is raw. And the rest of the team exists merely to support those four main players.
Maryland Tournament Predictions: Valparaiso is a very talented mid-major team that could give the Terps trouble in Round 1. After that they would face the WVU-Buffalo winner. The WVU game would be a toss-up, but I think Maryland's guards could handle Kentucky's pressure. I do think that Maryland would be able to put a scare into Kentucky in the Sweet 16; they are probably the only team other than Kansas that can. But I don't think they would win that game, so I'll say that the Sweet 16 is this group's ceiling.
No. 5 Seed: West Virginia Mountaineers (+4000)
The Mountaineers enter the NCAA Tournament the losers of three of four games, and they are just 5-6 in their last 11. But when you consider that every loss was to an NCAA Tournament team seeded No. 3 or higher and that WVU was playing without its leading scorer and clear best player then the late-season slide doesn't seem so bad. The Mountaineers got good news this week when Juwan Staten was cleared to play. They desperately need the senior guard's scoring, leadership, and ability to play in the clutch if they are going to escape the opening week. The Mountaineers employ a full-court press and want end-to-end action. They are not a particularly big team, and they don't shoot the ball well at all. But WVU generates offense with their defense, and they hammer the offensive glass for put-backs and second-chance points. Neither style - pressing or relying on offensive rebounds for points - ever bodes well in the tournament.
West Virginia Tournament Predictions: The best WVU can hope for is a date to the Sweet 16. I think Kentucky would smoke the Mountaineers because WVU relies so much on offensive rebounding. I think WVU can stave off a 5-12 upset and hold off Buffalo. But then they are either going to lose to Maryland in the next round or fall by about 16 to Kentucky in the Sweet 16.
No. 6 Seed: Butler Bulldogs (+3500)
The Bulldogs very quietly had a solid season this year, finishing in the top tier of the No. 2 conference in the country. They beat North Carolina handily at the start of the year, and Butler should be motivated after an OT exit from the Big East tournament quarterfinals. The Bulldogs only play about seven guys, and they rely almost exclusively on their starters. Roosevelt Jones is a unique guard, and Kellen Dunham can be a lethal shooter. Butler is excellent at team rebounding, and they play outstanding team defense. Butler has a knack for playing tight games, and 11 of their last 18 contests have been decided by six points or less.
Butler Tournament Predictions: The Bulldogs got a tough draw. They have to take on a shaky, but talented, Texas team in Round 1. If they win they get red-hot Notre Dame, and win again and Kansas is waiting for you. Needless to say, there won't be any Cinderella run out of Butler in this year's dance.
Best first-round match up: No. 6 Butler vs. No. 11 Texas
The Longhorns have to be enjoying the second lease on life they've been given. This team was one of the last in the tournament field, and this is a chance for Texas to live up to the ample hype that has been wasted on it. They have a trio of quality guards, and no one on Butler can guard Isaiah Taylor. But Texas has one of the worst in-game coaches in the tournament, and as long as Jon Holmes continues to jack wild 3-pointers this offense is going to be erratic. Texas has more talent. But Butler knows how to play. The Bulldogs do all the little things that Texas doesn't, and that's why the smaller program is the higher seed. But Texas' talent is undeniable, and they will give Butler all they can handle.
Best potential second-round match up: No. 2 Kansas vs. No. 7 Wichita State
There are a ton of subplots in this game. But the bottom line is that it features two of the best 20 teams in the country playing in a one-and-done setup. Wichita State got absolutely screwed with its seeding after spending nearly the entire season in the Top 15. But Wichita State has been trying to get a regular-season series going with in-state "rival" Kansas, only to have the Jayhawks rebuff their every effort. But these Sunflower State foes are on a collision course here, and the game would feature an outstanding 3-on-3 backcourt matchup. Wichita State has to be careful not to look past first-round opponent Indiana, though, or else this second-rounder won't come to fruition.
Upset Alert (first round): No. 4 Maryland vs. No. 13 Valparaiso
I don't think that Maryland WILL fall to the Crusaders. But I certainly think that Valpo is good enough to knock off the Terps. Valparaiso has good size - they start 6-8, 6-9 and 6-10 on the front line - and they have a trio of solid veteran guards. Valpo didn't play a difficult schedule this year. But they wrecked most of the bad teams that they have played, and they were clearly the best team in a very deep and talented Horizon League this season. Maryland isn't a great shooting team, and Valpo is underrated defensively. The Crusaders were able to shut down stud guard Kiefer Sykes (UW-GB), so they should have a plan in place for handling Trimble. But, again, Maryland is a little too big and a little too strong, and they should find a way to escape this one. But it should be a fight.
Upset Alert (second round): No. 3 Notre Dame vs. Texas/Butler
The Irish are not strong in the role of a favorite because they are so guard-oriented. Butler is outstanding defensively and an outstanding rebounding team. Texas has size for days and will clog up the lane and dominate the boards against the smaller Irish. Further, this second-round game would make it five in nine days for a Notre Dame team that doesn't use its bench. Butler would love to knock off an in-state rival, and all the talk that they shouldn't even be in the tournament motivates Texas. These are three teams that spent a lot of time in the Top 20 this season, and they could give us one of the best games of this region.
Dark Horse team: No. 11 Texas
The Longhorns have Top 10 talent, and they are one of the very few teams that can physically matchup with Kentucky. But they have no idea how to play with one another and they have a horrible coach. That said, I've seen this before where a highly-touted team sneaks into the field, things click, and they play up to their potential for a few weeks in March. Rick Barnes needs to play his three guards together, and the Longhorns need less Jon Holmes - who is really better at looking like a basketball player than actually playing basketball - and more of the offense through stretch-four Connor Lammert. If Texas gets that first win then I think they are a bad matchup for Notre Dame in Round 2. After that, all bets are off. But with Carlisle at the controls I think you have to expect this team's tournament run to be a short one and be pleasantly surprised if it isn't.
Team That Makes Me Nervous: No. 2 Kansas
I just can't tell how good this Kansas team is. They played Oklahoma, TCU and Baylor at the end of the year without a bunch of their key players and beat all three of them. They were 10 minutes away from pulling a stunning regular season-tournament double in the toughest conference in the country. These guys are good. But they also needed wild comebacks to beat Texas and WVU earlier this month and they will play the whole tournament without Cliff Alexander, their best big man. I know these guys have as much talent as Kentucky and would love a rematch after that 72-40 debacle back in November. But can they get there? And if they do can they win? There's just a lot going on with this bunch right now, and their storyline will be critical to how this region plays out.
2015 Midwest Region Predictions: This one is very simple: the Midwest is obviously Kentucky's to lose. I think that Maryland, Kansas and Texas are really the only teams with a prayer of beating the Wildcats. But there's a 50-50 chance that two of those three teams don't make it through the opening weekend. I would never lay -400 on Kentucky to win their region, but, honestly, it seems like a safe bet given how dysfunctional the rest of their bracket is. The Wildcats will make the Final Four without breaking too much of a sweat.
Doc's Sports Advisory Board has set some lofty standards worldwide for college basketball handicapping. They normally do their best work during March Madness. Click here for $60 worth of free college basketball picks. No credit card needed, and you will never deal with a salesman. These are good for Robert Ferringo March Madness picks or from any Advisory Board handicapper on the Doc's Sports Web site.
Read more articles by Robert Ferringo