2015 NCAA Tournament Bracket Predictions: South Region
by Robert Ferringo - 3/18/2015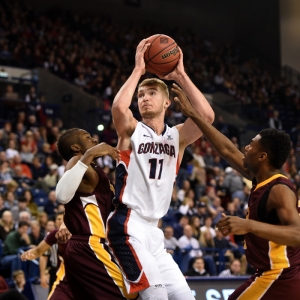 The West Region may be the Region of Doom , the most difficult of the four regions of the NCAA Tournament, but the South Region is certainly a close second.
The teams down South are completely combustible. Duke, Gonzaga and Iowa State have each experienced early-round flameouts in recent NCAA Tournaments and could all be vulnerable. And even after four months it's tough to get a read just how good Utah, Georgetown and SMU are relative to top-tier teams in other conferences. Mix in the fact that no other region has as many double-digit seeds poised for potential upsets and the South Region is a powder keg ready to blow up many a bracket.
The South Region semifinals and finals will take place on Friday, March 27 and Sunday, March 29 in Houston. Here are Doc's Sports March Madness bracket predictions for the East Region (with odds courtesy of Sportsbook.ag):
No. 1 Seed: Duke Blue Devils (+130 to win South Region)
I know I'm on an island here, but I don't think that this Duke team is one of the four or five best in the country and I don't see them as a national title contender. The ACC was not nearly as strong as people think this year. And they had red-flag losses to North Carolina State and Miami by double-digits. They were also fortunate in wins against UVA, UNC, and Virginia Tech and Notre Dame bombed them in the ACC tournament. Jahlil Okafor is a beast down low for the Blue Devils. And their guards are capable. But this is still one of the youngest teams in the field, and you can't ignore Duke's shaky tournament history in recent seasons. A double-digit seed has knocked them out in three of their eight tournaments (including embarrassing losses to Mercer in 2014 and Lehigh in 2012). And when they aren't getting upset they are getting blown out, losing their last three exit games in the second weekend by 22, 16 and 23 points.
Duke Tournament Predictions: I think that Duke is a potential Final Four team, but I don't consider them a real national title contender, if that makes sense. Their youth is a big red flag to me as is their recent history of tournament flops. Duke also has to fight the fact that they have a monster target on their backs because everyone wants to be The Team That Knocks Off Duke. I don't think they are good enough to overcome everything working against them.
No. 2 Seed: Gonzaga Bulldogs (+240 to win South Region)
From scrappy underdog to overwhelming favorite, Gonzaga's program has undergone a sea of change over the past 15 years. But Mark Few has yet to get this program over the hump and to the Final Four despite several recent seasons as one of the top seeds in the field. This is his best opportunity. The Bulldogs have one of the most experienced teams in the tournament. The starting backcourt is Kevin Pangos and Gary Bell, and both are three-year starters. They have a legit 7-footer in Przemek Karnowski and another talented big man off the bench in Domantas Sabonis. But the key for this team - and what has put them on the next level - is the talent and athleticism of two transfers from big-time programs in Kyle Wiltjer (Kentucky) and Byron Wesley (USC). Wiltjer is a bit of a gunner. But he won a title at Kentucky and brings a lot of swagger to this team. Wesley was a double-digit scorer at USC, and his contributions are really underrated. They've hammered some really good teams this year, and their top seven is as good as any in the nation. They are a true national title contender.
Gonzaga Tournament Predictions: Gonzaga has won a game in each of the last six tournaments. But they haven't escaped the opening weekend since 2009 and they haven't advanced further than the Sweet 16 since the Cinderella run of 1999. They have a clear path to the Elite Eight, and I have to think that this, Few's best team, is on a mission. I think they'll make the Elite Eight and will play one of the best games of the tournament against Duke. But if the Blue Devils get knocked off before that then Gonzaga should find another gear and make it to the Final Four.
No. 3 Seed: Iowa State Cyclones (+450)
The Cyclones won the Big 12 Tournament thanks to three straight come-from-behind wins. They are one of the most athletic and exciting teams in the country, playing at an extremely fast pace and executing at an extremely high level. Iowa State plays a four-out, one-in offense with one post player surrounded by guards with itchy trigger fingers. Their 3-point proficiency means that they can absolutely bury opponents when they are hot. It also means - like we saw in the Big 12 tourney - that they are never out of a game. Point forward Georges Niang had a bit of a disappointing season but there's still nothing he can't do on either end. And athletic power forward Jameel McKay is a bellwether player for this team. Beyond that are five guards all between 6-2 and 6-6 that are interchangeable. Fred Hoiberg's squad has won at least one game in each of the last three tournaments, but they've yet to go any further. This is the definition of a boom-or-bust team because of their 3-point heavy approach.
Iowa State Tournament Predictions: I think that Iowa State is a bit of fool's gold. They are supremely talented. But I don't think they are nearly as good as they were last year when they could lean on All-Americans DeAndre Kane and Melvin Ejim. This year's guys are good - but not that good. Iowa State lives and dies by the 3-point shot, and there are not too many teams in tournament history that have parlayed that into a Final Four run; especially from the position of a favorite. Proceed with caution in regards to this team.
No. 4 Seed: Georgetown Hoyas (+1300)
The Hoyas have been one of the NCAA Tournament's bigger underachievers the past several seasons and have won just two tourney games in the last seven years. They were left out of The Big Dance last year and will try to avoid yet another loss to a double-digit seed in this year's tourney. The Hoyas have 10 losses on the season, but five of them - all against tournament-bound opponents, including a three-point loss to Wisconsin and a five-point loss to Kansas - have come by five points or less. Georgetown is one of the few teams to actually beat Villanova in the past two seasons, and John Thompson is finally using his bench to good effect. The two key players are hefty center Josh Smith and guard D'Vauntes Smith-Rivera. This is Smith's last attempt to make up for an unfulfilled, underachieving career. Georgetown is excellent defensively, but they are only an average offensive team, failing to top 68 points in four of their last six games.
Georgetown Tournament Predictions: I think that Georgetown is one of the most motivated teams in the field. They have three senior starters, are coming off a frustrating loss in the Big East Tournament, are mad about missing the tournament last year, and are looking to squash some recent demons for the program. Add it all up and I think these guys could be a potential sleeper team. Or they could get bounced in the first round again by losing to a 13 seed. Time will tell.
No. 5 Seed: Utah Utes (+600)
It's not often that you can find a team from a major conference that is in the Top 20 in the country in offensive and defensive efficiency chilling out as a No. 5 seed. But that's the dichotomy of Utah. If you watch the Utes play, sometimes you are convinced that they have Final Four potential. But then you watch them head out to Washington and barely squeak past Wazzou and lose to a horrid Washington team. Delon Wright is one of the best guards in the country, and Jordan Loveridge is a potential tournament breakout candidate. Mix in 7-foot freshman big man Jakob Poeltl and a host of other solid role players, and Utah has size and explosiveness. Larry Krystkowiak's team runs some intricate offensive sets, and they can defend any team in the country. But they have struggled to win on the road the past two years, and they just never seem to live up to their seemingly boundless potential.
Utah Tournament Predictions: Utah is either going to lose its first game or they are going to go to the Elite Eight. I feel like there's no in between with these guys. I would not want to play these guys if I were Duke or Georgetown. Talent is not Utah's issue; toughness is.
No. 6 Seed: SMU Mustangs (+1500)
The Mustangs were a tournament snub last season. But they overcame all manner of personnel issue this year - a key freshman de-commit, eligibility issues, injuries - to dominate the American Athletic Conference this year. I know that doesn't sound impressive. But remember: Connecticut won it all last year from the AAC, and the top of that league is underrated. SMU is not flashy at all. Larry Brown's group wins with defense, rebounding, and impeccable clutch execution. Guard Nic Moore is one of the best closers in the country, and their big man duo of Yanick Moreira and Markus Kennedy can be relentless. Only two teams - Cincinnati and Connecticut - have beaten this bunch since Thanksgiving, and they are a bit underrated as a No. 6 seed. SMU has played with a chip on its shoulder all year after being the 69th team last season, and they feel they have something to prove.
SMU Tournament Predictions: I really like this SMU team and they can beat an opponent on either end of the floor. But I don't like their matchup. UCLA shouldn't have made the field. But now that they are here they have the talent and confidence to beat the Mustangs. If SMU wins they would likely face Iowa State. And while I think SMU is exactly the type of team that can give the Cyclones trouble - slow pace, great defense, confident guards - I think it is a tall task to expect this Mustangs team to win two games against teams with more talent.
Best first-round match up: No. 5 Utah vs. No. 12 Stephen F. Austin
Stephen F. Austin has gone 88-12 straight over the last three years and has quietly become a mid-major force. They've won 28 of their past 29 games, and this same team won a game in last year's tournament when it took down VCU. Utah is more talented than SFA. But the Lumberjacks use a lot of different guys, they score a lot of different ways, and their go-to player, Thomas Walkup, is a proven commodity. Both teams can score and score a lot. The winner will be the one that digs in on defense. The Lumberjacks are playing with house money, and they have the confidence of a team that's been here and won a game. Utah still has to learn how to close games out, and this will certainly be a tall test for them.
Best potential second-round match up: No. 2 Gonzaga vs. No. 10 Davidson
There is a host of intriguing second-round games. Georgetown-Utah would be a good one, and a Duke-St. John's rematch could be an upset situation. But Gonzaga versus Davidson could be a lot of fun. Both teams have outstanding shooters dotting the perimeter, and they are two of the most efficient and effective offenses in the country. This one could be played in the 80s, and I absolutely think that Davidson has the potential to knock off a Bulldogs team that is notorious for March collapses.
Upset Alert (first round): No. 4 Georgetown vs. No. 13 Eastern Washington
There is a host of potential double-digit seeds ready to strike in the opening round of this region. Stephen F. Austin and North Dakota State both won as DD seeds last year, and No. 10 Davidson is potentially lethal. And so is Eastern Washington. The Eagles boast the nation's leading scorer, Tyler Harvey, and they already have a true road win at Indiana this season. I've already touched on Georgetown's recent tournament struggles. And if the Hoyas are trailing - or even in a close game as a big favorite - late in this game then the memories and pressure from those past failings could be crippling. If this group of Hoyas is different, they will need to prove it.
Upset Alert (second round): No. 1 Duke vs. No. 9 St. John's
There are potential landmines throughout this region in the first and the second rounds. Seriously, this place is bursting with upset potential. But this one would cause the most damage to the most brackets, so it makes the cut. St. John's, which suspended its starting center for its first game, probably won't even beat San Diego State to set this rematch with Duke up. But they gave the Blue Devils a really tough game back in January. St. John's held a lead with under six minutes to play, and they lost by just nine points for Coach K's 1,000th victory. It is a senior-stacked St. John's roster, and they've been underachievers for four years. So one last chance to do something special - against a team they already know they can beat - could set up a monster upset.
Dark Horse team: No. 7 Iowa
Don't get me wrong: I think Iowa is terrible. I have been betting against them all year mainly because I think their point guard, Mike Gesell, is one of the worst starters on a major conference team in the country. That said, Iowa closed the regular season winning six straight, and they proved they could beat top competition by taking down North Carolina in Chapel Hill back in December. The Hawkeyes use four guys 6-9 or taller, and their starting front line goes 6-9, 6-9, 7-1. That could overwhelm Davidson in the first round and set up a big game with perpetually-disappointing Gonzaga in the second round. That could be another game with the potential to burst a lot of brackets, and Iowa could be a team that no one sees coming. I think the odds of them making the Sweet 16 are slim to none. But that's what makes them a decent dark horse pick.
Team That Makes Me Nervous: No. 5 Utah
I've been on the Utah bandwagon all season long. But over the past month I've given up my spot in the driver's seat and am heading for the ejection seat. This team just refuses to live up to its potential. They have Elite Eight talent. But they just cannot play consistently if they are not on their home court. I would love to see them make it to a matchup with Duke. But I can't help the feeling that Utah is a prime upset candidate and could fall victim to the dreaded 5-12 Curse.
2014 East Region Predictions: I don't think that Duke is the most vulnerable No. 1 seed - Wisconsin is in the most difficult bracket - but I do think they could be the first No. 1 to go down. They are extremely talented but extremely young, and their recent tournament hijinks have to be considered. I love Iowa State in general. But I don't trust them where they are seeded, and any team that lives and dies on the 3-point shot like they do is vulnerable to an upset. That leaves Gonzaga. I think that either Duke or Gonzaga will end up surviving this bracket, and they are clearly the two best teams. This is Mark Few's best squad, and this is his best shot to finally reach the Final Four. Whether or not he can get over the hump remains to be seen, but it's now or never for the Bulldogs.
Doc's Sports Advisory Board has set some lofty standards worldwide for college basketball handicapping. They normally do their best work during March Madness. Click here for $60 worth of free college basketball picks. No credit card needed, and you will never deal with a salesman. These are good for Robert Ferringo March Madness picks or from any Advisory Board handicapper on the Doc's Sports Web site.
Read more articles by Robert Ferringo