NCAA Tournament Brackets Expert Advice: Vulnerable Higher Seeds
by Trevor Whenham - 3/17/2015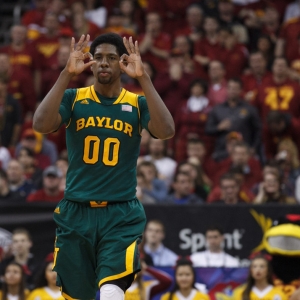 Simple math tells us that, according to expectations, we should expect a No. 3 and No. 4 seed in the NCAA tournament to make it as far as the Sweet 16 if everything goes according to form. A No. 2 should make the Elite Eight, and the No. 1 squads should advance to the Final Four. It never works out just like that, of course. When a Top 4 seed falls short of expectations then we have to view them as a disappointment. So, as we turn our thoughts towards NCAA tournament betting, which teams are vulnerable higher seeds this year? Here are four that stand out:
Baylor (No. 3): This team has a potent offense, and that's often a good thing in the tournament - especially in earlier rounds. What I don't like about this team, though, is how that offense is made up. Somehow, they have managed to score like crazy despite having two concerning flaws - they turn the ball over far too often, and they are a surprisingly lousy 2-point shooting team. In league play they shot just 44 percent from inside the arc. Obviously, then, they are a very good 3-point shooting team. If an opponent can be very aggressive to cause turnovers, though, and make life difficult beyond the arc, then this team is not going to be as potent as they can be. That strategy might not work over the long term, but for an opponent early on with nothing to lose and some talent - like first-round opponent Georgia State - it could pay dividends.
Villanova (No. 1): I don't want to be too negative here - I don't hate the Wildcats or anything. Not at all. They haven't lost since Jan. 24, and they do a lot of things very well. I just don't like them as much as the other three top seeds - or at least two of the No. 2 seeds, for that matter - so that makes them vulnerable in relative terms at least. There are two things I am concerned about with this team despite their impressive credentials. First, they rely on the 3-point shot very heavily - well over 40 percent of their offense attempts are from outside the arc. They are good at it, but an offense that reliant on the deep threat can be in trouble in a one-game elimination format if they aren't shooting well or if an opponent very aggressively attacks them. Second, while this team is deep and talented, they don't have an obvious star, and it is quite possible that they won't have a strong NBA player in their midst. That's not a fatal flaw, but when so many other top teams are loaded with superstars, the faceless nature of this team doesn't instill a lot of confidence.
Louisville (No. 4): This team is just two years removed from their last title, and they are 24-8, so it is hardly reason to panic or look at firing Rick Pitino or anything. It's just that this team looked like they could be a major contender heading into the season, and now they are a No. 4 poised for disappointment. They play outstanding defense, as is always the case for Pitino, so that is a big asset going forward. I just can't have enough faith in this offense to make them a comfortable pick to do anything meaningful this year. They just are not very good with the ball. They also have some unfortunate chemistry issues that will be tough to overcome. Pitino's teams typically get tougher as the tournament nears. This year, though, they had to boot Chris Jones off the team at the end of February for off-court issues. He was a valuable player on the court, and his departure has caused changes and adjustments that have not fully taken hold yet. I fear that they won't in time for the tournament, either, and that will be a problem.
Georgetown (No. 4): On paper this should be a strong team. Isaac Copeland is going to be a pro. Josh Smith had a disastrous start to his career at UCLA, but he has found new life here and is playing well. D'Vauntes Smith-Rivera is a solid guard. The roster is deep, and the defense is solid and aggressive. Add that all up and this should be a team that we should be looking at to make a deep run. Instead, though, I am looking for them to go home early - perhaps as soon as their first game against pesky Eastern Washington. The Hoyas have made a science of being disappointing in March in recent years, so history certainly isn't on the side of this team here. Beyond that, though, this particular squad just doesn't seem to have the consistent effort or overall heart that a team needs to reach their potential. They are not as good as they should be - frustratingly so. I don't expect much from them.
Get free picks from any Doc's Sports handicapper - there is no obligation for this offer and no credit card required. Just sign up for an account, and you can use the $60 in free picks for any Doc's Sports Advisory Board handicapper and any sport. Click here to get started now.
Read more articles by Trevor Whenham
---
Most Recent March Madness Betting