2015 Santa Anita Derby Picks with Odds and Expert Predictions
by Trevor Whenham - 4/2/2015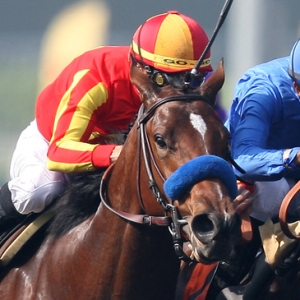 For quite a while last decade the Santa Anita Derby was barely relevant in the Kentucky Derby picture. Synthetic tracks, questionable California-based horses and bad luck led to hard times for the race. Lately, though, it is back in all its glory. In the last three years both California Chrome and I'll Have Another won this race before taking the first two legs of the Triple Crown. Earlier, greats like Point Given, A.P. Indy, Sunday Silence, Winning Colors, Triple Crown winner Affirmed, and others have used this race as a springboard for their massive success. So, will we have history made at Santa Anita again this Saturday afternoon?
The small field is not short of firepower. Dortmund, the overwhelming favorite, is one of the stars of this class and has a chance to make himself the Kentucky Derby favorite with a big win here. He is unquestionably the horse to beat. At least three other horses, though - including one of his stablemates - are at least going to be in a vicious dogfight for second place and much-needed Kentucky Derby points. Beyond that, all three could potentially, on their best possible day, be a threat to the favorite. It's a very intriguing race:
Dortmund (3/5): It's interesting how things change for top trainers. Some years they can't buy a break on the road to the Triple Crown. Other years they have an embarrassment of riches. The latter is definitely case for Bob Baffert this year. Most people would argue that either this horse or American Pharoah, who was the slight favorite in the latest Kentucky Derby futures pool, is the top three year old around right now. Baffert trains both - and that isn't all that is in his stable this year as we will soon see. Personally I lean slightly towards this son of Big Brown, but we'll find out for sure in a month or so if all goes according to plan. He is undefeated in five starts and has shown maturity and versatility far beyond what would normally be expected from a horse this young and inexperienced. He's a fighter who never gives up, and he's an athletic superfreak. He has handled everything thrown at him so far, though some people have some concerns about distance limitations as races stretch out. His dad was dynamite over a mile and a quarter, though, so I am a believer. The problem, of course, is that the horse will very likely go off at well under even money. Horrible price, but hard to avoid him. Personally, I'm throwing a few bucks on him just to say that I did - and because I don't see him getting beaten.
One Lucky Dane (5/1): More of the Baffert riches here. I was honestly shocked when Baffert announced that this would be the spot for this horse, and I still can't really figure it out. He was a disappointing entrant in the Breeders' Cup Juvenile, coming home sixth and threatening nothing. He was all but completely forgotten until March 19 when he absolutely crushed an allowance field at Santa Anita in his season debut, winning by almost 10 lengths. It was incredible, and it showed all sorts of potential. Triple Crown potential. This weekend seems like a smart weekend for him to run, giving him plenty of time to get ready for the Kentucky Derby if things go well. There are three major prep races this weekend, and two of them don't have a Baffert star entered in them. This horse needs at least a second-place finish to get enough points to have a shot at the Derby. Surely there was a more logical spot. Is Baffert not really interested in the Derby, and just keeping this horse at home and using this as a test and a conditioning outing? Or does he think that he clearly has the best two horses in the field - and that maybe this one could be the better of the two? Baffert is nothing if not creative, but I just don't know what to think. I can't wait to find out, though. And if the horse stays near this price I'll have to use him somehow.
Prospect Park (7/2): Last time out this horse was a respectable second to Dortmund while making his stakes debut. So, can he make a step forward? His breeding is trendy - people love sons of Tapit a lot more than I do. Sentimentalists will be pulling for jockey Kent Desormeaux to land his Derby mount here after losing out on riding Breeders' Cup Juvenile winner Texas Red for his brother, the horse's trainer, due to injury. I like the last race and can't complain about much I have seen from the horse. I just don't get the feeling that he is good enough.
Bolo (4/1): This horse made his dirt debut last time out and was third behind Dortmund and Prospect Park. We still don't really know, though, if he is a dirt horse - one good race on dirt proves nothing for turf horses. A big move forward here would prove a lot, and he has certainly worked well. He needs to finish in the top two here to have a shot at the Derby. That seems a bit optimistic, but having Mike Smith in the irons is certainly an asset. He has had a lot more work than he had had before that race, too, when he was coming off a layoff and missed a couple of workouts along the way. Could happen. Hard to judge - just like the rest of the challengers to Dortmund's crown.
Raphael Esparza will be handicapping the Blue Grass Stakes, the Santa Anita Derby and the Wood Memorial this weekend. Esparza is one of the best horse racing handicappers in the nation, and he is expecting a big payday this weekend and throughout the Road to the Kentucky Derby. He scored a big profit two weeks ago in the Spiral Stakes with $20 across the board on a 16-1 long shot, and he expects more profits this weekend. Get his weekend picks for all three races here for only $30, or new clients can take advantage of Doc's no-hassle $60 free picks offer and get Esparza's weekend racing picks and still have a $30 credit to use for any picks from any handicapper on the site. Click here for $60 worth of free picks.
Read more articles by Trevor Whenham