2015 Super Bowl Halftime Betting Expert Advice and Strategy
by Trevor Whenham - 1/22/2015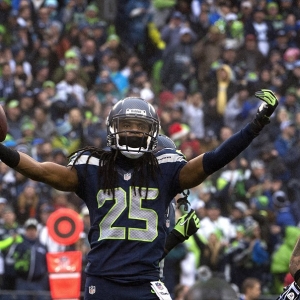 I'm a fan of betting at the half of football games at the best of times. It only makes sense that you can, at times, make a solid decision when you have the wisdom of having watched an entire half to draw on. In the Super Bowl, though, my love of halftime betting increases dramatically. It is, in my eyes, the best part of betting on the biggest game of the year. To help you maximize your chances of success, here is some Super Bowl halftime betting advice and strategy.
So, what makes the Super Bowl particularly attractive for halftime betting? Two things, mainly - time and attention. The Super Bowl halftime is particularly long, so you have more time to look at the first half and try to find an edge. More significantly, the betting volume is so high in the Super Bowl that books want to get a halftime number posted as quickly as they can. That means that they, at the very least, are going to set the number with a few minutes to go in the half. If the game has gone reasonably closely to expectations then the number that is set could have been one that they had in mind before the game even started. Because of that, the number might not be as sharp as it could be. If, after watching the first half, you have a strong opinion, you might find that there is a significant and favorable difference between that opinion and the line then you could have some real value on your hands.
When betting on the Super Bowl at the half we don't need to be nearly as concerned with the impact of the weather in the second half as we did last year when the game was in New Jersey. In fact, weather is not a factor at all. These four things could be when we are looking to make our betting decision, though:
Which Wilson shows up?: Will we see the Russell Wilson that was so impossibly bad for the first 57 minutes of the NFC Championship Game? Or the one who was almost superhuman down the stretch and into overtime? Hopefully it will be somewhere in between - much closer to what we typically get from the solid, dependable, but not particularly flashy quarterback. Once we see how Wilson reacts and plays in the first half then we can try to draw some conclusions about what we expect from him in the second half. That's obviously not always an easy thing to do, but there is a chance that it will be worthwhile.
Which strength is stronger?: At the risk of oversimplifying, this is a showdown between Seattle's defense and New England's offense. Seattle has been playing very strong defense - more so before the NFC Championship Game. New England's offense comes into this game clicking on all cylinders. One of those units will not be able to perform at their full capacity. Will the lack of depth in offensive tools catch up with the Patriots? Or will Richard Sherman and Earl Thomas, who were banged up in the NFC Championship, be unable to play at their full potential? The first half should give us strong clues as to which unit will get the edge.
Who has more room for adjustment?: Both of these teams are legitimately strong. They are also both very well-coached, and both coaching staffs are typically very good at making the necessary adjustments at halftime. Since one team doesn't particularly have an advantage on that front, what it could come down to is which team has more room for improvement. If the score is reasonably close but you have the sense that one team is further from their best game than the other, and that the reasons for that are correctable, then you could have a good sense about how the second half is likely to turn out.
What is the public saying?: Knowing what the public is thinking about a game can be very valuable here - the books are, when possible, going to try to set a number that will attract public bettors to where they want them. Thankfully, the Internet has made it much easier to see what the public thinks than it ever used to be. Twitter is a great place to start - and quite possibly the only thing you will need. Forums aimed at bettors or fans are another source of insight as well.
Doc's Sports is offering new clients free Super Bowl picks from any handicapper on our Advisory Board. This special offer does not require a credit card, and you will never have to deal with a salesman. Click here to get your free $60 NFL picks credit today.
Read more articles by Trevor Whenham