2015 Super Bowl Prop Bet Predictions and Picks: Rushing Props Wagering Odds
by Trevor Whenham - 1/27/2015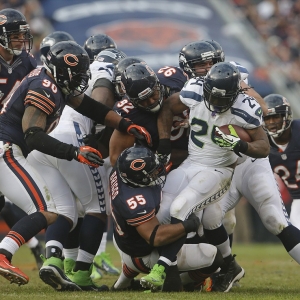 The Super Bowl is all about prop betting. Most years it seems like the most interesting of those props to break down are the rushing props. On the surface, rushing is such an easy thing - you grab the ball and run until you can't run anymore. There is so much that goes into a successful running game, though - how well the offensive line is playing against the opposing line, whether the running back is finding gaps and making people miss, how aggressively the offensive coordinator is looking to establish the run, what the score is and what that means for game strategy on both sides, how healthy the teams really are at running back, the temperature and field conditions, and so on. When you put that all together, decoding rushing props is like doing a jigsaw puzzle without a picture of what it is supposed to look like in the end.
Here are the two most interesting rushing props available for each team in this year's Super Bowl ( odds are from Bovada):
New England Patriots
Will Tom Brady score a rushing TD ("No" -650, "Yes" +450): Whenever I see a fat price like this I am always tempted by it. Most often, though, when you really look at it you realize that it's fat for a reason and that there is no bargain to be had. That's probably the case here. In the regular season Brady has not had a rushing touchdown in the last two years, so based on that alone it would seem reasonably to ignore this one. He has had one in each of the last two years in the playoffs, though - including the team's much-needed first score in the Baltimore game. On the other hand, though, he has not had a rushing TD in his five previous Super Bowl appearances and hasn't had a carry in his last two. The team can't afford to risk an injury, so it seems unlikely Brady will get the nod. As much as I love to dream of big payoffs, I have to pass here.
Total rushing yards for LeGarrette Blount - "over/under" 62.5: This is an interesting one. Blount is entering only his eighth game with the Patriots this year after being acquired from the Steelers. In five regular-season games he went over this total twice and just missed it with 62 yards once, but he didn't have a real statement game. He was a total non-factor against the Ravens, too. But then he broke out in a big way against the Colts, rushing 30 times for 148 yards. So, will the Patriots look to ride the hot hand? Or will they attempt to exploit a banged-up secondary as much as they can? It could go either way. The over is a solid favorite so far, but I can't say that I am as optimistic as the bettors are. I lean to the under, but not with a lot of conviction.
Seattle Seahawks
Will Russell Wilson score a rushing TD (No -260, Yes +200): Wilson is viewed as a QB who likes to run and is good at it. In the regular season the numbers don't entirely support that - he has just 11 rushing touchdowns in 48 starts. Those are decent numbers but certainly not good enough to justify these prices. The postseason isn't much different - in seven playoff games he has just two touchdowns. He had none last year, and his one against the Packers this year came on third down after he had been stopped short on the previous play. Given all that it would be nothing more than a gamble to bet that he will have one here.
Total rushing yards for Marshawn Lynch - o/u 92.5: Now that we are past the storyline of how Lynch is going to deal with media day - not that well, shockingly - we can focus on what to expect from him in this game. Lynch will face a team that ranks ninth in the league with 104.3 rushing yards allowed per game. The 49ers have a similar statistical profile to the Pats, and Lynch played them twice. He had 104 yards once and 91 yards the other time, so betting at this total would have been a loser. Lynch played all 16 regular-season games and went over this total only five times. In the playoffs he went over against Green Bay but not Carolina. Add to the fact that big yardage is no certainty from him because New England is likely to be passing a lot so the Seahawks could get behind and could be forced to pass more than they would like, and it's hard to have much faith in the over. For what it's worth, he also had a rough game last year in the Super Bowl after big performances in his previous three games -- he rushed 15 times for just 39 yards.
Get free picks from any Doc's Sports handicapper - there is no obligation for this offer and no credit card required. Just sign up for an account, and you can use the $60 in free picks for any Doc's Sports Advisory Board handicapper and any sport. Click here to get started now.
Read more articles by Trevor Whenham