2015 Super Bowl Quarterbacks: How Signal-Callers Shape Wagers
by Trevor Whenham - 1/22/2015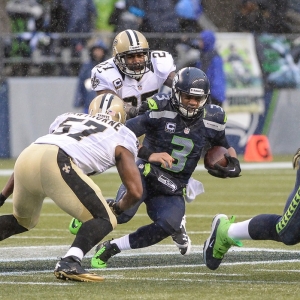 As is the case pretty much every year, the quarterbacks are going to get the bulk of the attention from fans and bettors heading into the Super Bowl this year. This year's combination is almost tailor-made to draw attention and debate. Tom Brady is no worse than the second most popular player in the league, though there are many people who love to hate him as there are fans. Russell Wilson is divisive - some are stunned by what he has accomplished, with two Pro Bowl nods and two Super Bowl appearances in just three seasons when he was far from the most highly-touted pivot in his draft class, while others think he is just a game manager in an ideal situation. Which quarterback you prefer is a matter open for debate - only you can decide. What I can do, though, is provide some ammunition for the argument on either side:
Age: There is a big gap here. At 37, Brady is the oldest player on either roster by three years. He's 15 years into the league. Unlike what it seems we saw with Peyton Manning in the second half of this season, though, Brady has looked sharp and effective this year. He might not be at the very top of his game, but he's still better than most. Wilson is just 26 and in the third year of his pro career. He's young but old and experienced enough to not be at a huge disadvantage.
Big game experience: On the surface Brady has a huge edge here - he is the first quarterback ever to start six Super Bowls. Wilson, meanwhile, has played in only one Super Bowl. The gap might not quite as significant as it seems. For one, Wilson played in, and won, the Super Bowl just last year. Brady, meanwhile, will be just five days short of a decade away from his last Super Bowl win when this game kicks off. He has had some inconsistent showings in his biggest games since. Wilson also played in the Rose Bowl in his last year of college - not the Super Bowl, by any means, but still a huge game.
College: Wilson was at a huge disadvantage here playing most of his career in the lame ACC, but he saved himself somewhat by finishing his career in the mighty Big Ten at Wisconsin. His college experience still can't stack up to Brady's, though - the guy went to Michigan, and it can't get any better than that. Of course, this could just be my bias coming out.
Draft: Neither guy was nearly as loved by scouts on draft day as they should have been. Wilson was taken in the third round of the 2012 NFL Draft - the sixth player drafted. He was behind Andrew Luck and Ryan Tannehill, which doesn't look too bad. The jury is out on Robert Griffin III, though it doesn't look great. Being behind both Brandon Weeden and Brock Osweiler just seems like a mistake. Brady was famously a sixth-round pick in 2000, but he was the seventh QB taken, so he was not in a very different position than Wilson. The list of players taken ahead of him is remarkable for how underwhelming it is. Chad Pennington and Marc Bulger had decent careers, but it is almost impossible to believe that a judge could think that Giovanni Carmazzi, Chris Redman, Tee Martin or Spurgeon Wynn could have, in any way, viewed as superior to Brady.
Chemistry: Brady completed 373 passes this year for a total of 4109 yards. Three guys - Rob Gronkowski, Julian Edelman, and Brandon LaFell - accounted for 240 of those catches (64.4 percent), and 3,049 yards (74.2 percent). That is a tremendous reliance on three guys - something that has been characteristic of Brady throughout his career. In contrast, Wilson's top three receivers - Doug Baldwin, Jermaine Kearse, and Marshawn Lynch - accounted for less than half or Wilson's passing yardage and just under half of his receptions as well. On one hand, you could argue that Wilson's depth at receiver makes it harder to shut him down. On the other hand, Brady clearly has guys he feels more comfortable with in a pinch, and that could be useful in a game like this.
Relationship with coach: One interesting fact that both have in common is that they are both playing for the only pro head coach they have ever known. That's more unique for Brady at this point in his career, but it obviously works very well for both guys. You can argue about which coach you like better, or which is better with quarterbacks, but on this front, at least, neither has a clear edge.
ATS performance: The most meaningful comparison here is to look at the performance of these two guys against the spread over two time frames - over this season, and over the whole length of Wilson's career. This year Brady was 9-7 ATS in the regular season and 1-1 ATS so far in these playoffs. Wilson was 9-6-1 ATS in the regular season and 1-1 in the playoffs, so he has the very smallest of edges on this front. Over the three years, Wilson's edge is bigger - he is 36-18-1 ATS, while Brady is 29-25 ATS. Both have been profitable, but Wilson has been much more so - though not nearly as much this year when public expectations were ratcheted up.
Want free sports betting picks? Doc's Sports has you covered - get $60 worth of picks free from any of Doc's Sports expert handicappers. Click here for free picks (new clients only).
Read more articles by Trevor Whenham