American League Updated Futures Odds at All-Star Break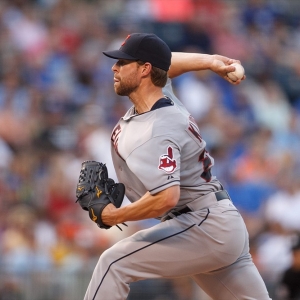 How great for Major League Baseball would a Cubs-Indians World Series be? It's the two most historically downtrodden franchises in the game. I looked at updated BetOnline futures for the National League yesterday here at Doc's, and the Cubs remain favorites in the Senior Circuit. The Tribe, meanwhile, are the +275 favorites to win the AL pennant. The AL will have home-field advantage again in the World Series as well after taking Tuesday's All-Star Game.
Cleveland hasn't won a World Series since 1948. The Indians haven't been there since 1997, when I believe they were the better team against the then-Florida Marlins. All that was needed was for All-Star Indians closer Jose Mesa to close things out in the bottom of the ninth inning of Game 7 in Miami, but he wasn't able to do so. The Marlins tied it and then won it 3-2 in the bottom of the 11th to become the first wild-card team to win the Fall Classic.
These Indians are 52-36, leading the AL Central by 6.5 games over second-place Detroit and are big -600 favorites to win that. The Tribe have the best run differential in the American League at plus-81. They also had the longest winning streak in baseball this year at 14 in a row. The Indians seemed to run out of gas a bit after their 19-inning victory in Toronto on July 1. The Tribe closed the first half losing six of 10. They need to take advantage of the lousy Twins in the second half. Cleveland is 24-7 against the rest of the Central Division but 2-4 vs. the Twins.
The Tribe have the best rotation in the AL, but I'm still not sold on their offense. The return of outfielder Michael Brantley would be a huge boost. He returned to minor-league rehab this week. Brantley, a former All-Star, has played in only 11 games this year due to shoulder issues. If he can return to play nearly every day in left, the Indians can shift Jose Ramirez from left to third base in place of a struggling Jose Uribe, who looks done at age 37.
The second-favorite to win the pennant is Texas at +350. The Rangers (54-36) lead the AL West by 5.5 games over surging Houston -- despite losing nine of 12 -- and are -400 to repeat there. It's the largest division lead the Rangers have ever had at the break.
Texas has plenty of offense but major rotation injury concerns. The good news is that Yu Darvish had no problems following a rehab start in Double-A on Sunday. Darvish, who went on the disabled list with shoulder discomfort after three starts for Texas, threw 47 of 72 pitches for strikes. He could start in the majors as soon as Saturday. The Rangers still have an excellent farm system so expect them to make at least one trade by the Aug. 1 deadline.
The Toronto Blue Jays (51-40, team's best record entering break since 1992) have surged to third on the pennant odds at +575 even though they are tied with Boston for second in the AL East, two games behind Baltimore. The Jays remain without slugging outfielder Jose Bautista until likely the end of the month due to turf toe. And they have to decide whether to keep young ace Aaron Sanchez in the rotation or to shift him to the bullpen as has been planned to save innings on his arm. I don't see how they could do that without adding another starter via trade. The Jays were four games under .500 on May 18 but then went on a 32-17 run.
The Red Sox (+650), Orioles (+700) and Astros (+750) are the only other teams under +1000 to win the pennant. I believe the division winners will be Boston, Cleveland and Houston, with Texas and Toronto as wild-card teams. Just not buying that Orioles pitching staff. The Red Sox are my pennant pick as things stand as I fully expect them to add a starting pitcher, perhaps bringing back Rich Hill, currently with Oakland.
AL Awards Odds
There has been one repeat AL MVP winner this decade: Detroit's Miguel Cabrera in 2012-13. But last year's winner, Toronto third baseman Josh Donaldson, is the +200 favorite to repeat this winter. Donaldson, an All-Star, is deserving of the favored role as he's hitting .304 with 23 homers, 63 RBIs, a whopping 80 runs scored and a fantastic .418 on-base percentage. He's the sixth player in AL history with 80 runs and 20 homers prior to the All-Star break. The other five: Lou Gehrig, Ted Williams, Reggie Jackson, Frank Thomas and Rodriguez. I'd say five Hall of Famers, but A-Rod's likely not ever getting voted in due to his steroid use.
The Angels' Mike Trout (+350), Orioles' Manny Machado (+600) and Astros' Jose Altuve (+600) round out the favorites. I don't see Trout having a great shot because the Angels are so lousy. I hope Altuve it wins it. At 5-foot-6, he's incredible, hitting .341 (AL best) with 14 homers, 51 RBIs and a .413 on-base percentage to go with 23 steals. That's fantasy baseball gold! Altuve is on pace for a third consecutive 200-hit season, leading the majors at the break with 119 in 89 games. He's my pick but I might be biased.
As for the Cy Young, White Sox lefty Chris Sale, who started for the AL in Tuesday's All-Star Game, is the +150 favorite. He leads the majors with 14 wins but his ERA of 3.38 is good, not great. That's partly a result of being shelled by the Braves in his final pre-break outing. Cleveland's Danny Salazar (+350) is next and then there's a drop-off to Cleveland's Corey Kluber (+900) and Boston's Steven Wright (+900). Salazar is 10-3 with a 2.75 ERA. He was also named an All-Star but had to be replaced on the AL roster due to a minor injury. It's mostly just to give him some extra rest but obviously monitor that. Sale was my spring training Cy Young pick and I'll stick with him.
Read more articles by Alan Matthews