2016 Atlantic 10 Conference Tournament Predictions and NCAA Basketball Odds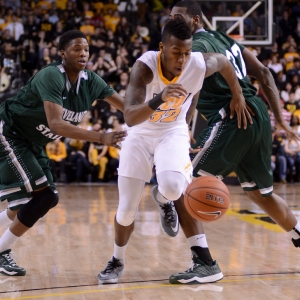 No other league in the country had three teams tie for the regular-season championship. But welcome to life in the Atlantic 10, which has surpassed the Mountain West Conference as the best mid-major league in the nation.
The A-10 had three teams, VCU, Dayton and St. Bonaventure, each claim a piece of the regular-season title with identical 14-4 records, and a fourth team, St. Joseph's, was just a single game behind them with a 13-5 conference mark. Add in some capable second-tier teams like George Washington and Davidson and you have a parity-driven conference tournament that could be dominated by any one of a half-dozen schools.
The Atlantic 10 men's basketball tournament begins on Wednesday, March 9, at the Barclay's Center in Brooklyn. Here is Doc's Sports 2016 Atlantic 10 Conference Tournament preview (with projected futures odds in parentheses):
The Favorite: VCU (+150)
The Rams head to New York with the swagger of a team that has gone 17-4 in its last 21 games and is the defending champions in this league tournament. VCU has been one of the best bets in the country in March over the last 10 years, and this is their time to shine. The Rams have a solid veteran core that can beat teams a variety of ways. Their preferred method, of course, is choking teams out with their full-court press and relentless defensive pressure. This team is stacked with versatile athletes, and they have a trio of quality guards (Melvin Johnson, Korey Billbury and JeQuan Lewis) capable of seizing the reigns of this offense. VCU started slow (5-5) and they closed the regular season slow (5-4), and this team will have a big target on its back.
The Contender: Dayton (+250)
High-risk, high-reward, that's what we're looking at with the Dayton Flyers. Archie Miller's team has won at least two NCAA Tournament games each of the past two years, and they look like they are gearing up for another postseason run. This group went on a 14-1 run from mid-December to mid-February before floundering a bit down the stretch. The Flyers pulled it together enough to claim a piece of the regular-season title and the No. 1 overall seed. But Dayton's last five wins have come by a combined total of nine points, and they are hardly a dominating favorite this week. The Flyers are methodical. They play a slow, grind-it-out game that relies on execution and frustrating opponents. If things aren't clicking then these guys look ugly. But when they get rolling they can do some serious damage. It should be pretty clear early on which team showed up this week.
The Sleeper: St. Joseph's (+350)
Don't be fooled by the Hawks' slow finish. They lost three of their last five games and were unimpressive in their two wins. But this is an aggressive team with a high upside. Guard DeAndre Bembry can take over games and is one of three upperclassmen starters. The Hawks have shown an ability to win on the road, and they have wins over their first two potential opponents, George Washington and Dayton. The Hawks don't have a defining characteristic; they are rock-solid on both ends of the floor. And that famed Philly toughness might be their best attribute. Sometimes that is enough.
The Spoiler: George Washington (+700)
In mid-January the Colonels were 14-3 overall and were, thanks to wins over Virginia, Tennessee and Seton Hall, seemingly a shoo-in for the NCAA Tournament. They went just 8-6 after that, though, and no one comes to NYC with more to prove than George Washington. This is a really experienced team. GW has three senior starters and a grad transfer coming off the bench. Toss in a fourth-year junior and there are a lot of games under the Colonels' belts. Again, these guys were good enough to knock off some tournament-caliber squads. And the core of this group is still stung by being one of the last teams left out of last year's NCAA Tournament field. So if they are going to make a move then now is the time. And this isn't a team I'd be ready to bet against through this tournament.
Bubble Team To Watch: St. Bonaventure (+400)
Where the hell did these guys come from? The Bonnies have gone 22-7 to start the season and have played their way onto the tournament bubble. They've gone 10-1 in their last 11 games, and no team in the tournament will have as many eyes on them as St. Bonaventure. The Bonnies also have a great draw. They should be healthy favorites over either Rhode Island or Massachusetts. And a win will give them a shot at VCU, a team they've played tough the past two years. I think the Bonnies are overrated. Inside-out duo Marcus Posley and Dion Wright have been good enough to get St. Bonaventure into the mix. But it remains to be seen whether or not their complimentary players can raise their play enough to punch the Bonnies' ticket into The Big Dance. I think they are going to come up short this week.
2016 Atlantic 10 Conference Tournament Predictions: The Atlantic 10 may be a top-heavy league, dominated by the four teams that jostled for the regular-season title. But there are a lot of potential pitfalls in this bracket. And that is fitting considering that the A-10 has been a major, major upset tournament this decade. The No. 1 seed has only made the semifinals once - one time - in the last five years. Not the finals. Not winning a championship. The semifinals. I expect more of the same this week. Frankly, I have no earthly idea who is going to win this tournament. But if I were to throw my support behind anyone it would be St. Joseph's. They don't bring any momentum to Brooklyn. But they bring a whirlwind of talent, an excellent coach, and an NBA-caliber go-to guy. I think if they get another shot at VCU they'll take care of business and earn a crown.
Robert Ferringo is a member of the Basketball Writer's Association of America and a professional sports handicapper for Doc's Sports. He is considered one of the best college basketball handicappers in the country and he is on an unbelievable run right now, more than doubling his clients' bankrolls in the last six weeks while earning $11,800 in profit! Robert has banked 10 straight winning college basketball regular seasons and his $100-per-Unit bettors have taken home over $40,000 in winnings so far this decade. There is no better moneymaker in the nation and Robert is looking forward to another amazing March Madness. Click here to get two days of college basketball picks for free - no hassle and no credit card needed.
Read more articles by Robert Ferringo