2016 Chicago Cubs Predictions and Odds to Win the World Series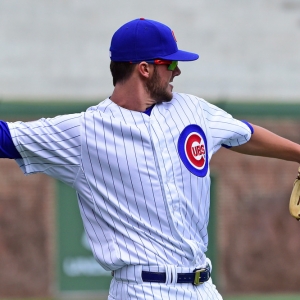 I'm sure I don't need to tell you that the Chicago Cubs haven't won the World Series since 1908, which is pretty incredible when you think about it. They haven't even made the Fall Classic since 1945.
But thanks to Theo Epstein, these aren't the "Lovable Losers" any longer. This franchise is set up to be the best in baseball for probably the rest of the decade. And if Epstein, the Cubs' president of baseball operations, wins a World Series on Chicago's North Side after ending the title drought in Boston (where he was GM) as well, he absolutely must go into the Hall of Fame. Epstein also would never have to pay for a meal or drink again in the Windy City.
Free $60 in Member MLB Picks No Obligation Click Here
The Cubs arrived a year ahead of schedule last year in winning 97 games, which was their most since 2008 (last time team made playoffs) yet only the third-most in the NL Central. Chicago hadn't won a playoff game since 2003 but went to Pittsburgh and beat the Pirates in the wild-card game behind ace and eventual Cy Young winner Jake Arrieta. Chicago was an underdog in the NLDS against St. Louis, which had the best record in the majors. But the Cubs largely bashed that Cardinals pitching staff in winning in four games. It was the first-ever playoff meeting between the bitter rivals. All those gifted young Cubs sluggers were shut down in an NLCS sweep at the hands of the New York Mets and all their gifted young pitchers. Still, 2015 was an unqualified success for the Cubs because they arrived one year ahead of schedule, as even Epstein has admitted.
Remember, this team had four rookies contributing on an every-day basis in Kris Bryant, Kyle Schwarber, Addison Russell (all called up during the season) and outfielder Jorge Soler. You aren't supposed to win 97 games with four rookies in your lineup. Oh, the farm system is still loaded!
Chicago opens the season with an interleague matchup at the LA Angels on April 4.
Cubs 2016 Projected Lineup
Assuming no regression from the rookies listed above, this should be the best lineup in the National League if not baseball. Plus the Cubs added two of the top free-agent position players on the market in outfielder Jason Heyward (.293, 13 HRs, 60 RBIs, 23 steals) and second baseman Ben Zobrist (.276, 13 HRs, 56 RBIs). Heyward got an eight-year, $184 million deal, turning down more to return to St. Louis because he preferred Chicago's young talented group. Some scouts love Heyward, some are so-so on him. He's never going to be a huge power guy or probably hit .300 but he does everything well and plays Gold Glove defense. For now, Heyward will play center field, although that's not his normal spot.
Zobrist chose the Cubs over the Mets because he wanted a reunion with his former Tampa Bay manager Joe Maddon. Zobrist is like Heyward in that he does everything well and Zobrist can play about any position on the diamond. Both Heyward and Zobrist are good at getting on base, and if there was one weakness last year on the Cubs it was they were often boom-or-bust: i.e. homer or strike out.
Zobrist takes the spot of former All-Star shortstop Starlin Castro, who was traded to the Yankees for pitcher Adam Warren. Castro lost his job at short during last season to Russell and had moved to second. Castro is the only major subtraction from last year's club. Zobrist will lead off most likely with Heyward batting second. Then comes perhaps the best 3-6 in the majors: first baseman Anthony Rizzo (.278, 31 HRs, 101 RBIs), third baseman Bryant (.275, 26 HRs, 99 RBIs), the reigning NL Rookie of the Year, Schwarber (.246, 16 HRs, 43 RBIs in just 69 games) in left and Soler (.262, 10 HRs, 47 RBIs in 101 games) in right. Schwarber will catch probably once a week. He's a terrible outfielder but you have to play him every day. Soler could be dealt during the season for young pitching. The rest of the lineup will be catcher Miguel Montero and Russell.
Cubs 2016 Projected Rotation & Closer
Arrieta had one of the best years in Cubs history in winning the Cy Young Award. He finished 22-6 with a 1.77 ERA and was an obscene 12-1 with an 0.75 ERA in 107 1/3 innings over 15 starts in the second half of the season. That's the best post-All-Star break ever. Arrieta dominated the Pirates in the wild-card game but then was shaky in the NLDS vs. the Cardinals and NLCS vs. the Mets. The worry is that Arrieta wore down as he pitched way more innings than he ever had. Expect the Cubs to limit him a bit this season when possible. I doubt you see any complete games unless his pitch count is low entering the ninth inning.
Lefty Jon Lester (11-12, 3.34) I suppose was a minor disappointment last season, his first as a National Leaguer. But sometimes it takes a year to adjust to a new league, and Lester clearly was spooked by holding runners on base. The new No. 3 is John Lackey, who was the Cardinals' most consistent pitcher last season at 13-10 with a 2.77 ERA. Jason Hammel and Kyle Hendricks will fill out the rotation, with new addition Warren waiting in the wings if anyone struggles or gets hurt. Warren is valuable because he's a good starter and reliever. He was 7-7 with a 3.29 ERA last year with the Yankees.
Other than adding Warren, the bullpen is largely back intact. Closer Hector Rondon was 6-4 with 30 saves and a 1.67 ERA last season.
Cubs Futures Odds & 2015 Trends
At BetOnline, Chicago is the +650 favorite to win the World Series and a +350 favorite for the NL pennant. The Cubs have an "over/under" wins total of 89, with both options at -110. Bryant is +1400 to win the major-league home run title, Rizzo is +2500 and Schwarber +3300. Chicago was 81-81 against the spread last season and 71-81-10 O/U. On the moneyline, the Cubs were +1751 units on the year.
Cubs 2016 Predictions
FanGraphs projects Chicago to finish with the most wins in the majors at 94-68 and win the Central Division by 10 games. That wins total, the first posted I've seen, seems really low. I've seen some projections where the Cubs win 100 games. I'm not ready to say that quite yet. But as this team is currently constructed, I would go over the wins total and this is my World Series team; can you imagine the party in Chicago? Epstein will add pitching if need be at the trade deadline. Bryant has a shot at the homer title, especially if Miami's Giancarlo Stanton gets hurt again.
Read more articles by Alan Matthews