Expert MLB Betting Advice: Weekly Baseball Bullpen Report
by Victor Ryan - 9/12/2016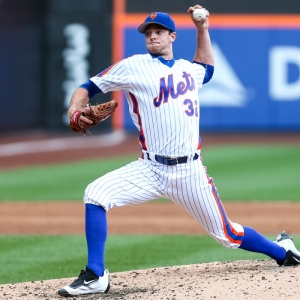 It's really unfortunate for MLB that pitching changes are akin to watching paint dry. With excitement supposedly growing over the playoff chase, fans must endure what happened in Boston on Sunday. In that masterpiece of a game, an incredible 18 pitchers toed the rubber over the course of nine innings. Game time: 3 hours and 46 minutes. Thanks expanded rosters.
Such an incredible reliance on relief staffs in modern-day baseball is exactly why Doc's Sports provides you with this weekly bullpen report. There's nothing worse for a handicapper than to zero-in on a long shot starting pitcher and see it go as planned, all until a late-inning choke job by the bullpen.
Free $60 in Member MLB Picks No Obligation Click Here
With that in mind, here's a closer look at the current form of the hottest and coldest bullpens from around the league.
Hottest Bullpens in MLB (9/4 through 9/11)
New York Mets
21 1/3 IP, 2.11 ERA, 6 HLD, 3 SV, 0 BSV
Closer Jeurys Familia tallied three more saves last week to give him an MLB-best 48 on the season. He pitched perfect ninth innings against the Reds on Tuesday and Wednesday and did the same to the Braves two days later.
The lone blemish for the Mets bullpen came on Saturday when Erik Goeddel (30 AP, 4.80 ERA) gave up the game-winning run in the 10th inning of a 4-3 loss to the Braves.
For the season, the Mets bullpen has posted the league's best save conversion rate (80.3 percent) and ninth-best ERA (3.60).
This week the Mets, who have a half-game lead on the Cardinals for the second NL wild card, travel to D.C. to take on the first-place Nationals for three games followed by a three-game set at home against the last-place Twins.
New York Yankees
24 1/3 IP, 3.33 ERA, 7 HLD, 4 SV, 1 BSV
Three different Yankees relievers recorded saves last week (Dillan Betances (2), Tyler Clippard, Blake Parker) and three others posted wins (Adam Warren, Chasen Shreve, Tommy Layne). That's some big-time bullpen production.
The Yankees have certainly been hitting on all cylinders of late, but it can't last forever, right? New York's bullpen and the rest of the Baby Bombers will be severely tested this week as they host the first-place Dodgers for a three-game set then travel to Boston for a critical four-game series.
Los Angeles Dodgers
19 2/3 IP, 1.37 ERA, 8 HLD, 2 SV, 0 BSV
It was another strong week from the Dodgers bullpen, which boasts the league's third-lowest ERA this season (3.31). Closer Kenley Jansen picked up two more saves in mid-week, both against Arizona, then in a non-save situation got the final out with two runners on in 5-0 win against the Marlins on Saturday. Jensen now has 43 saves on the year, which trails only Familia for the most in all of baseball.
The Dodgers enter this week with a three-game lead over the Giants in the NL West. They will hit the road for three games against the Yankees followed by a four-game set in Arizona.
Coldest Bullpens in MLB (9/4 through 9/11)
Toronto Blue Jays
23 IP, 6.65 ERA, 2 HLD, 1 SV, 2 BSV
Toronto has hit a rough patch of late, and a major culprit has been the bullpen. The Blue Jays, which were just 1-5 last week, fell to the Yankees on Tuesday after set-up man Jason Grilli coughed-up an eighth inning lead. Then on Sunday against the Red Sox, the bullpen failed again when middle man Bo Schultz took the loss in an 11-8 defeat.
Despite the recent troubles, Toronto remains in position for an AL wild card. However, the bullpen will need to get in order quickly if they are to hold that spot. This week the Blue Jays host the Rays for three games then travel to play the Angels in a four-game set.
Pittsburgh Pirates
30 IP, 5.40 ERA, 2 HLD, 1 SV, 2 BSV
This is the second straight week the Pirates bullpen has made this dubious list. Tony Watson, who took over the closer role in late July following the trade of All-Star Mark Melancon, posted a blown save and loss in a 9-7 defeat against the Cardinals on Tuesday, and then on Friday he also suffered the loss when giving up a run in the ninth inning of a tie game against the Reds.
The Pirates have sputtered to the finish line, going just 2-8 since Sept. 1 and ending any realistic hope at a third-straight playoff appearance. This week Pittsburgh hits the road for four games against the Phillies followed by a four-game set against the Reds, which includes a doubleheader on Saturday.